Named a top destination in 2021 by both Condé Nast Traveler and TIME, Philadelphia's international appeal is set to continue in 2022 with a full slate of signature annual events, multicultural celebrations, world premiere exhibitions, new restaurant openings, major sporting events, and seasonal happenings ready to greet travelers all year long.

TIP: For the latest COVID-19 updates, guidelines and additional travel resources for Philadelphia, click here.

With the wave of a wand, Potterheads will feel like they just boarded a train at Platform 9 ¾ and arrived at Hogwarts. Celebrate the iconic moments and characters of Harry Potter and the Wizarding World in this groundbreaking exhibition, where guests will get an up-close look at props and costumes from the Harry Potter and Fantastic Beasts films. The exhibition brings magic to life using best-in-class immersive design and technology, as visitors engage with innovative and magical environments. The World Premiere for Harry Potter: The Exhibition is now underway, with the spellbinding experience on view through September 2022. Tickets are available now.

Rev your engines. The Philadelphia Auto Show returns to the Pennsylvania Convention Center March 5 – 13, 2022. Organized and produced by the Auto Dealers Association of Greater Philadelphia, the annual Philadelphia Auto Show is one of the largest auto shows in the United States. It is also the largest consumer event held at the Pennsylvania Convention Center each year, drawing more than 250,000 guests. More than 700 vehicles ranging from pre-production models to classics (plus some Hollywood icons) will be on display.

3. Cheer on college basketball stars during NCAA March Madness
College basketball fans, this one's for you. March Madness is coming to Philadelphia, a city known for its sports passion. The Wells Fargo Center is set to host the Division 1 Men's Basketball East Regional on March 25 and 27, 2022 (Sweet 16/Elite Eight). Take March Madness to the next level with the NCAA Fan Experience with appetizers and drinks, as well as a meet and greet with a former NCAA player or coach.

4. Root for athletes from around the world at the Penn Relays
Every year, athletes from across the globe — including many current and future Olympians — travel to the University of Pennsylvania to compete in the Penn Relays, a historic track meet that has been held each spring since 1895 and is one of Philadelphia's signature annual sporting events. Home to the Penn Relays is Franklin Field, the oldest college stadium in the United States — and former home of the Philadelphia Eagles — featuring the country's first scoreboard. The Penn Relays provide competition for more collegiate athletes than any other track meet in the world. The three-day event kicks off April 28 and runs through April 30, 2022, complete with an accompanying festival featuring food, sports vendors, souvenirs and more.

The Philadelphia region has more gardens in close proximity than anywhere else on the continent, with 37 public gardens, arboreta, and historic landscapes all located within 30 miles of the city. Located just a short drive from downtown Philadelphia, Chanticleer opens for the season on March 30, allowing guests to explore the beautiful, 35-acre grounds through October 30, 2022. Adventure awaits at Morris Arboretum of the University of Pennsylvania with family-friendly activities like scavenger hunts and building activities in the arboretum's Fairy Woods, offered all year round. Special events each season at the arboretum include the Scarecrow Walk in the fall and the Holiday Garden Railway in the winter.

No matter the season, there's always something magnificent to see at Longwood Gardens including Winter Wonder (January 22 – March 27, 2022), Spring Blooms (April 2 – May 1, 2022), Festival of Fountains (May 5 – September 25, 2022) and A Longwood Christmas (November 18, 2022 – January 8, 2023) which was voted the Best Botanical Garden Holiday Lights in the nation by USA Today's 2021 10Best Readers' Choice Awards.

Artist Bruce Munro returns to Longwood Gardens in Philadelphia's beautiful countryside to present an entirely new, breathtaking exhibition, Light: Installations by Bruce Munro. Eight installations will span Longwood's 1,000 acres, including the garden's picturesque indoor spaces and outdoor vistas. Visitors can explore the Field of Light, featuring 18,000 illuminated bulbs adorning the landscape in the middle of the lakes and throughout the gardens. Light is on display June 30 – October 30, 2022. Tickets and Member Reservations will be available beginning March 7, 2022.

7. Surround yourself with color and creativity at the Philadelphia Flower Show
For the second year in a row, the Pennsylvania Horticultural Society (PHS) Philadelphia Flower Show – the nation's largest and the world's longest-running horticultural event – will transform Franklin Delano Roosevelt Park (FDR Park) in South Philadelphia from June 11 – 19, 2022. The theme for the show is In Full Bloom, showcasing the healing power of nature and plants. Traditionally held inside of the Pennsylvania Convention Center, the 2021 show was held outside for the first time in the show's nearly 200-year history. PHS has since made upgrades to the guest experience and is excited to welcome guests back to FDR Park in 2022 for another outdoor show. Tickets are available now.

8. Attend one of Philadelphia's signature LGBTQ+ events
Philadelphia is home to one of the country's oldest and largest LGBTQ+ communities, with many LGBTQ+ events and experiences hosted in the city throughout the year. The independent LGBTQ+ film festival, qFLIX Philadelphia, screens films from around the world, March 20-27. Philadelphia Black Pride takes place in April, and the PrideDay Parade and Festival is held every June during International Gay and Lesbian Pride Month, with celebrations spanning from Philadelphia's Gayborhood to Penn's Landing along the Delaware River. In October for National Coming Out Day, Philadelphia celebrates with Outfest, a block party and street festival — one of the largest such events in the nation. For more LGBTQ+ experiences to seek out in Philadelphia, click here.

9. Celebrate alongside Philadelphia's multicultural communities
Philadelphia prides itself on its diverse communities, each of which is honored throughout the year with special events, celebrations, and more. In late January and early February, head to Philadelphia's Chinatown – the second largest on the East Coast – for parades, lion dances and other Lunar New Year celebrations. Visit the African American Museum in Philadelphia or one of the city's notable historic sites in honor of Black History Month (February). Savor authentic Asian cuisines and support AAPI-owned businesses throughout the city during Asian Pacific American Heritage Month (May). Commemorate the anniversary of the ending of slavery in the U.S. by celebrating Juneteenth in Philadelphia. Also in June is the Odunde Festival – the largest African American street festival in the country. Odunde attracts up to 500,000 people every year to Philadelphia and is known for its authentic African marketplace featuring vendors selling merchandise from around the world. In September, kick off Hispanic Heritage Month with live music and performances at Feria del Barrio in the city's Centro de Oro neighborhood, a hub for Latinx culture.

10. Immerse yourself in a field of culture and light at the Chinese Lantern Festival
Planning to return to Philadelphia's Franklin Square in summer 2022 is the Chinese Lantern Festival. Set to light up the night once again near Independence Mall and Chinatown, the festival first came to Philadelphia in 2016, filling the space with massive handmade lantern displays in celebration of Chinese cultural traditions and drawing crowds of visitors from all over the world. Dozens of displays consisting of thousands of individual lanterns cover the grounds, illuminated by tens-of-thousands of LED lights. Guests can also enjoy performances by dancers, martial artists, contortionists, and other acts, as well as live demonstrations and artwork for purchase by Chinese folk artists. More updates about 2022's Festival will be announced soon. For the latest information, click here.

11. Book a room in one of Philadelphia's newest hotels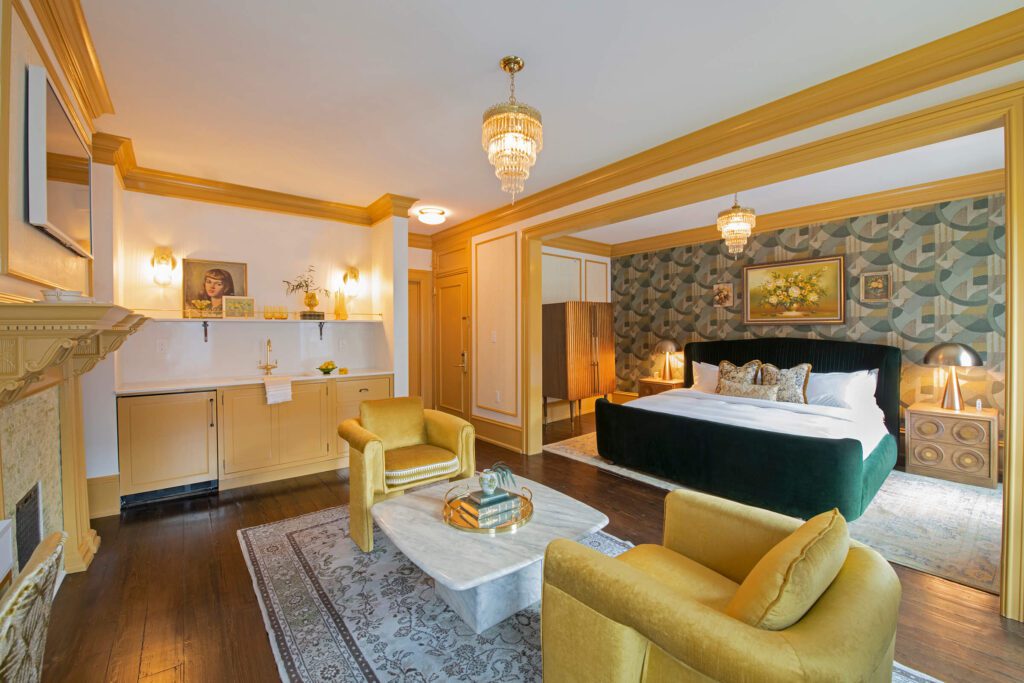 Over the last several years Philadelphia's hotel community has expanded, with a variety of new accommodations now open in neighborhoods throughout the city. At 13th and Locust streets in downtown Philadelphia, the Guild House Hotel occupies a Victorian-era rowhouse that was once the home of The New Century Guild — one of the nation's oldest and most prominent women's empowerment organizations. A dual-branded, 51-story property on 15th and Chestnut streets houses the luxurious, 295-room W Philadelphia Hotel and the wellness-inspired, 460-room Element Philadelphia Hotel. Be close to all the action in South Philadelphia's Stadium District at Live! Casino & Hotel, which features more than 510,000 square-feet of gaming, hotel, dining, and entertainment space at the corner of 9th and Darien Streets – just steps from Xfinity Live!, Citizens Bank Park and Lincoln Financial Field. To learn more about all of Philadelphia's newest hotel options, click here.

12. Savor the newest menus of Philadelphia's acclaimed dining scene and treat your taste buds during Restaurant Week
Visitors hungry for something new can appease their appetites with Philadelphia's abundance of new restaurant properties, either now open or opening in 2022. Look for the Philadelphia debut of Kura Sushi, featuring a two-level sushi conveyor belt. The popular Japanese dining chain is set to open its first establishment in Pennsylvania at 1721 Chestnut Street in Center City in the spring. Kura will join other new eateries that have recently opened throughout Philadelphia, including Victory Brewing Company's new taproom located along the Benjamin Franklin Parkway, an Izakaya in Fishtown from Chef Ken Yanaga, and a Baja Mexican concept from Stephen Starr, among others. Enjoy Philadelphia's newest restaurants and many of the city's essential eats during one of Center City's Restaurant Weeks. The first Restaurant Week of the year runs from January 9 – 21, 2022, with nearly 60 eateries offering prix fixe lunches and dinners. Center City's Restaurant Week returns each season, with other Philadelphia neighborhoods offering their own version appetizing event throughout the year, such as East Passyunk Avenue, Manayunk and Northern Liberties.

Celebrate all things beer at Philly Beer Week, the largest celebration of beer in the United States. The week is a perfect opportunity to sip suds with your buds in the City of Brotherly Love, where brewers have been crafting beer for more than 300 years. The 10-day festival includes beer tastings and pairings, competitions, and of course, plenty of happy hours at bars and restaurants throughout the city. Philly Beer Week is set for June 3 – 12, 2022.

TIP: Don't miss the Opening Tap event that kicks off the week, traditionally featuring brewers from around the region.

14. Explore the "Mural Capital of the World"
See Philadelphia's neighborhoods and learn their stories through the lens of community-based public art with a Mural Arts Philadelphia tour. Take a self-guided tour of the Mural Capital of the World or join one of several guide-led tours, available by foot, trolley, train or Segway. Mural Arts Philadelphia engages communities in up to 100 public art projects each year, adding to a collection of more than 4,000 murals currently on view throughout the city. In 2021, the program added more than a dozen new murals, including Reaching Out in Fishtown/Kensington, Declaration in Center City and Cecil B. Moore Philadelphia Freedom Fighters in North Philadelphia. Each year, Mural Arts Philadelphia honors Mural Arts Month (October) with community events, panel discussions, artist spotlights, and most notably mural dedications.

15. Wander America's "Most Historic Square Mile"
A trip to Philadelphia isn't complete without visiting some of America's most historically significant sites at Independence National Historical Park. America's "most historic square mile" features essential spots including Independence Hall – where the Declaration of Independence and U.S. Constitution were debated and adopted – and the Liberty Bell, the iconic symbol of freedom. Our Historic District Itinerary will guide you through the historic district, where you can discover other noteworthy sites like Carpenters' Hall, Christ Church and the Museum of the American Revolution.

TIP: Begin your American history adventure at the Independence Visitor Center, who is celebrating their 20th anniversary with special events throughout the year. Here, you can purchase tickets for museums and attractions, get trip planning advice from multilingual staff, enjoy immersive theater experiences, browse souvenirs at the gift shop, and pick up the latest version of the Philadelphia Official Visitors Guide™.

16. Explore can't miss exhibits at famed museums
In addition to the magical Harry Potter: The Exhibition debuting at the Franklin Institute in February, many other local museums will feature exhibits you won't want to miss. Several new exhibitions are on view at the Philadelphia Museum of Art in 2022, including Circus: Bouroullec Designs featuring the work of leading contemporary designers and brothers Ronan and Erwan Bouroullec. An exhibition exploring Pueblo and Navajo pottery, textiles and jewelry as living traditions, Water, Wind, Breath: Southwest Native Art in Community will be on display at the Barnes Foundation February 20 through May 15, 2022. Celebrate influential women at Pennsylvania Academy of the Fine Arts – the first art school and art museum in the U.S. – through Women in Motion: 150 Years of Women's Artistic Networks at PAFA, coming July 2022. For more can't miss exhibits, click here. For more can't miss exhibits on view now or opening soon, click here.

17. Support the arts in Philadelphia
Philadelphia – home to the oldest theater in America – has been entertaining audiences through performing arts for centuries. Committed to embracing innovation, Opera Philadelphia is determined to create opera for the modern world. Shows scheduled for 2022 include Oedipus Rex + Lilacs and Rigoletto. From Bugs Bunny to Beethoven, 2022 is also jam-packed with performances from the Philadelphia Orchestra. Every fall, FringeArts presents the Philadelphia Fringe Festival, bringing the city to life during a 4-week long celebration of innovation and creativity including more than 1,000 artistically daring acts performed at multiple venues city-wide.

18. Celebrate July 4th in the city where it all began
Philadelphia honors our nation's independence like no other city in the nation with the Wawa Welcome America festival. In 2021, the event kicked off on June 19, expanding the once one-week event to several weeks in celebration of both the Juneteenth and July 4th. The annual event features over 50 free multicultural and multigenerational family-friendly activities and events including free concerts, free museum days, community events, free outdoor movie screenings, block parties and – of course – fireworks.

With over 100 parks, squares, and recreation sites across Philadelphia, enjoying the outdoors in the city is a walk in the park. Go for a stroll, run or bike ride on the Schuylkill River Trail – named one of the best riverwalks in the nation by USA Today for 2021 – which extends from South Philadelphia through Fairmount Park along Kelly Drive. Explore the 2,000-plus green acres of Fairmount Park, one of the largest urban park systems in the country. Kick back at one of the city's seasonal pop-up parks and beer gardens along the Delaware River waterfront such as Spruce Street Harbor Park, which joins former municipal piers that have been transformed into recreational spaces, such as Cherry Street Pier and Race Street Pier. Relax in one of the city's famous five original squares, and enjoy a game of mini golf and a ride on the carousel at Franklin Square, where the dazzling Franklin Square Fountain Show is set to return in April 2022. Also in April, welcome spring at the Subaru Cherry Blossom Festival at Shofuso – a 17th century-style Japanese house with gorgeous gardens reflecting the history of Japanese culture in Philadelphia. Organized by the Japan America Society of Greater Philadelphia, the Subaru Cherry Blossom Festival – which will be held April 8-10, 2022 – celebrates the arrival of spring, while appreciating the beauty of the cherry trees as they bloom throughout the city.

20. Take advantage of tax-free shopping opportunities
Visitors can benefit from tax-free shopping on clothes and shoes at the city's collection of independently owned boutiques and national storefronts. Shop until you drop in the Fashion District of Philadelphia, an immersive shopping experience with a mall packed with style, dining, and entertainment that spans three blocks in the heart of downtown Philadelphia. Take a walk through Old City, where local shops line 2nd and 3rd streets. Shop for Philadelphia-themed gifts at Philadelphia Independents or visit Humphrys Flag Company, one of the oldest and largest flag manufacturers in the U.S. Additional tax-free shopping opportunities await you in Philadelphia's Countryside, including King of Prussia Mall and quaint Main Streets lined with one-of-a-kind shops.

21. Watch the Army-Navy Game in America's birthplace
America's game returns to Philadelphia in 2022. The 123rd Army-Navy Game takes place in America's birthplace on December 10, marking the 90th time the rivalry has been hosted in the city – more than any other location. Hosted at Lincoln Financial Field, the event draws thousands of active-duty military, veterans, and their families to the city and offers exciting experiences all weekend long, many of which are free and open to the public. For more ways to explore Philadelphia's Army-Navy history, click here.

Philadelphia is the perfect destination to celebrate the winter holidays. Kick off the season with the annual Philadelphia Thanksgiving Day Parade – the longest-running Thanksgiving Day Parade in the nation. The city also boasts one of the largest Christmas markets in the country with its Christmas Village in LOVE Park – ranked by Family Traveller as one of the best Christmas markets in the world. See the nation's first zoo transform into a dazzling display of lights at LumiNature at Philadelphia Zoo. Celebrate the holidays at a waterfront winter wonderland at Blue Cross RiverRink Winterfest, and don't miss other beloved attractions such as the Macy's Christmas Light Show and Dickens' Village, Winter at Dilworth Park, Made in Philadelphia Holiday Market, and the Deck the Hall Light Show. Ring in 2023 with spectacular fireworks over the Delaware River, then enjoy the colorful costumes and elaborate performances at the Mummers Parade, held annually on January 1.

Cover photo courtesy of The Franklin Institute.