Pennsylvania
A Pittsburgh photographer is celebrating a little-known Native American art form with a new book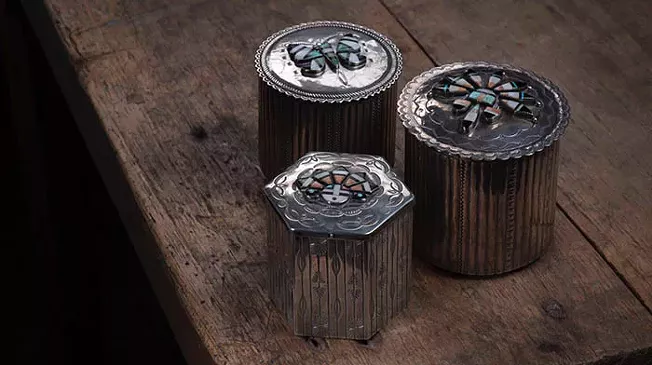 The evolution of Evan Sanders' photography is complete and unconventional with his new project.
Sanders was released Elegant Vessels: A Century of Southwestern Silver Boxes, a book immortalizing a collection of 171 silver boxes made by Native Americans. The work, now for sale at Four Winds Gallery in Shadyside and online, was made in collaboration with exhibition with a similar name on Heard Museuma non-profit institution in Phoenix, Arizona with a stated mission of presenting, interpreting and promoting Native American art.
Sanders, now creative director at Gallery of four winds, gathered images of silver boxes from the collection of shop owner John Crenna, who first became interested in Native American jewelry in the 1970s as a silversmith looking for a way out of a factory. Crenna and his wife, Carol, made frequent trips to the Southwest to camp, where they would visit reservations, buy jewelry, and bring it back to customers in Pittsburgh.
"We fell in love with it. We started meeting artists," says Crenna, who has run the Walnut Street store for nearly five decades. In 1978, he purchased his first silver box, an object often made for artists to show off their skills or attract tourists.
Today, Krena's box collection, which still includes that first purchase, numbers about 150. The collection grows and shrinks as Krena sells some and buys others.
In addition to the Crane collection, Elegant vessels more than 20 boxes of documents from other collectors.
Most of the boxes are part of Heard's exhibit, which runs through March 5, 2023. Heard has been sharing the work of Native American artists since 1929. "Silver jewelery and metalwork are some of the earliest objects in the collection," says Diana Pardew, the museum's chief curator. "The exhibition of silver caskets fits the theme perfectly."
If you can't make it to Arizona, Krena welcomes the public to Four Winds, where some of the collection is on display.
"This book is the work of many years … to celebrate the fact that these boxes exist," says Sanders. "It's an art form that I didn't know about until I found it. It found me. John's and my worlds collided. He had a collection that needed to be brought to life, and I said, "Let's do it."
click to enlarge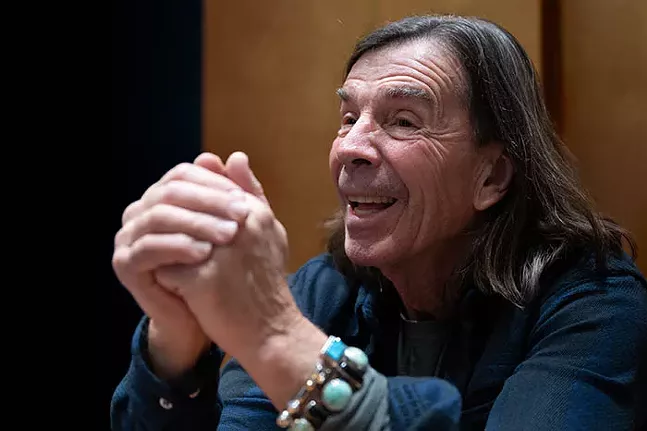 Sanders says the work is a culmination of the history of the craft as well as his personal story. "My camera has always been my means of opening new doors."
Sanders, 41, first realized the power of photography while growing up in Westmoreland County. His father was a Navy SEAL who was involved in Desert Storm and communication was limited. So Sanders leaned heavily on the likes National Geographic and Time magazine to look into the father's world. He was blown away.
"Someone has been there … all over the world. And somehow these drawings ended up in my hands. It impressed me," he says. "I studied these pictures. I was obsessed."
Starting his photography journey modestly, doing school projects with a camera that lets light through, Sanders later followed a friend who was taking pictures of snowboarding. "I learned that the camera is such a powerful tool," he says.
Sanders studied at the Art Institute of Pittsburgh and later landed a position on the staff of a newspaper in Greensburg, where he practiced photojournalism for more than a decade. "Each photo has been my favorite assignment, and yet I believe I have yet to do my favorite assignment," he says.
As a photojournalist, Sanders captured moments "in a community that hoped I would be their eyes."
"No matter where I was, that's where I had to be," he says. "Little League championships, car accidents … I had an important role. I had to be there."
click to enlarge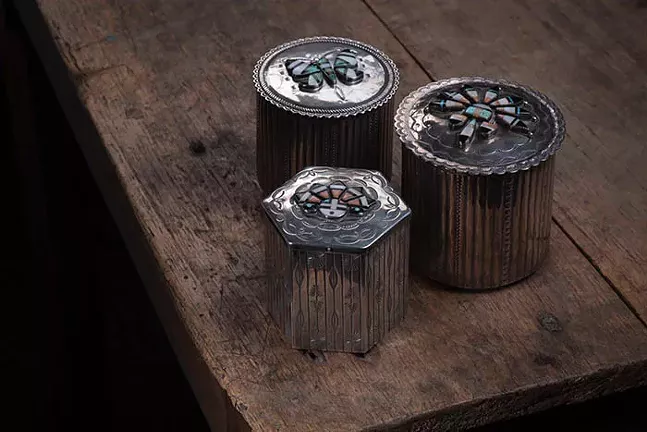 Still, he said, he believed there was "something bigger" for him. He left his full-time gig in 2016 to photograph personal interests like "rally racing and the human condition. I'm just interested in beautiful things… sunsets, landscapes, my surroundings."
Sanders says he is drawn to Native American metal art because "all these works have soul" and because silver is difficult to photograph. Knife wings and thunderstorms; stamp work and inlay; the shimmering silver and vivid shades of turquoise inherent in Native American jewelry appealed to Sanders' aesthetic.
Sanders says he's never been surprised by the journey of photography, and everything he's done before has prepared him for this project. "It's full circle."
He has ideas for future photography adventures and would like to catalog and present the images to the historical societies of the communities he has covered as a photojournalist. He could document artists' workspaces "to preserve that legacy, that moment in time."
And he will definitely continue to participate in Four Winds.
"Hang on," Sanders says, flipping quickly Elegant vessels» glossy pages. He pauses on a page to tap a corner, ironically, without a photo. Instead, there is a text excerpt from a traditional Navajo blessing: "It is finished in beauty."
---
Gallery of four winds. 5512 Walnut St., Shadyside. fourwindsgallery.com
https://www.pghcitypaper.com/pittsburgh/pittsburgh-photographer-honors-little-known-native-american-art-form-with-new-book/Content?oid=22968586