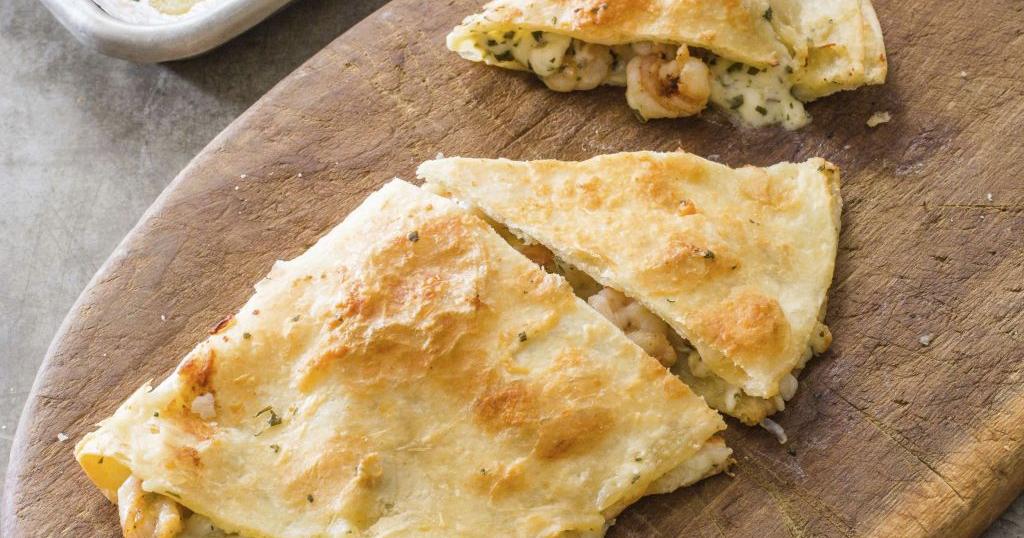 We love simple cheese quesadillas, but add a topping of juicy shrimp sprinkled with tequila and lime zest and you'll turn a Mexican grilled cheese sandwich into a party.
To make them significant enough for food, we started with 10-inch flour pancakes. To make four at once, we turned to the oven. By placing the quesadillas on a greased baking sheet and then lubricating their top with oil, we were able to brown and crunch them on both sides without having to cook each one separately.
To prevent the quesadillas from softening and the shrimp to turn out juicy, we lightly cooked the shrimp on a plate with flavorings and tequila; this gave them a head start when most of the liquid evaporated. It was necessary to cut the shrimp in half so that they released most of the moisture into the pan.
Cilantro, green onions and lime zest provided the desired freshness, and Monterey Jack cheese – juicy.
QESADILI with shrimp from tequila-lime
Servings Per Container: 4
From start to finish: 1 hour
3 tablespoons vegetable oil
12 Ounce Monterey Jack Cheese Shredded (3 Cups)
¼ cups chopped fresh cilantro
2 onions, white and green parts separate and cut into thin slices
1½ pound of medium-sized large shrimp (31 to 40 per pound), peeled, peeled, tails removed and cut in half lengthwise
Add salt and pepper
2 cloves garlic, chopped
1 teaspoon chopped canned chili chippolis in adobo sauce
1/3 cup tequila
1 teaspoon grated lime zest
4 (10 inch) tortillas made of flour
Set the oven rack to the middle position and preheat the oven to 450 F. Cover the tin with aluminum foil and grease with 1 tablespoon of oil. Mix Monterey Jack with cilantro and greens peel.
Dry the shrimp with paper towels and season with salt and pepper. Heat 1 tablespoon oil in a 12-inch non-stick skillet over medium heat until shiny. Add garlic, garlic, celandine and ¼ teaspoon of salt and cook until softened, about 2 minutes. Add the tequila and simmer until the tequila has evaporated and the pan is dry, about 5 minutes.
Add the shrimp and cook, stirring often, until fully cooked and opaque, about 3 minutes. Transfer to a bowl, stir in zest and allow to cool for 5 minutes; strain well.
Lay the tortillas on the counter. Sprinkle half of the cheese mixture on half of each tortilla, leaving ½-inches on the edges. Lay the shrimp on top in one layer, then sprinkle with the rest of the cheese mixture. Fold the other half of each tortilla on top and press firmly to seal.
Lay out the quesadilla in one layer on the prepared sheet with rounded edges to the center of the sheet. Brush the remaining 1 tablespoon of oil. Bake until the quesadillas begin to brown, about 10 minutes. Turn the quesadilla over and gently press the spatula to the seal. Continue to bake until crispy and golden brown on the other side, about 5 minutes. Allow the quesadillas to cool on the grill for 5 minutes, then cut each into 4 slices and serve.
Nutrition information per serving: 789 calories; 375 calories from fat; 42 g of fat (18 g of saturated; 0 g of trans fat); 290 mg of cholesterol; 2145 mg of sodium; 41 g of carbohydrates; 2 g of fiber; 3 g of sugar; 50 g of protein.
Find more recipes, such as Quesadilla with Shrimp, in the "New Essentials" section.