Pennsylvania
Barnett throws at Republican rivals as focus on late-growing P. Hope in Senate intensifies | State and region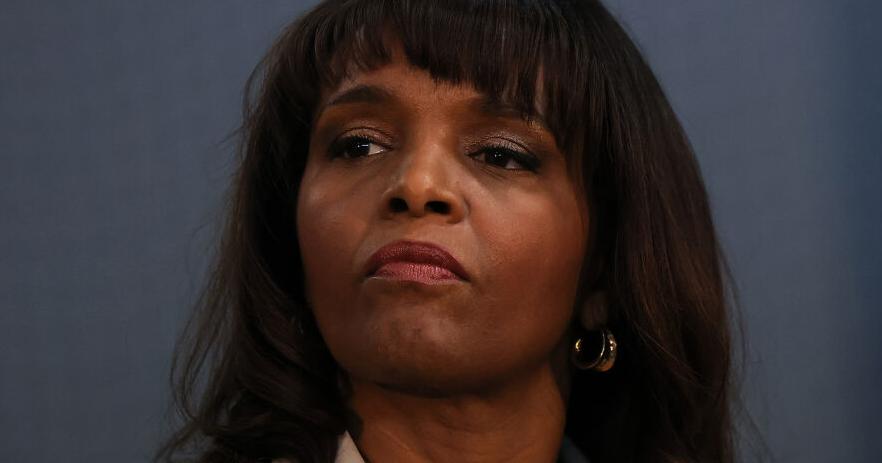 Pennsylvania Senate candidate Katie Barnett accused her Republicans on Saturday in the primary election of being overly obsessed with her candidacy, according to an audio speech received by CNN, and called her main opponents "two globalists" who only supported conservatives to be elected conservatives.
Comments were made during an event in Bucks County, Pennsylvania, with Barnett and Republican gubernatorial candidate Doug Mastrian. Media members were barred from attending the event, but the event participant offered a CNN recording. This was not the first time that either candidate dismissed journalists from the event – both constantly evaded journalists in the last days of their campaign.
In her speech on Saturday, Barnett called two of her main opponents – the famous surgeon Mehmet Oz and former hedge fund manager Dave McCormick – fake conservatives.
"You have Mehmet Oz, who never used his public platform to promote our America First program. He never did. And now we are told he is a MAGA conservative. Never," she said before attacking McCormick due to the hedge fund he previously managed has in China. "You can't be in bed with China financially if you're not in bed with China ideologically … And yet they tell us they're conservative. Note."
McCormick on Friday described his work in China as a "negotiation against" the country, adding that "no one has the authority and toughness to go with China like me".
Barnett also used part of her speech to respond to how her opponents and their super PAC portray the growing candidate. A CNN fact-finding check on Barnett's American Leadership Action, a super-PAC for the Oz country, found that she "wildly distorts past statements and positions" of the candidate, linking her to the Black Lives Matter movement and beliefs about systemic racism in the police department.
"The swamp is not just made up of Democrats. I don't know if you know that," Barnett said in a speech, referring to a "swamp drainage" message that became popular during former President Donald Trump's 2016 campaign, which was approved by Oz. "You can see by what they do to me. Everything I've said about myself, I didn't exaggerate, I didn't embellish. I was very truthful. I've been running for 13 months, but these people are behaving the way I did. Only yesterday I crawled out. from under the rock. "
She added: "Look at the video they made, didn't you? I never supported Black Lives Matter. I never said that our country is systemically racist. In fact, I always said the opposite, I always said my story shows you just how far we have come as a nation ".
Trump's support for the Oz country has provoked an unpleasant reaction from conservative activists in Pennsylvania, some of whom have reached out to Barnett over the former president's decision.
Trump said Thursday in a statement that Barnett is not a viable candidate in the general election.
"Katie Barnett will never be able to win a general election against the Left Radical Democrats," he said.
Barnett also focused on his past tweets on Saturday. A CNN report found that her tweets and past speeches included statements against Muslims and gays and the promotion of a false conspiracy theory that former President Barack Obama is a Muslim. He is a Christian.
"Nobody talks about my old tweets," she said. "They need to go almost 10 years into the past to find … not a complete thought or sentence and say it's her."
Barnett also attacked Fox presenter Sean Hannity, who hosted Oz on his show, and asked him about some of her past tweets. She told the audience that Haniti "is doing exactly what he and others have said about the left, he is sowing misinformation to stifle our votes to steal the election. That's what they are doing."
Polls have shown that Barnett is steadily gaining strength in the Republican Senate primaries. In a Fox poll released this week, all three candidates – Oz, McCormick and Barnett – in virtual equilibrium have caused surprise and concern among Republicans, who believe Barnet could become a wild card in November.
Barnett spoke out against the assumption on Saturday, arguing that the Republican Party often makes mistakes when choosing candidates.
"I think the Republican Party has a better history … We continue to choose people who tell our story badly. We do," she said. "We keep choosing the same old people, the same old people, thinking we'll get a different result."
As for her criticism, she added: "Their problem with me is that I didn't ask permission. I didn't ask permission. I just went through the front door."
https://www.phillytrib.com/news/state_and_region/barnette-slams-gop-rivals-as-spotlight-on-late-surging-pa-senate-hopeful-intensifies/article_7e58528c-d482-11ec-9b53-7fbe62730ea4.html