Empty bowls

Congregation of Radef Shalom. 4905 Fifth Avenue, Auckland. pittsburghfoodbank.org/emptybowls
Eat a delicious soup, support a great cause and take home a beautiful work of art at the Empty Bowls, an annual event in support of Greater Pittsburgh Community Food Bank and Just Harvest. This year's fundraiser takes place on Sunday, March 27 and includes three venues. Tickets, the entrance fee of which includes a handmade ceramic bowl, are already on sale.

Pharmacy
4606 Penn Ave., Bloomfield. aptekapgh.com
Bloomfield's Apteka, a vegan Eastern European restaurant with two chefs just named James Byrd semifinalists, announced that it is raising money to help efforts in Ukraine. On Wednesdays and Thursdays in March, Apteka will donate part of the sale of pies to groups that help feed and accommodate Ukrainian refugees in Poland. Pies are available takeaway orderscome in order of two, and are available in sauerkraut and mushrooms or potatoes and cabbage.
Brunch in the ski lodge
E. Sherman, 10, Millvale. gristhouse.com
Get neon clothes out of storage. On Saturday, March 26, Grist House opens its popular Brunch at the Ski Lodge party, for the first time since 2019. Expect a day full of food trucks, breakfast cocktails, rare beers, bonfires, the release of new cans, and more. The event starts at noon.
Party teaching fairness in food

Collect. 4824 Penn Ave., Garfield.
assemblepgh.org

Learn about racial inequality in food systems and how people can work together as a community to make sure everyone has access to food security at the Assemble's free training party to be held on Friday, March 18th. Guests from Garfield Community Farm, 412 Food Rescue and others will teach attendees how to make germ bombs, build DIY planters and more.
Leonas ice cream sandwiches
Several places. leonaspgh.com
Leonas Ice Cream Sandwiches has just had a new spring flavor. According to a local vendor's Instagram post, "Sweet Cream with Carrot Cake" is already available in stores, and even more spring flavors will soon appear.
Mineo's Pizza

2128 Murray Ave., Squirrel Mountain. mineospizza.com

The popular Squirrel Hill Mineo's pizzeria has its own beer, thanks to a partnership with Helltown Brewing Export. As reported
TribLive
the hazy IPA has 6.7% alcohol and costs $ 18.50 for six cans.
Pizza of the Spock brothers and more

5107 Penn Avenue, Garfield. spakbrothers.com

Pittsburgh's favorite place for seitan sandwiches is now available for online orders through Uber Eats. The Spock brothers did
ad
on Instagram, posting that the restaurant has a "wider menu" than in the past.
Adda Coffee & Teahouse
Several places. addacoffeehouse.com
Friday, March 18, marks Holly, the Hindu Spring Festival of Paints, and to celebrate the holiday, Adda Coffee Shop in Pittsburgh is teaming up with two local companies to distribute gifts on Instagram. Head to Ada's Instagram page for a chance to win a $ 50 gift card from a coffee shop, Spicewalla spices, Madhu chocolate, a $ 50 gift card from a local gluten-free goat bakery and a signed artwork from Sharpsburg photographer Atithi Studios.
Le Porc
instagram.com/leporcpgh

Wine and cheese lovers, this is for you. According to Good food Pittsburgh, this summer in The Highland on the south side goes a new wine and south bar. Restaurant owner Kay Robak told Good Food Pittsburgh that Le Porc will be a wine and snack bar open to the public for a week and will be available for rent on weekends for groups interested in snack parties.
Gluten-free goat

N. Canal, 1020, Sharpsburg. glutenfreegoat.com

Gluten-free Pittsburgh residents should no longer be left out of Sunday brunches. The gluten-free goat has launched weekly Sunday brunches indoors with a new menu every week. Expect foods like eggs and bacon, as well as gluten-free waffles and pancakes. Open every Sunday from 10 a.m. to 2 p.m.
click to enlarge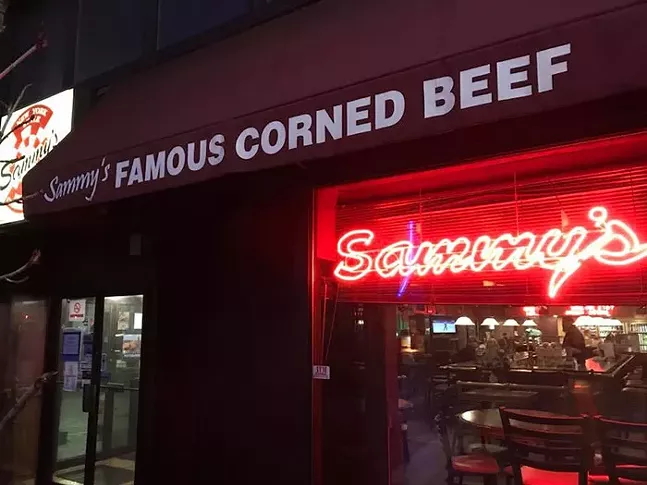 Sammy's famous bacon
Liberty Avenue, 901, downtown. facebook.com/SammysPGH
After 35 years of service in downtown Pittsburgh, Sammy's Famous Corned Beef has announced that it will close its doors on Friday, March 25th. As the first reported TribLive, owner Sammy Firman said he is closing the store because his lease has expired and he wants to retire rather than seek a long-term extension. "We thank the city of Pittsburgh for its patronage over the years and hope you can come and have a sandwich, a beer and a laugh before we close next week," the statement said. Post to Facebook announcing the closure.
Sprezzatura
112 E. Sherman St., Millvale. sprezzaturapgh.com
The Millvale Sprezzatura restaurant celebrates Women's History Month during March, sharing traditional dishes of chefs 'ancestors. "Dinner that connected us as a family," – reads an Post to Instagram. The first dish, Pasta al Tonno, was honored by one of the chef's late grandmothers, Mary Ellis Yolanda Buzeli Birdie.