Sports
Carlson siblings highlight banner day for Eagles at District 3 Track & Field Championships | Sports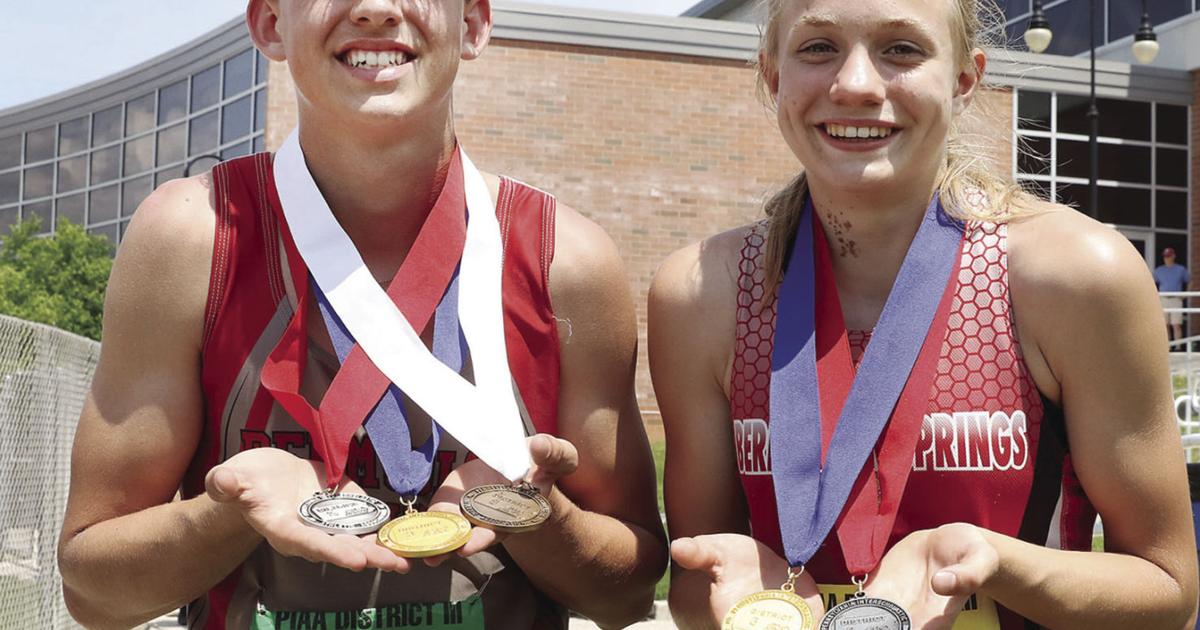 It's all in the family at Bermudian Springs.
The Eagles had about as good a day as they could've hoped for on Saturday's Day 2 of the District 3 Track and Field Championships at Shippensburg's Seth Grove Stadium.
At the forefront of that success were sibling duo Michael and Lily Carlson, who took home a pair of gold medals, a pair of silver medals and a bronze for Bermudian Springs.
"She's amazing," Michael, a senior, said of his sister. "As a freshman to run under 16 (seconds in 100 hurdles) and vault over 11 feet. She's way better than I was at that point."
Michael entered the season as one of the Eagles' team leaders and with high expectations after winning gold in the 110 hurdles a year ago, and finishing ninth in the state in the event. After a strong regular season, he once again entered the event as the favorite and with the top seed time.
This time, however, it was Trinity's Danny Britten, who took second to Carlson a year ago, who set the top time in the semifinals and entered the finals alongside Carlson in lane four. In the finals, Britten led early and maintained the advantage through the halfway point of the race. But late in the race, Carlson made his charge, closing on Britten and overtaking him over the last hurdle to grab the gold in a time of 14.61, a new personal record.
"I actually saw that he was ahead, but I didn't panic and I just kept my form and I got him at the end," he said of the race.
Michael Carlson's race came just moments after Lily, who had entered the girls' 100 hurdles as the top seed, came agonizingly close to making it a Carlson sweep in the event. Instead, she claimed second, finishing just .08 seconds behind senior teammate Lilly LaBure, who took home the gold in a time of 15.83. LaBure, to her credit, has led a young Eagles' girls' team that proved to be one of the best in the district.
"It's amazing," LaBure said of the strength of the Eagles, who had three girls in the 100 hurdles finals, with freshman Aliza Staub taking eighth. "Last year I had no one. I was all by myself. It was really great to be able to teach (Carlson and Staub), because they're both freshmen, so they're very new to this."
LaBure and Lily Carlson have been trading top times in the district throughout the season, something that the former says has pushed her to a higher level.
"It's definitely made me better and it's given me a better mindset going into the race," LaBure said. "I know that I have a freshman that is very close to me and I know that I have to push myself as much as possible."
Lily Carlson didn't have much time to dwell on the second-place finish, however, as she immediately headed over to the pole vault where she entered as the second seed behind Trinity's Adeline Woodward. Slowly but surely, the numbers began to dwindle, and after Delone Catholic's Marissa Miller was eliminated trying to clear 9-feet, 6-inches, it was down to just Woodward and Carlson.
Both made 10 feet, then it went to 10-6. At that point, Woodward was unable to clear the bar. Carlson, however, was successful, making the freshman a district champion and meaning she had the stage to herself as the bar went ever higher. After clearing 11 feet, she attempted a fault at one more height, 11-7.5, a would-be meet record. Despite the Seth Grove Stadium crowd on her side, Carlson was unable to top the height, but was nonetheless thrilled with her gold-medal winning effort.
"I didn't expect to be on the top," Lily said. "I was hoping for second, hoping to qualify for states. So this is beyond my expectations for the day and I'm happy with it."
Lily said that the support that she's received both from her teammates and her brother has pushed her to reach the level that she did on Saturday.
"It's great. It's great having Michael by my side and practicing with him and competing with him," she said. "He's made me so much better and so have my teammates and coaches."
In total, the Eagles claimed two gold medals and a silver in the 100/110 hurdles, something each athlete put down to the work of hurdles coach Jamie Lehr.
"We've had our coach Jamie Lehr for years and he's produced amazing athletes," LaBure said. "I just thank him for everything because he's taught me everything."
While Michael won gold in the hurdles and Lily gold in the pole vault, they each had to settle for second in the opposite event, with Michael taking second in the pole vault ahead of teammate Ethan Beachy, but behind Camden Gehris of Tulpehocken, who cleared the field by more than a foot with a vault for 14-2.
Despite that, there was one more gold medal yet to be had for the Eagles and that came from last year's freshman sensation, Alison Watts. In 2021, Watts came from seemingly nowhere to win a state championship in the triple jump. This time around, Watts entered the event as the favorite and didn't disappoint, taking home district gold with a jump of 36-10, 9.5 inches ahead of second-place Samantha Wechsler of Susquenita.
"I've been excited for this meet all season, because it's what everything works up to," Watts said. "So I've just been working toward this."
An animated Watts said that while last year she, like LaBure, felt a bit isolated, this year she's been energized by the success of the team around her.
"It is amazing. Our team this year has been so fun," she said as her face began to light up. "We've got another freshman, Lily Carlson, she's amazing in pole vault and she's so fun to watch. I just really like how our whole team is really close. Everyone's always yelling and the adrenaline's always high and it's just really fun."
Capping off a meet that can only be considered an unqualified success for the Times Area teams, Fairfield's Emma Dennison claimed her first district gold in the 300 hurdles after finishing second and setting a school record a year ago.
"I wanted to win districts, 100 percent," Dennison said of her goals for her senior season. "And I definitely want to place at states."
Her time of 47.11 was yet another school record, breaking the 47.16 she'd previously run to land the top seed in the event.
Joining the Carlsons, LaBure, Watts and Dennison at the state meet will be Gettysburg's Anne Bair, who set a school record with a jump of 17-11.25 in the Girls' 3A long jump to take fourth. She'll also compete in the triple jump after placing third with a distance of 37-5.5 on Friday.
Gettysburg teammate Gabe Pecaitis will head back to Shippensburg as well after his height of 13-3 landed him a fourth-place finish in the Class 3A boys' pole vault. New Oxford's Maya Richwine will also join the fun after taking fourth in the Class 3A girls' 100-meter hurdles in a time of 15.55.
The PIAA Track and Field Championships kick off at 9 a.m. on Friday and continue on through Saturday, with action also beginning at 9 a.m. on Day 2.
District 3 Track & Field Championships
Saturday – Shippensburg University
Team: 1. Cumberland Valley 64, 2. Palmyra 46, 3. Shippensburg 45.5, 4. Harrisburg 39, 5. Milton Hershey 36; 7. South Western 30, 33. Gettysburg 5
4×800 relay: 1. Twin Valley 7:56.92, 2. Cumberland Valley 7:58.13, 3. Wilson 8:01.53, 4. Hershey 8:01.74, 5. Carlisle 8:01.85, 6. York Suburban 8:02.35, 7. Susquehannock 8:03.27, 8. Manheim Twp. 8:04.31; 110 hurdles: 1. Waters (Har) 13.83, 2. Bernard Bell (SW) 14.45, 3. Conrad (BM) 14.68, 4. Crow (TV) 14.85, 5. Jones (Cham) 14.88, 6. McGallicher (MC) 14.97, 7. Baumgartner (Cham) 15.10, 8. Kelly (Cham) 15.11; 100: 1. Sloboh (MH) 10.71, 2. Cook (Har) 10.76, 3. Lewis (CCr) 10.85, 4. Mansfield (Pal) 11.00, 5. Weaver (LS) 11.,04, 6. Smith (SG) 11.09, 7. Morris (CCl) 11.10, 8. Springer (TV) 11.11; 1600: 1. Long (G-A) 4:13.37, 2. Roden (CD) 4:14.66, 3. Stevens (MT) 4:16.31, 4. Smith (War) 4:16.62, 5. Hodge (Hemp) 4:17.89, 6. O'Brien (Susq) 4:19.71, 7. Holbrook (Exe) 4:21.71, 8. Rager (Dal) 4:21.96; 4×100 relay: 1. Palmyra 42.56, 2. Central Dauphin 43.05, 3. Spring Grove 43.16, 4. Ephrata 43.20, 5. Cedar Crest 43.26, 6. Harrisburg 43.30, 7. Chambersburg 43.49, 8. South Western 43.52; 400: 1. Noss (CuV) 48.18, 2. Cammouf (MT) 48.36, 3. Tamayo (Wil) 49.36, 4. Richwine (BigS) 49.59, 5. Sloboh (MH) 49.64, 6. Frederick (CuV) 50.60, 7. Williamson (CCl) 50.70, 8. Keller (Eph) 50.84; 12. Bankert (SW) 51.27; 300 hurdles: 1. Waters (Har) 38.11, 2. Bell (SW) 38.76, 3. Faccio (Eph) 39.10, 4. McGallicher (MC) 39.85, 5. Emrey (Eph) 39.94, 6. Reinard (CuV) 40.21, 7. Crow (TV) 40.28, 8. Schmidt (BigS) 40.45; 800: 1. De la Riva (CuV) 1:55.15, 2. Smith (War) 1:56.16, 3. Engle (TV) 1:56.31, 4. Gitonga (ConV) 1:56.83, 5. Richwine (BigS) 1:57.32, 6. Roden (CD) 1:57.46, 7. Shernel Singh (SW) 1:57.48, 8. Vranich (LS) 1:58.98; 200: 1. Sloboh (MH) 21.58, 2. Cook (Har) 21.91, 3. Phennicie (Dal) 21.97, 4. Townsend (Palm) 22.35, 5. Noss (CuV) 22.35, 6. Cammauf (MT) 22.51, 7. Springer (TV) 22.65, 8. Premici (CDE) 22.81; 4×400 relay: 1. Cumberland Valley 3:21.53, 2. Palmyra 3:22.52, 3. Wilson 3:23.01, 4. Ephrata 3:25.65, 5. South Western 3:26.53, 6. CD East 3:27.67, 7. Boiling Springs 3:28.11, 8. Manheim Twp. 3:30.21
Javelin: 1. Hargrove (Car) 177-9, 2. Stauffer (CD) 177-5, 3. Diller (G-A) 172-5, 4. Bollinger (Coc) 170-9, 5. Becker (Palm) 169-1, 6. Kalb (EP) 167-5, 7. Remash (JPM) 163-11, 8. Vigliano (Mech) 163-8; Long jump: 1. Edey (Ship) 21-10.75, 2. Mansfield (Palm) 21-9,75, 3. Kirkwood (G-A) 21-5.75, 4. Sample (Muhl) 21-5.50, 5. Criste (Hemp) 21-4, 6. Weaver (LS) 21-3.75, 7. Epps (JPM) 21-2.75, 8. Bridgeford (MH) 21-2.50; Discus: 1. Smith (Ship) 164-7, 2. Wentz (Dal) 150-3, 3. Shomper (CuV) 149-11, 4. Stewart (JPM) 146-9, 5. Daub (ELCO) 143-10, 6. Mertz (Cham) 143-0, 7. Burys (Her) 138-10, 8. Arnold (YT) 138-8; High jump: 1. Arana (Ship) 6-6, 2. Sandhu (MH) 6-4, 3. Austin Martin (SW) 6-4, T4. Landreth (Ship) & Benner (JPM) 6-2, 6. Coleman (MH) 6-2, 7. Kelly (Cham) 6-2, 8. Smith (KD) 6-2; 9. Zach Derry (SW) 6-2
Team: 1. Wyomissing 95, 2. Trinity 74.33, 3. Bermudian Springs 61, 4. Berks Catholic 53, 5. Lancaster Catholic 48; 15. Hanover 17, 18. Fairfield 14.33, 20. Littlestown 11, 22. Delone Catholic 4.5, 23. Biglerville 4
4×800 relay: 1. Oley Valley 8:19.46, 2. Greenwood 8:21.95, 3. Wyomissing 8:24.14, 4. Tulpehocken 8:27.61, 5. Trinity 8:28.38, 6. Berks Catholic 8:29.95, 7. Susquenita 8:33.75, 8. Fairfield (Snyder, Schubring, Longenecker, Collins) 8:40.28; 110 hurdles: 1. Michael Carlson (Berm) 14.61, 2. Britten (Trin) 14.82, 3. McCraw (SH) 15.24, 4. Scott (LC) 15.51, 5. Thompson (Wyo) 15.55, 6. W. Delp (Wyo) 15.68, 7. Hoffard (LC) 15.88, 8. A. Delp (Wyo) 16.44; 100: 1. Peterson (BH) 11.21, 2. Nelman (Kutz) 11.26, 3. Harter (AC) 11.47, 4. Mammarella (BH) 11.47, 5. Zyan Herr (Lit) 11.50, 6. Sutton (BC) 11.51, 7. McGeary (BC) 11.55, 8. Gage Zimmerman (DC) 11.79; 1600: 1. Seymour (SV) 4:16.53, 2. Moore (LC) 4:29.63, 3. Matthew Nawn (Han) 4:30.21, 4. Cameron Carrolus (Berm) 4:34.20, 5. Burd (Trin) 4:37.36, 6. Peyton Small (Lit) 4:40.53, 7. Grim (OV) 4:42.95, 8. Boyd (Mil) 4:43.43; 4×100 relay: 1. Wyomissing 43.65, 2. Trinity 43.91, 3. Bermudian Springs (Harner, Pacana, Beachy, Carlson) 44.54, 4. Kutztown 44.72, 5. Steel-High 44.84, 6. Schuylkill Valley 45.14, 7. Annville-Cleona 45.23, 8. Brandywine Heights 45.54; DNF-Littlestown; 400: 1. Brungard (CH) 49.07, 2. Mitchell (HC) 49.08, 3. Sterner (BH) 50.62, 4. Freyermuth (Sus) 51.26, 5. Watson (AC) 51.54, 6. Brenkacs (Trin) 51.73, 7. Weiand (Trin) 51.90, 8. Green (AC) 52.12; 11. Nate Snyder (Fair) 54.04; 300 hurdles: 1. McCraw (SH) 40.33, 2. Scott (LC) 41.69, 3. Hoffard (LC) 42.01, 4. Colton Kehr (Berm) 42.64, 5. Robert Salazar (Big) 43.01, 6. W. Delp (Wyo) 43.44, 7. Brenny (Sus) 43.64, 8. Wright (HC) 43.75; DNF-Ryan VanDyke (Big); 800: 1. Seymour (SV) 1:57.37, 2. Moore (LC) 1:59.04, 3. Cassell (Green) 1:59.47, 4. Wagner (OV) 2:00.46, 5. Bednarczyk (Tulp) 2:03.93, 6. Singley (Sus) 2:05.16, 7. Hettinger (Wyo) 2:05.52, 8. Cohen (Wyo) 2:05.77; 9. Ethan Collins (Fair) 2:05.95, 13. Cameron Carrolus (Berm) 2:30.37; 200: 1. Thompson (Wyo) 22.89, 2. Mitchell (HC) 23.30, 3. Harter (AC) 23.54, 4. Brenkacs (Trin) 23.56, 5. Brungard (CH) 23.70, 6. Weiand (Trin) 23.72, 7. McGeary (BC) 23.79, 8. Sutton (BC) 24.32; 4×400 relay: 1. Brandywine Heights 3:29.69, 2. Susquenita 3:31.42, 3. Lancaster Catholic 3:35.11, 4. Berks Catholic 3:37.66, 5. Camp Hill 3:38.94, 6. Annville-Cleona 3:39.19, 7. Bermudian Springs (Ca. Carrolus, Col. Carrolus, Kehr, Harner) 3:40.48, 8. Tulpehocken 3:41.42; 9. Littlestown (Herr, Eader, Riedel, Lookingbill) 3:41.73
Triple jump: 1. Thompson (Wyo) 44-1, Dyer (Mill) 43-10.5, 3. Ricky Pacana (Berm) 43-0.25, 4. Taylor (Green) 41-4.5, 5. Gunderson (AC) 40-9.5, 6. Deppen (Trin) 40-7.5, 7. Jordan (BC) 40-2.75, 8. O'Brien (Wyo) 39-8; 12. Connor Mummert (Berm) 38-3.75, 13. Ethan Beachy (Berm) 37-6.5; Shot put: 1. Williams (Wyo) 57-4, 2. Mider (BC) 56-1.5, 3. Witmer (BC) 49-10.25, 4. Huddleson (BC) 45-2.25, 5. Bennett (Green) 44-9.50, 6. Craig (Trin) 44-4, 7. Aaron Weigle (Berm) 42-8, 8. Focht (Wyo) 41-8; 12. Jack Regentin (Big) 35-1.25; Pole vault: 1. Gehris (Tulp) 14-2, 2. Carlson (Berm) 13-0, 3. Beachy (Berm) 12-6, 4. Martinez (SV) 12-0, T5. Wyatt DiDio (DC) & Erb (Tulp) 11-6, 7. Hack (OV) 11-6, 8. Durle (Trin) 11-6; 9. Col. Carrolus (Berm) 11-0
Team: 1. Cumberland Valley 61, 2. Bishop McDevitt 48, 3. McCaskey 46, 4. Carlisle 42, 5. Wilson 41; 20. Gettysburg 12, 31. New Oxford 7.5, 33. South Western 6
4×800 relay: 1. McCaskey 9:28.16, 2. Warwick 9:31.33, 3. Wilson 9:33.41, 4. Cumberland Valley 9:34.35, 5. Dallastown 9:36.75, 6. Carlisle 9:37.01, 7. Manheim Twp. 9:44.52, 8. Cedar Crest 9:44.99; 100 hurdles: 1. Brooks (BM) 14.92, 2. Kay (YS) 15.15, 3. Kelly (GS) 15.15, 4. Maya Richwine (NOx) 15.55, 5. Brown (Wil) 15.72, 6. Galligani (Dov) 16.08, 7. Malcolm (LS) 16.11, 8. Reed (MC) 16.27; 100: 1. Campbell (SG) 11.63, 2. Morrison (Her) 11.91, 3. Holmes (Cham) 12.12, 4. Mitchell (Car) 12.23, 5. Long (Eph) 12.29, 6. Campbell (ST) 12.53, 7. Wall (LS) 12.56, 8. Rivera (Exe) 1264; 1600: 1. Walter (Mech) 4:59.41, 2. Alder (Car) 5:00.88, 3. Paci (G-A) 5:02.29, 4. Rippey (Wil) 5:04.61, 5. Preputnick (Her) 5:06.08, 6. Tolerico (Dal) 5:09.11, 7. Werner (CW) 5:09.59, 8. Kimmel (Eph) 5:10.76; 4×100 relay: 1. Cumberland Valley 48.31, 2. Bishop McDevitt 48.94, 3. Hershey 49.02, 4. McCaskey 49.13, 5. Wilson 49.38, 6. Susquehanna Twp. 49.59, 7. Garden Spot 49.74, 8. Carlisle 49.78; 400: 1. Sydnor (Ship) 55.67, 2. Ebersole (CuV) 56.31, 3. Boardman (CuV) 56.40, 4. Long (Eph) 56.97, 5. DeSyon (JPM) 57.53, 6. Morrison (Her) 57.96, 7. Swartz (LD) 58.21, 8. Derkosh (Susq) 58.67; 300 hurdles: 1. Brooks (BM) 45.40, 2. Benshoff (Way) 46.46, 3. Leatherman (Car) 46.61, 4. Lapp (ConV) 47.02, 5. Galligani (Dov) 47.05, 6. Ross (CuV) 47.27, 7. Hellman (CuV) 47.32, 8. Dillon (Mech) 47.56; 19. Leppo (SW) 48.,96; 800: 1. Dallas (Wil) 2:15.82, 3. Breuninger (JPM) 2:17.09, 3. Keith (Exe) 2:17.15, 4. Pines (CuV) 2:17.76, 5. Miller (TV) 2:17.87, 6. Yameogo (Mech) 2:18.20, 7. Alder (Car) 2:18.21, 8. Brunner (Nor) 2:21.28; 200: 1. Campbell (SG) 25.01, 2. Wright (JPM) 25.73, 3. Sydnor (Ship) 25.73, 4. Dorsey (ST) 26.46, 5. Hess (GM) 26.57, 6. Gawne (LS) 27.05, 7. Boback (Car) 27.05, 8. Rivera (Exe) 27.06; 4×400 relay: 1. Cumberland Valley 3:52.33, 2. McCaskey 3:53.46, 3. Wilson 4:01.09, 4. Mechanicsburg 4:03.01, 5. Lower Dauphin 4:05.29, 6. Warwick 4:06.11, 7. Twin Valley 4:06.89, 8. Milton Hershey 4:07.64
Discus: 1. Jackson (Har) 148-3, 2. Clark (Mech) 123-1, 3. Lucas (War) 122-2, 4. Ermold (GM) 121-1, 5. McIntire (RLi) 118-4, 6. Sopp (EP) 118-2, 7. Bellows (CuV) 118-0, 8. Nelson (ELCO) 113-5; 15. Sofia Harnols (SW) 102-4; High jump: 1. Becker (War) 5-10, 2. Knier (MC) 5-4, 3. Madeline Lehker (SW) 5-2, 4. Richwine (Car) 5-2, 5. Shuke (Eph) 5-2, 6. Rosenberger (BC) 5-0, 7. Wegman (Exe) 5-0, T8. Hope Null (NOx) & Gery (ELCO) 5-0; Long jump: 1. Bennett (BM) 18-3.25, 2. Tirko (Nor) 18-1.75, 3. Foster (BM) 18-0.25, 4. Anne Bair (Get) 17-11.25, 5. Knier (MC) 17-10, 6. Husic (BM) 17-6.25, 7. Urbine (Sol) 17-6, 8. Post (CuV) 17-2.50; Javelin: 1. Williams (Har) 146-9, 2. Knier (MC) 126-10, 3. Swarr (LS) 125-4, 4. Jackson (Har) 123-6, 5. Price (Palm) 123-0, 6. Kellam (JPM) 121-7, 7. Shaely Stabler (NOx) 119-3, 8. Gotwals (CY) 117-5
Team: 1. Wyomissing 97.33, 2. Trinity 78, 3. Boiling Springs 72, 4. Schuylkill Valley 67, 5. Bermudian Springs 64.5; 11. Delone Catholic 23.83, 13. Fairfield 22, 21. Littlestown 3.33, 23. Hanover 1
4×800 relay: 1. Boiling Springs 9:45.74, 2. Trinity 9:48.27, 3. Wyomissing 9:57.96, 4. Schuylkill Valley 10:17.47, 5. Fairfield (Strosnider, Chesko, Nightingale, Dennison) 10:20.36, 6. Camp Hill 10:23.19, 7. Brandywine Heights 10:37.63, 8. Susquenita 10:38.53; 100 hurdles: 1. Lilly LaBure (Berm) 15.83, 2. Lily Carlson (Berm) 15.91, 3. Kimmel (BoS) 16.12, 4. Wechsler (Sus) 16.25, 5. Emma Dennison (Fair) 16.40, 6. Brinser (Green) 16.90, 7. Costa (HC) 17.47, 8. Aliza Staub (Berm) 19.02; 100: 1. Ahner (Tulp) 12.53, 2. Hardy (Wyo) 12.57, 3. Ziska (SV) 12.83, 4. K. Cooper (AC) 12.85, 5. Ames (HC) 12.87, 6. A. Cooper (AC) 13.02, 7. Conroy (Kutz) 13.06, 8. Watter (Mil) 13.54; 1600: 1. Chamberlin (BoS) 5:08.18, 2. Cohen (Wyo) 5:18.61, 3. Peters (AC) 5:27.58, 4. Shore (Trin) 5:28.50, 5. Lottig (OV) 5:28.96, 6. Kauffman (LC) 5:32.06, 7. Riddle (Wyo) 5:33.63, 8. Erne (BoS) 5:34.67; 14. Honey Strosnider (Fair) 6:02.52; 4×100 relay: 1. Wyomissing 50.01, 2. Annville-Cleona 51.07, 3. Schuylkill Valley 51.51, 4. Boiling Springs 51.68, 5. Susquenita 51.77, 6. Littlestown (Schaeffer, Nunemaker, Feser, King) 52.45, 7. Delone Catholic (O'Brien, Bunty, McCann, Rupp) 52.50, 8. Greenwood (52.71; 9. Bermudian Springs (Means, Watts, Patton, Cunningham) 52.76; 400: 1. Hoke (Wyo) 59.79, 2. Maury (Trin) 1:00.19, 3. Ahner (Tulp) 1:02.07, 4. Cloak (Trin) 1:02.16, 5. Francis (AC) 1:02.67, 6. Forcey (CH) 1:03.04, 7. Cunningham (Trin) 1:03.33, 8. Dougherty (LC) 1:03.39, 13. Lillian Peters (Berm) 1:05.31; 300 hurdles: 1. Dennison (Fair) 47.11, 2. Brinser (Green) 48.00, 3. Lentz (CC) 48.75, 4. Costa (HC) 48.99, 5. Wolfe (LC) 49.44, 6. Sutton (BoS) 49.84, 7. LaBure (Berm) 50.42, 8. Emma Bunty (DC) 50.74, 9. Carlson (Berm) 50.91, 11. Emily McCann (DC) 52.12, 15. Sarah Nagy (Fair) 55.55; 800: 1. Chamberlin (BoS) 2:18.97, 2. Thomas (LM) 2:21.58, 3. Benner (BH) 2:2863, 4. Haring (Kutz) 2:29.21, 5. Shore (Trin) 2:29.22, 6. Kauffman (LC) 2:30.05, 7. Crowell (Trin) 2:30.11, 8. Erme (BoS) 2:30.43; 200: 1. Ahner (Tulp) 26.13, 2. Ziska (SV) 26.31, 3. Hardy (Wyo) 26.42, 4. K. Cooper (AC) 26.86, 5. Ames (HC) 27.52, 6. Davina Cunningham (Berm) 27.68, 7. Matter (Mill) 28.05, 8. LaBure (Berm) 28.24; 4×400 relay: 1. Trinity 4:09.32, 2. Wyomissing 4:11.34, 3. Boiling Springs 4:1.1.59, 4. Kutztown 4:21.82, 5. Camp Hill 4:22.11, 6. Susquenita 4:22.45, 7. Schuylkill Valley 4:23.86, 8. Greenwood 4:25.57; 11. Delone Catholic (O'Brien, Hughes, McCann, Rupp) 4:26.65, 12. Bermudian Springs (Cunningham, Beall, Peters, LaBure) 4:31.05
Pole vault: 1. Carlson (Berm) 11-0, 2. Woodward (Trin) 10-0, 3. Marissa Miller (DC) 9-0, 4. Petula (BoS) 9-0, 5. Lenker (BoS) 8-6, 6. Geesaman (Trin) 8-6, 7. Kotula (Wyo) 8-0, 8. Nygard (Kutz) 8-0; 9. Hailey Dermota (Berm) 8-0; Shot put: 1. Deyarmin (SV) 34-10.75, 2. Witkowski (Trin) 34-1.5, 3. Coleman (AC) 33-1.75, 4. Heliodoro (Wyo) 32-8.25, 5. Ritzman (Green) 32-6, 6. Allewelt (Sus) 32-3.75, 7. Baranko (Trin) 31-11.5, 8. Vasquez (Wyo) 30-11.75; 10. Reagan Wildasin (Han) 29-7.25, 11. Gabby Roberts (DC) 28-11.25; Triple jump: 1. Allison Watts (Berm) 36-10, 2. Wechsler (Sus) 36-0.5, 3. Cassler (Wyo) 34-10, 4. Rolston (Green) 33-5.75, 5. Kotula (Wyo) 33-4.25, 6. Myers (Green) 33-2.25, 7. White-Vega (CC) 33-1.75, 8. Makenna Mummert (DC) 33-1.75; 12. Miller (DC) 31-7.75; 13. Alanys Perez-Beltran (Han) 31-3.75, 14. Madi Dillon (Lit) 30-7
https://www.gettysburgtimes.com/sports/article_3034f725-5637-51e2-a54d-869c22c37829.html