Uncategorized
Chewable and nutty pearl barley stars in this hearty dish Food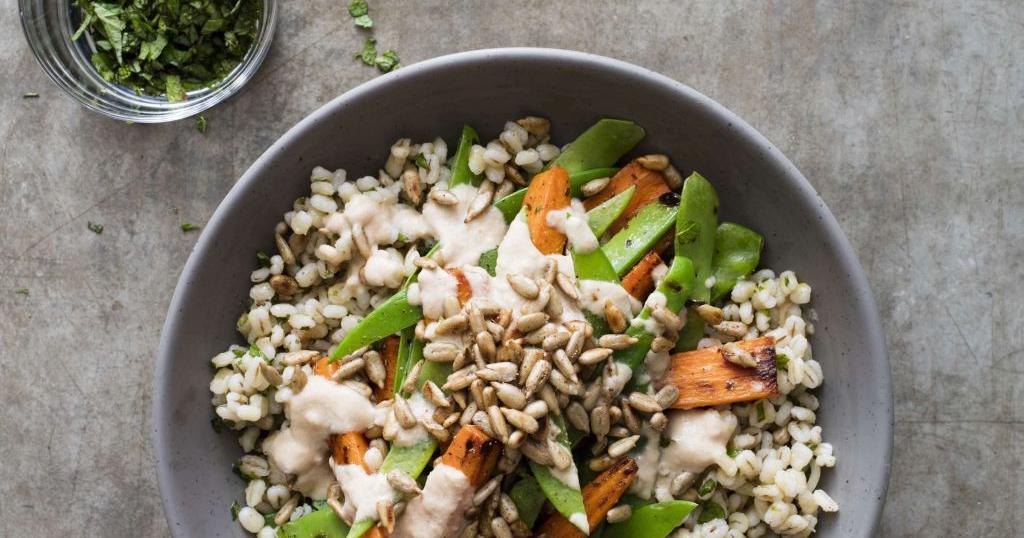 Chewy, nutty pearl barley is not just for soups. Here we made it a star of a hearty bowl, full of contrasting – and amazing – textures and Middle Eastern flavors, with warm spices and colorful vegetables.
To make the cooking method easy, we just boiled the barley. This made the individual grains brittle and kept them clear and light. We watered the warm barley with a bright lemon-mint dressing so that the grains were easily absorbed.
While the barley was cooking, we fried in a pan the spears of carrots sprinkled with coriander, until charred, sweet and soft. We then tossed in the crispy snow peas and boiled it until it appeared blistering so they kept their green freshness.
Roasting sunflower seeds with cumin, cardamom and a little more coriander gave the dish a warm, fragrant finish. We poured into a bowl a handful of processed barley and vegetables and then sprinkled with crunchy seed stuffing.
Finally, to bring all the ingredients of the bowl together, we needed to drip the sauce, and our tahini sauce was a creamy, savory addition. Do not replace in this recipe peeled barley or barley without shell.
If you use instant barley or pre-steamed (to determine, read the list of ingredients on the package), you will need to reduce the cooking time of the barley. We also like this bowl of avocado.
BARLEY BOWL WITH ROASTED CARROTS AND SNOW PEAS
Servings Per Container: 4-6
From start to finish: 1 hour 10 minutes
¼ glasses of olive oil
3 tablespoons chopped fresh mint
1 teaspoon grated lemon zest plus 2 tablespoons juice
1½ cup pearl barley
Add salt and pepper
5 carrots peeled
¾ teaspoon ground coriander
8 ounces of snow peas, removed threads, cut lengthwise in half
2/3 cup raw sunflower seeds
½ teaspoon ground cumin
1/8 teaspoon ground cardamom
½ glasses of tahini sauce (recipe below)
Mix 2½ tablespoons oil, 2 tablespoons mint, zest and lemon zest and juice together in a large bowl, set aside. Bring 4 liters of water to a boil in a large saucepan. Add barley and 1 tablespoon salt, bring to a boil and cook until cooked through, 20 to 40 minutes. Drain the barley, transfer to a bowl with the lemon-mint mixture and stir. Season with salt and pepper to taste and cover to keep warm.
While the barley is cooking, cut the carrots in half across and then in half or in quarters lengthwise to create pieces of the same size. Heat 1 tablespoon oil in a 12-inch non-stick skillet over medium heat until smoked. Add the carrots and ½ teaspoon of coriander and cook, stirring occasionally, until lightly charred and soft, 5 to 7 minutes. Stir in the snow peas and cook until the crust is spotted for 3 to 5 minutes; transfer to a second bowl.
Heat the remaining 1½ teaspoon of oil in an empty pan over medium heat until shiny. Add sunflower seeds, cumin, cardamom, remaining ¼ teaspoon of coriander and ¼ teaspoon of salt. Cook, stirring constantly, until the seeds are browned, about 2 minutes; transfer to a third bowl.
Divide the barley into separate bowls, then cover with a mixture of carrot-snow peas and sunflower seeds. Drizzle with tahini sauce, sprinkle with the remaining 1 tablespoon of mint and serve.
Tahini sauce:
It turns out about 1¼ cup
½ glasses of tahini
½ glasses of water
¼ glasses of lemon juice
2 cloves garlic, chopped
Salt
Whisk the tahini, water, lemon juice and garlic in a bowl until smooth. Add salt to taste. (The sauce can be stored in the refrigerator for up to 4 days. Bring to room temperature and stir before serving.)
Nutrition information per serving: 513 calories; 262 calories from fat; 29 g of fat (4 g of saturated; 0 g of trans fat); 0 mg cholesterol; 242 mg of sodium; 55 g of carbohydrates; 13 g of fiber; 4 g of sugar; 13 g of protein.
Find more recipes like barley bowls with fried carrots in "Vegan for Everyone".