Business
Christmas shopping is alive and well despite supply chain problems Local news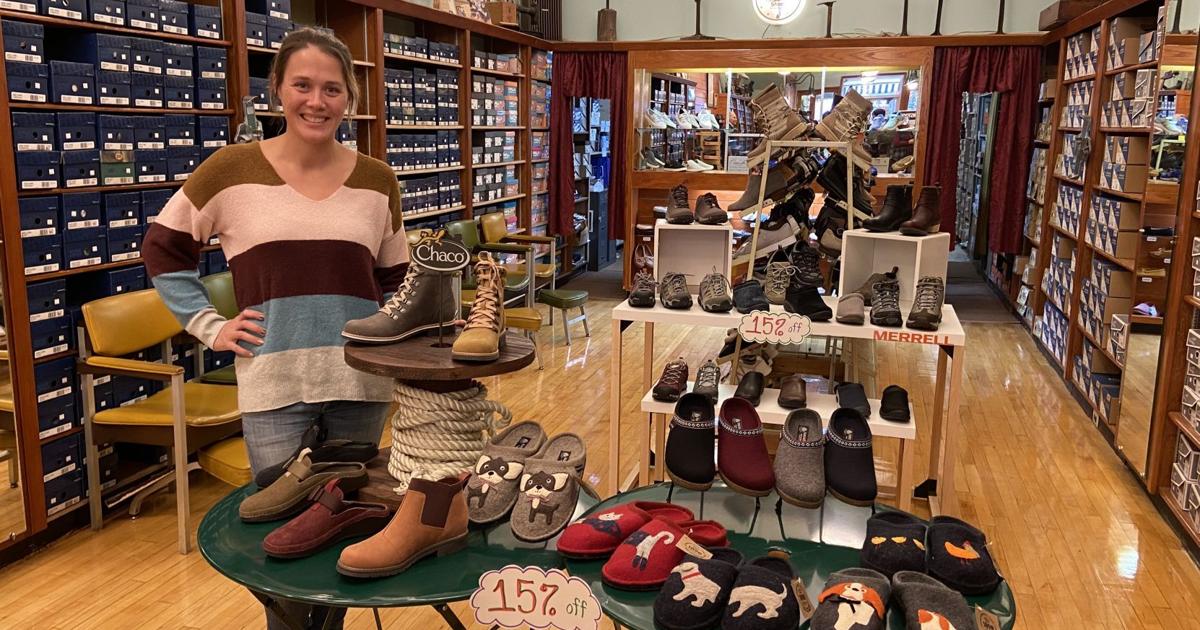 On Black Friday and Saturday small businesses goods fly off the shelves of Gettysburg. With the exception of a few goods, local traders are confident they can replenish stocks.
"If you're looking for a specific item, there may be a problem. But if you are open to what is there, everything will be fine. " – said Timbre Wallace, owner of Lark Gift Shop, Oh Man! and Nerd Herd Gifts and Games, located in Lincoln Square in Gettysburg.
Several traders in the Gettysburg area said Black Friday sales had returned to pre-pandemic levels. This may be a sign of a return to normal life or perhaps that buyers are following instructions while taking advantage of deals.
Through social media, several businesses have advised shoppers to quickly start buying gifts to avoid the hassles associated with supply chain problems.
Since the start of the COVID-19 pandemic, business closures and labor shortages have limited the number of supplies needed to produce critical goods. Labor markets around the world have paid the most money and waited longer for limited supplies. Reducing the number of truckers and docks has slowed the transfer of cargo when ships enter the port.
Since the start of the pandemic, Wallace has learned more about supply chains than she thought. Often the whole product becomes unavailable because a certain component is unavailable.
In some cases, she learned that the products could not be transferred to the dock because other shipping boxes full of supplies had been abandoned, either because the purchasing company had closed or decided that the shipping cost was too expensive.
Other times there are enough truck drivers and the containers arrive on time, but the chassis or trailers needed to secure the trucks are gone, she said.
"It's constantly changing," she said. "It's really a chain, and the links are much more than I ever knew. It's hard. It takes a long time, but it's not impossible. What we can't do is get a specific thing at a certain time, but overall I can get the goods. "
In some stores, such as Gallery 30, 26 York St. and A&A Village Treasures, 53 Chambersburg St., did not experience a significant drop in supplies due to purchases mostly American, but in the case of A&A, Canadian and Italian supplies.
"We still have an amazing collection of beautiful products," said Linda Atie, owner of Gallery 30. "Our store has excellent stocks all year round, so we're in no hurry with new products during the holidays."
However, in some cases this meant that deliveries were planned much earlier. Atiye said that hand-painted copper tiles with Houston Lew glass finishes would usually take two weeks, but would take 14 instead.
John Lansing, owner of Redbud House Kitchenwares kitchen equipment, 28 Baltimore, says things are out of stock from time to time, but fortunately there are several suppliers of most kitchen appliances, he said.
Many popular items, such as cutting boards engraved with a Pennsylvania map, or bottle caps that allow bottles to lie sideways in the refrigerator, have become best-selling instead of others that are currently unavailable. He said Nordicware cookware also remains a constant seller.
"Nordic tableware is made in Minneapolis, so it's easy to keep on hand," he said.
Stores that sell certain goods may have more difficulty than those that have different goods.
At Martins 'Family Shoes, 26 Baltimore St., most shoes have become available, although the waiting time is longer, said John Fiedler, owner. However, Birkenstock and New Balance shoes have not been available for retail order since late July and early August, he said, due to the closure of factories in other countries due to the COVID-19 outbreak, he said.
As a result, some alternative brands are making a breakthrough, he said. He recommends Hoka sneakers to those who lack the comfort of New Balance shoes.
"They have tons of conditioning and support," he said. "As for Birkenstocks, we hope that (proposals) return to normal soon."
The entire comics industry has changed a lot since the beginning of the pandemic that Four Corners Comics and Games have learned to deal with.
Prior to the pandemic, almost all major comic books were published and distributed through Diamond Comic Distributors. As paper and workers became more in short supply, major comic book developers such as Marvel and DC began looking for new distribution opportunities that required purchases to deal with three companies instead of one, said Art Sanchez, owner of Four Corners and Comics.
"Several companies fought for the same printers," he said.
Due to lack of paper, some comic book issues have been postponed for a month or more. At one time, comic book stores could return copies that were not purchased by customers. Now, due to shortages, all sales are now final. The names of the manga, printed and distributed in Asia, have become almost impossible to obtain, he said.
Customers looking for gifts are more likely to be able to find what interests them, Sanchez said. However, customers looking for new releases weekly or monthly will want to start making pre-orders, he said.
"It may not be the day it is released, but it will be here," he said. "Such stores work best with a subscription."
At the Fresh Boutique women's clothing store, located at 28 Chambersburg St., owner Shelley Knows receives the goods in demand, but not always on time.
"We make a lot of phone calls, and not always a lot of answers," she said. "Before you send an email and get a response the next day. Sometimes now you check the same product two or three times, and it takes much longer. "
Many delivery problems in the industry are related to the pandemic, but in one case a California clothing brand was forced to change factory due to forest fires, she said. It's easy to be disappointed, but patience is the key, she said.
"We told customers to keep checking until the week before Christmas," she said. "Even after. In January we will have brand new slippers. "
https://www.gettysburgtimes.com/news/local/article_847d55f5-b454-546f-80ea-8495bb0bc6e9.html