Pennsylvania
Coastal storm to blow in bad weather Friday, Saturday – NBC10 Philadelphia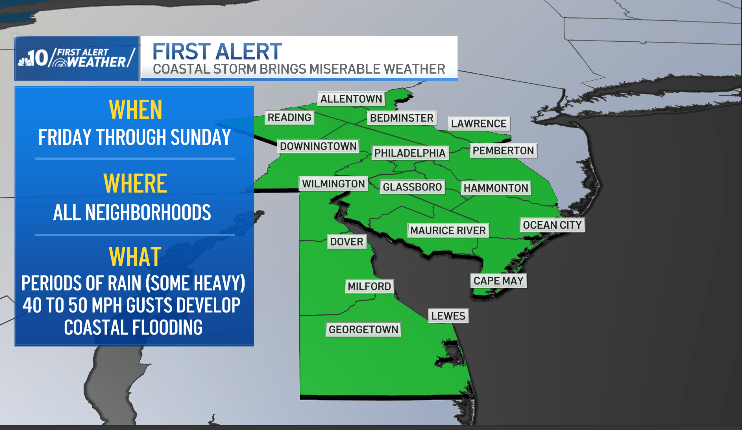 The coastal storm is expected to bring wet and windy weather to the area starting Friday morning and continuing throughout the day and night.
And Saturday will only get worse.
NBC10 announced its first alarm Friday through Sunday over this devastating, slow coastal storm.
"This is not the type of first warning when we are concerned about serious injury or threat to life," said NBC10 First Alert meteorologist Steve Pine. "But it will have serious consequences for those who need to be outdoors, especially on Mother's Day weekend."
The storm coming from the west will intensify as it recovers on Saturday's coast. The rains will continue on Saturday afternoon and evening.
And the comfortable 70s on Thursday give way to Fridays of the 60s, and to Saturday – 50s, and windmills even lower. "There will be grief in May," Pine said.
Saturday and Sunday will also be windy with gusts of up to 40-50 miles per hour.
Coastal floods may occur off the coast of Jersey, beginning with the tidal cycle on Saturday night and Sunday. Extensive minor floods are expected, in some places including Barnegat Bay and Sea Isle City, moderate floods are expected from 23:00 on Saturday and 3:00 on Sunday.
https://www.nbcphiladelphia.com/weather/stories-weather/coastal-storm-to-blow-in-miserable-weather-friday-saturday/3229885/