Not invented, frufru, food-literate food. No veal combs, no veal combs, no cream-English soups, no artistically designed demiglas curls.
It's about real food. It's about the food you prepare when you come home after your trip has been longer than a work day, after you've noticed that your boss hints at vacancies that you might like in other companies if you need to take one child for hockey practice and the other for Girl Scouts and another to practice the band, and you're sure you only have two kids.
I asked my colleagues in the features department about what dishes they cook when everyone is hungry and they just don't have the time, energy or maybe even the ingredients to cook their usual Tuesday night terrine with foie gras .
They responded with great, easy-to-follow ideas that tasted great. Everyone, by the way, had starch, a source of protein and vegetables. If you are tired, hungry and do not have time, apparently you want the nutritional needs for the whole meal to be in one dish.
Even the most exotic of the answers is simple because it uses prepared things that you get in the store. Pizza Tikka Masala Naan Pizzas starts with prepared naan pancakes, which are then spread with teak masala sauce, which is spread with a spoon straight from the jars.
This dish works so well because teak masala sauce from jars can be very good if you like spicy food. And although the store-bought naan may not match the freshly prepared sample from the restaurant, it is definitely good enough for our purposes.
I added cooked chicken and sauteed mushrooms to the naan pizza (i.e. not pizza), sprinkled it with shredded mozzarella cheese and added a few spinach leaves more for visual appeal than for flavor. A few minutes in a hot oven melted the cheese and browned the edges of the nano.
It was an easy to perform Indo-Italian masterpiece.
Following the Italian theme, I made Hahnilini. Obviously, this is the creation of a woman who has two children: it is fast, efficient and satisfying. Looks beautiful, and tastes good too.
Khanilini begins with a beautiful form of pasta – bow ties, shells or fusilli (which the creator of the recipe calls "noodles scruble"). Cook as usual, but a couple of minutes before cooking, add the broccoli to cook the pasta.
Brilliant, right? You drain the pasta and broccoli and mix them with slices of boiled chicken, garlic salt, butter and shredded parmesan cheese.
As the recipe says, "Serve on pasta plates, bowls or regular plates. and tell your family to be happy about it. "
Next comes the instant ramen with a difference. Perfect Instant Ramen takes your standard ramen package – I bought it for 25 cents – adds broccoli, forms poached egg and seasons it with butter, onions, sesame seeds and, um, American cheese.
The recipe is actually an adaptation of a recipe from a chef from Los Angeles who played in the New York Times. It's Korean comfort food, said chef Roy Choi; that's how he ate ramen when he was growing up, and loves to eat it today.
The supplement made by my colleague is broccoli. Broccoli completes and deepens the taste and provides nutrients to an environment that is otherwise just as rich in sodium as it tastes.
Finally, I made a quesadilla, which is defined by less specific ingredients than anything left in the fridge. Here's what happens when you don't have time and you need to have lunch.
I wanted this one to be vegetarian, that's how it is often done by the woman whose recipe it is. I put in my broccoli (I have some left over from other recipes) as well as sauteed mushrooms and diced tomatoes, plus of course shredded cheese – I used Colby Jack.
The woman, whose recipe, looked once and said, "You put in your own more things than I do."
But it was good. This is the advantage of quesadillas "What's in the fridge". Virtually everything you use will taste great.
TICKA MASALA NAAN PIZZA
Yield: 4 servings
4 tortillas naan
1½ Cups Teak Masala Sauce (with Jars)
4 chicken thighs, boiled and diced
1¼ cup shredded mozzarella cheese
6 large mushrooms, chopped and fried
½ cups of freshly washed spinach
Preheat oven to 400 degrees.
Put the naan on a baking sheet and heat for 2 to 3 minutes. Remove from the oven and pour the teak masala sauce. Lay out the chicken, mushrooms and cheese on top. Lay whole spinach leaves on top. Bake until the cheese has melted and the naan has browned at the edges.
Per serving: 642 calories; 24 g of fat; 10 g of saturated fat; 168 mg of cholesterol; 47 g of protein; 63 g of carbohydrates; 13 g of sugar; 5 g of fiber; 1338 mg of sodium; 315 mg of calcium
Gabe Hartwig's recipe
KHANILINI
Yield: 4 to 6 servings
1 pound butterfly pasta, shell pasta or fusilli
Inflorescences of 1 head of broccoli, cut into small pieces
2 to 3 boiled chicken breasts, diced
Garlic salt, to taste
2 tablespoons butter
½ cups of shredded parmesan cheese
Prepare the pasta according to the instructions on the package. In the last 2-3 minutes of boiling add the broccoli. Drain. Add chicken, garlic, salt, butter and sprinkle with parmesan. Throw. Serve on pasta plates, bowls or regular plates and tell your family to enjoy it.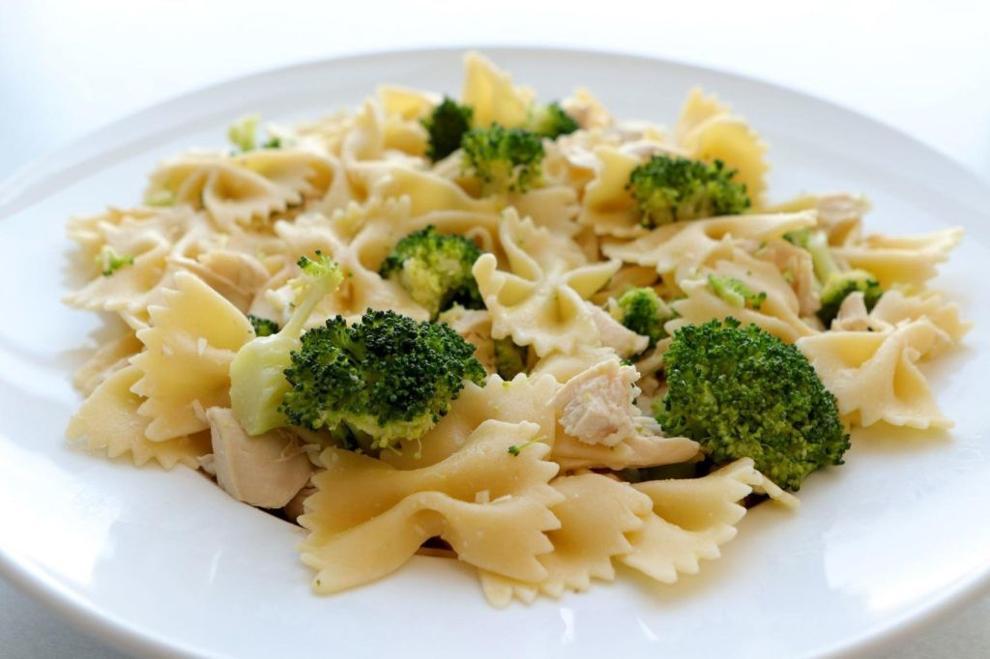 Per serving (based on 4): 640 calories; 13 g of fat; 6 g of saturated fat; 82 mg of cholesterol; 41 g of protein; 87 g of carbohydrates; 4 g of sugar; 5 g of fiber; 821 mg of sodium; 178 mg of calcium.
Recipe by Valerie Shremp Khan
The perfect instant belt
¾ glasses of broccoli inflorescences
1 pack of ramen noodles with a packet of flavor (save sodium by using a packet)
1 large egg
½ tablespoons butter
2 slices of American cheese
¼ teaspoon toasted sesame seeds
½ onions, only the green part, thinly sliced ​​to the side
Bring 2½ cups of water to a boil in a small saucepan. Add the broccoli and cook for 2 minutes. Add the noodles and cook for 2 minutes. Add the flavoring and continue to cook for another 30 seconds.
To the broth over low heat, carefully add the egg. Do not mix; pull the noodles on the egg and allow to infuse for 3 minutes to simmer.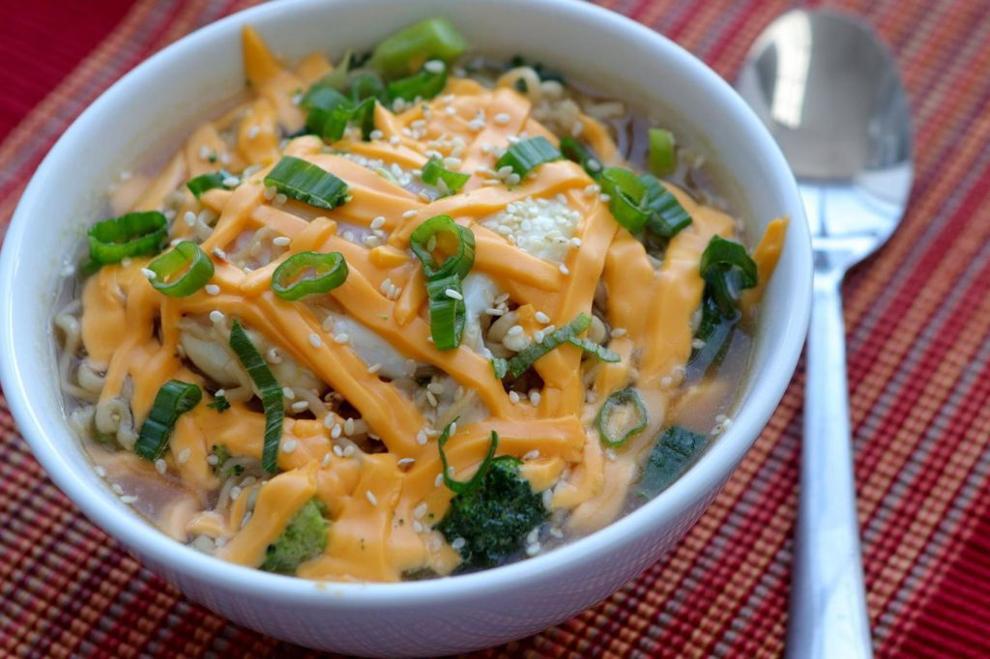 Transfer everything to a bowl, add butter, cheese and sesame seeds and mix everything. Garnish with green onions.
Per serving: 732 calories; 44 g of fat; 22 g of saturated fat; 257 mg of cholesterol; 27 g of protein; 58 g of carbohydrates; 4 g of sugar; 4 g of fiber; 2607 mg of sodium; 672 mg of calcium
Adapted from Amy Bertrand from Roy Choi's recipe in the New York Times
WHAT'S IN THE REFRIGERATOR OF KEZADIL
Yield: 1 serving
1 teaspoon olive oil
2 tortillas made of flour
1 cup boiled broccoli inflorescences
4 chopped mushrooms, sauteed
½ a large diced tomato
¼ cups of shredded cheese, such as Colby Jack
Note: these fillings are only suggestions. Use whatever is left in the fridge.
Heat the oil in a frying pan until hot and add 1 tortilla. Cook for 1 minute, then remove. Put another tortilla on the pan and spread the broccoli, mushrooms and tomatoes evenly. Sprinkle with cheese on top. On top put another tortilla greased with oil up. Cook for 1 minute until the bottom tortillas are browned.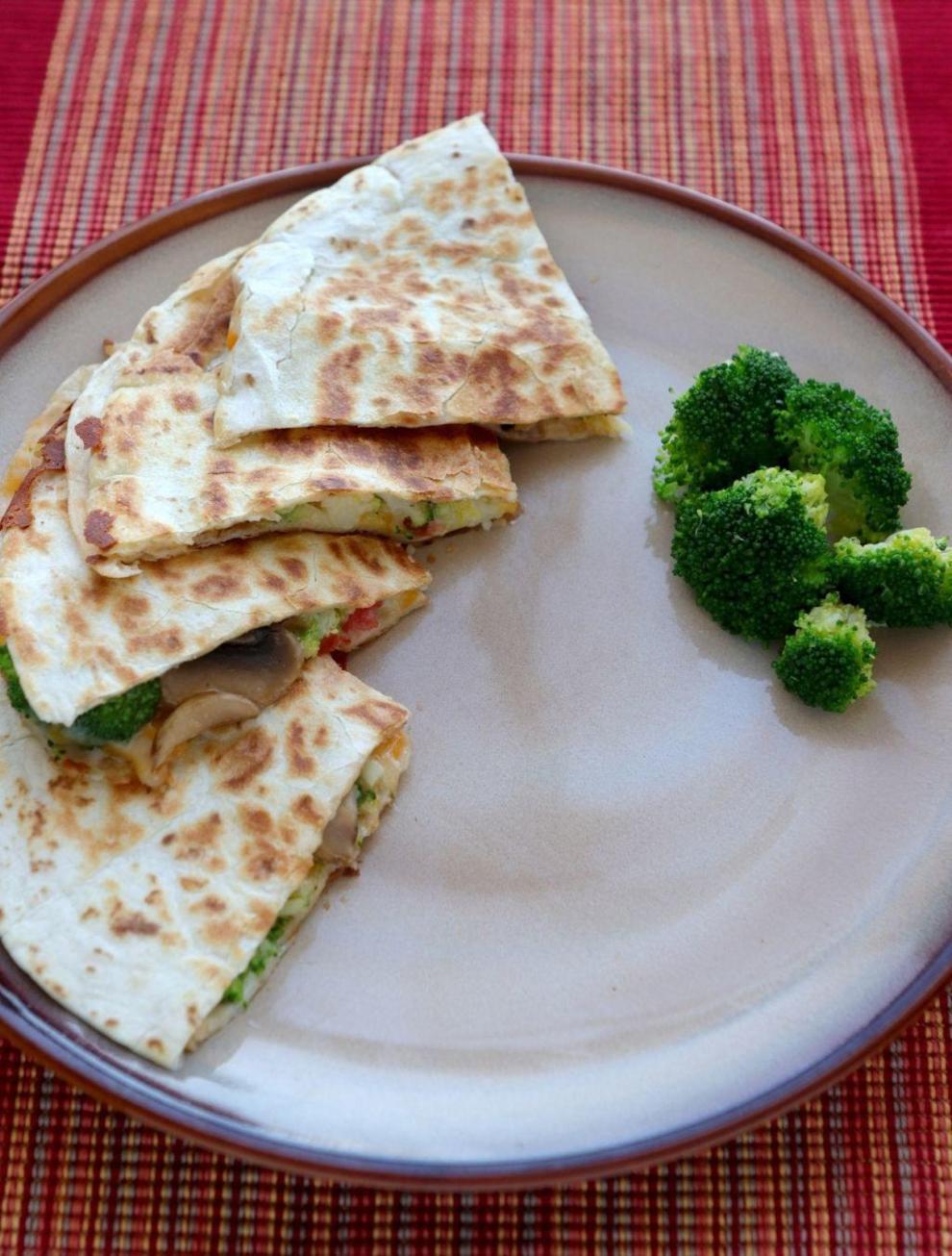 Turn the quesadilla over and cook until the cheese has melted, 1 to 2 minutes. Cut into quarters and immediately serve.
Per serving: 485 calories; 20 g of fat; 7 g of saturated fat; 25 mg of cholesterol; 19 g of protein; 60 g of carbohydrates; 4 g of sugar; 3 g of fiber; 659 mg of sodium; 456 mg of calcium
Recipe Norms Klingsik