Uncategorized
Do you have tomatoes, zucchini, peppers? Cook ratatouille Food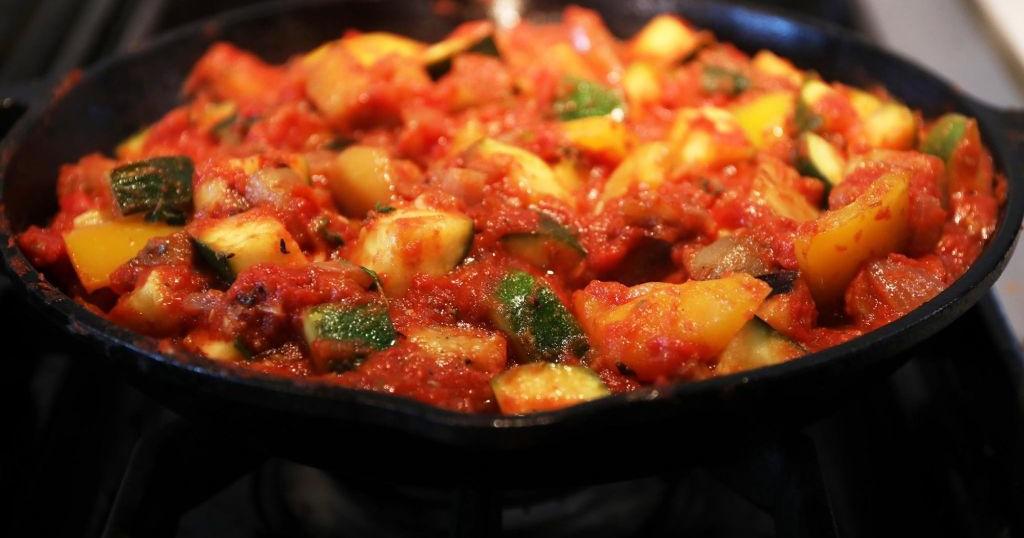 The first thing to remember is that there are exactly 9 basilis and 12 ratatouille recipes. This means that there is no single "right" way to do this. Of course, there are many wrong ways – burnt onions, not enough spices – but this is such a common preparation that almost every chef does it in his own way.
Usually – but not exclusively – ratatouille consists of approximately equal amounts of eggplant, zucchini and bell peppers, seasoned with onions, garlic and herbs. Tomatoes are added in direct proportion to the taste of the cook. What distinguishes the different ways of treating ratatouille is the choice of vegetables, the size and shape of the slices, as well as the method of preparation. Let's see.
Vegetables: along with the aforementioned summer beauties, some people go crazy and put mushrooms in their ratatouille. Others may refuse eggplant or zucchini. Listen, you do what you like.
Feel free to use any variety of these vegetables that you like. Eggplant globe or Japanese, Spanish onion or vidalia. And any kind of summer zucchini will do.
And tomatoes: put to taste.
Cuts: First, clean or not clean? It depends on the vegetables. For example, from summer zucchini it is nobler not to peel them, because the peel is clean and contains vitamins, fiber and zeaxanthin (as anyone knows what it is). And in any case, peeling is an unpleasant boredom.
Eggplants, on the other hand, can swing in any direction. I usually take it off because I think the skin is a bit rubbery.
If you use fresh tomatoes, you can just beat off the old school and give them a rough slice. On the other hand, I am reminded of the words of a great food critic My wife who said, "I don't really like ratatouille because of tomatoes; I'm afraid there will be a muscular skin of tomatoes and a terrible stain on the plate. "
Ah, yes, residential skins. Terrible glottis. Heads nod in agreement across the land.
Let's do this: blanch the tomatoes in boiling water for 30 seconds, then shock them on an ice bath. Peeling is now easy. Cut them in half at the equator and gently squeeze to shed the seeds. Give them a chop and you will get what we at the back of the house call a "concave" and it will turn with cooking into a silky, skinless, luster-free perfection.
Here's what else to keep in mind: What kind of tomato do you want your ratatouille? Do you want it to be dry enough to sit comfortably on a crunchy Ritz cracker as a delicious snack? Or do you want it to be moist enough for its fragrant juices to act as an accompanying sauce to your savory rice pilaf? (And believe me, it only works if your rice is very, very spicy.) The answers to these questions will also help you decide on fresh and canned tomatoes.
And for the cuts themselves? The "bite" is of course okay, but other than that, you choose. Rough slicing is allowed, this is not Canada, and eggplant is easy to cut into cubes, and sugar can be cut into semicircles.
At the same time, however, a little elegance has never hurt anyone. And with knife expressions the soul of elegance is revealed in their uniformity. If you cut everything evenly into medium or large cubes, it looks beautiful and it has the added bonus that products of the same size are prepared at the same speed. That's why you never bake elephants and kittens in the same pan.
Now, of course, you can't cut bell peppers into real cubic cubes like throwing in Vegas unless you're talking about Tiny Rodent Vegas, where cubes, like mice, are free. Just slice the peppers into flatter versions of their 3D compatriots with eggplant and zucchini and it will be an ace.
As for onions, I say, small cubes. There is something in large chunks of pale onion floating in food that tends to completely scare people. Or is it just me?
Cooking. There are many recipes for ratatouille that make you cook all the ingredients separately before combining them in one pan for the ultimate holiday on the stove. This is due to the fact that different vegetables are cooked at different speeds, and cooking them separately contributes to an equal degree of readiness. A worthy goal, dare I say, but, dear chariot of Pharaoh, what a pain!
On the other hand, cooking it all in one pan just begs the trouble.
As a compromise, I first fry the eggplants because eggplants, being very porous, tend to consume more oil than other ingredients. If the eggplants become just soft, move them to a container that is not allowed for alligators.
Next, fry the onions and peppers together, and when they become soft, add the squash and saute. When almost done, add the garlic. Cook for 30 seconds before adding the tomatoes and reserved eggplant.
Once you've added the tomato, bring it to a boil, then reduce the heat and simmer for a few minutes to evenly heat and combine the flavors. Add a little black pepper and fresh or dried greens, salt and you are golden. Questions?
RATATUI
Preparation: 30 minutes
Cook: 40 minutes
It turns out about 8 servings
The perfect summer dish. Stick to socks in your type A predispositions: the amounts should by no means be accurate. No one has ever died from too many zucchini in their ratatouille.
3 tablespoons olive oil, plus more as needed
1 medium eggplant, peeled, cut into medium (½-target) or large¾-target) cubes
Salt as needed
½ large bulb, small cubes
1-2 green or yellow bell peppers, chopped medium (½-target) or large¾-target) cubes
2 medium summer pumpkins (zucchini, golden pumpkin, etc.), cut into medium (½-target) or large¾-target) cubes
2 to 4 cloves of crushed garlic
1 jar (28 ounces) of chopped tomatoes or 4 to 6 fresh tomatoes, cut into medium cubes (½-target)
1-2 tablespoons of fresh herbs (thyme, oregano, basil, herbs of Provence, etc., or a mixture), or 1½ teaspoons dried
Freshly ground black pepper
Preheat a heavy-bottomed skillet or pan over medium heat. When heated, add 3 tablespoons of oil and allow to heat for about 15 seconds. Add eggplant, salt and simmer until cooked through, 5-7 minutes. Put in a bowl.
If necessary, add more oil, then add onions and peppers; fry until the onion just starts to color and the peppers are soft, about 2 minutes.
Add squash; simmer until done, about 3 minutes.
Add garlic; simmer until fragrant, about 30 seconds.
Mix half the tomatoes and boiled eggplant along with the greens, salt to taste and a few ground peppers. If desired, add the remaining tomato, and when the liquid starts to bubble, reduce the heat and simmer until the flavors are mixed, about 10 minutes.
Check the seasoning, then serve immediately or refrigerate for up to 5 days. Can be served hot or room temperature.
Nutrition information per serving: 99 calories, 5 g fat, 1 g saturated fat, 0 mg cholesterol, 13 g carbohydrates, 7 g sugar, 3 g protein, 187 mg sodium, 4 g fiber