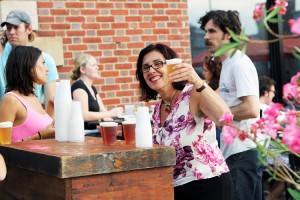 May 4, 2022
Dock Street Brewery on the 50th and Baltimore goes from hand to hand in 15 years.
Owner Rosemary Cherta announced in a mass email that she sells equipment at a beer pub but does not call Dock Street.
"On June 1, the talented duo will occupy the Dock Street space in the Firehouse – they are young, ambitious, hardworking and kind," she wrote. "They are experienced brewers and will make fantastic beers and other dishes. We can't wait to meet them and greet them in the community. "
Dock Street opened in the former fire department at 701 S. 50th St. (which was transformed into a farmers market) in August 2007. a long process which included resistance from local church leaders and repeated denials of zoning. But several longtime residents, the Cedar Park Neighbors District Group and the University City District have pushed the city's zoning regulation council to overturn its decision.
"I am proud of who we are in the neighborhood and what we have achieved together," Certo said. "I've watched our staff members develop personally and professionally, whether they decide to make a career on Doc Street or supplement their lives. I am really grateful for the influence that this beautiful environment has had on me. "
http://www.westphillylocal.com/2022/05/04/dock-street-closing-new-brewpub-in-the-works/