Business
Enterprise Center gets $ 1 million to revitalize 52nd Street Corridor Business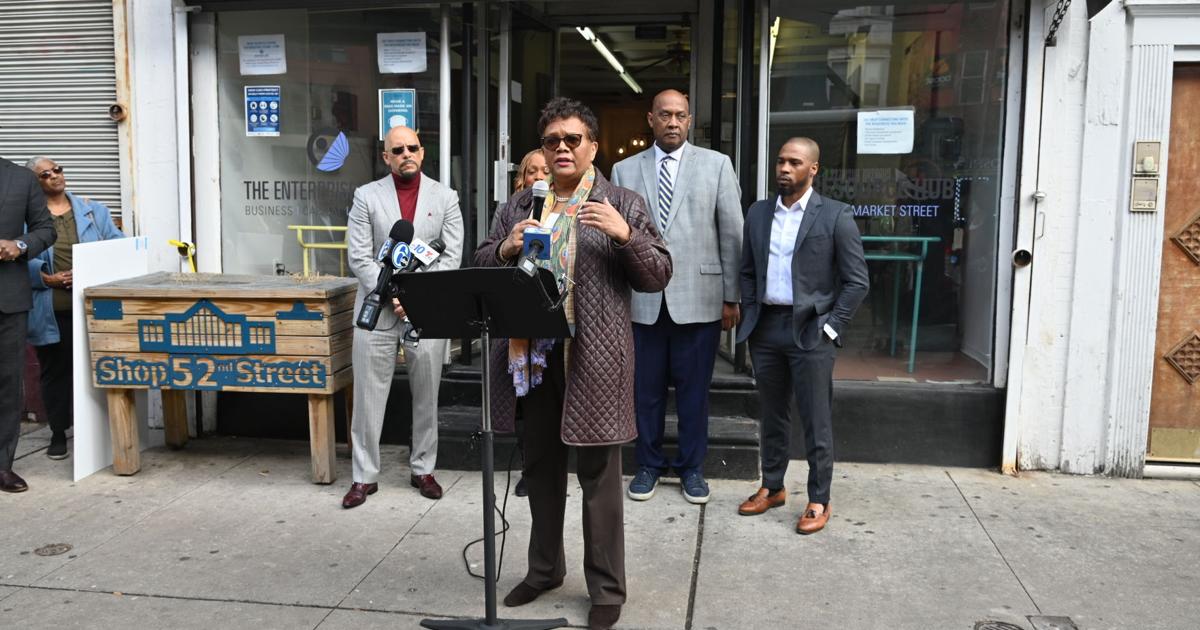 The work of the Enterprise Center on the restoration of the historic corridor of 52nd Street is being intensified due to significant financial investments.
U.S. MP Dwight Evans has provided $ 1 million in funding for The Enterprise Center 52nd Street Initiative, which will develop a multifunctional business center for business development in food, retail and services.
The funds will be used to build a new 277 Community & Business Resource Center. The center, which will be located at 277 52nd, is scheduled to open by the end of this year.
The financial stimulus comes when the commercial strip struggles with years of deinvestment and has been negatively affected by civil unrest, the economic downturn and the suspension of COVID-19.
"Western Philadelphia is extremely important to this city, this state and this country," Evans said during a news conference attended by select officials, business owners and community members. "It's an anchor and we'll get it back."
"I often say that in areas that are the front door to our community, we need program dollars," said Della Clark, president and CEO of The Enterprise Center.
"They don't get the extra capital to make the changes we need to see. It's a very historic day because it's the first of many dollars that come to the area to remove the rot stain. "
As part of the initiative, all construction at the 277 Community & Business Resource Center is being carried out by minority contractors. The project will create 20 permanent jobs, including a real estate manager, a cleaner, customer service staff, marketing / website, accounting / operations and leasing agents.
Clark noted that TEC purchased the building at 24 S. 52nd St. and by 2023 plans to open a restaurant that serves healthy food.
Evans appealed to partners with elected officials such as Sen. Vincent Hughes, Ph.D., and City Council member Jamie Gauthier, D-3 County, to provide financial resources for the commercial corridor.
"Today our revival begins," Gauthier said. "This is a revival of 52nd Street after a very difficult time, and we argue that it will continue to be a thriving commercial corridor and hub of commerce here in West Philadelphia."
Bruce Katz, executive director of Novak Metro's finance lab at Drexel University, said federal investment is a real example of President Joe Biden's Build Back Better initiative.
"There are hundreds and hundreds of 52nd Street corridors across the United States that have the same conditions as this place," Katz said.
"This money promises to build, grow and scale Black Latino's business along vibrant and vital commercial corridors across the country."
Shuja Moore, head of the 52nd Street TEC corridor, said all the organization is doing on 52nd Street is to support the economic development of black and brown people.
"We want to make sure we grow as a community and that we thrive as a community," Moore said. "While people are talking about the gentrification, change and relocation of people, the Enterprise Center is sitting here as a support to make sure our black and brown businesses stay here."
During the event, Tiffany Ward, owner of Nv My Eyewear, thanked the TEC for their efforts in helping decorate the storefronts on 52nd Street.
"It makes people want to shop more on 52nd Street," Ward said. "It brings a variety of clientele to 52nd Street that can support people in that community. So on behalf of my business, I would like to thank the Enterprise Center and Della Clark and her entire team for always being the entity I can turn to to help my business grow. "
https://www.phillytrib.com/news/business/the-enterprise-center-receives-1-million-to-revitalize-52nd-street-corridor/article_089e3241-e10e-5a18-a3a5-35be83e8ce7b.html