Sports
Experienced Hawks are not justified Sports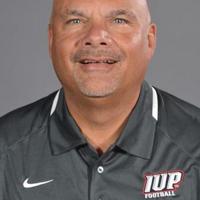 There is potential, but no distractions. Therefore, Paul Tortarella does not want to hear any excuses.
As the IUP football team undergoes annual spring training sessions that last for a month, Tortarella feels an extraordinary luxury that has many starters from last year's 7-3 team, as well as a bonus from knowing that most of these starters are still young and that restrictions and COVID protocols seem to be a thing of the past.
So at the end of each workout he reminds the Crimson Hawks that their only focus should be on improvement.
"There are no excuses," said the sixth-year IUP coach. "We have a lot of guys here who have played a lot of football. There is nothing on the horizon that we have not encountered before, good or bad. So, I keep telling guys that there are no more excuses. We have already experienced a lot. "
Spring training is usually designed to strengthen the foundations and to determine the starting roles for the fall. But when Tortarella looks at his team, he sees a lot of players who have already secured starting or significant roles, which means that the goal here is to improve.
"That would be the best way to look at it," he said. "We don't need to climb into the game book on either side of the ball yet. There will be time for it in autumn. We are just trying to get better. "
If "Raspberry Hawks" play today, 19 of the 22 scheduled starts are players who started at least one last season. The only three places with relatively new faces are carbon, receiver and defender.
Elsewhere, there's a player who saw significant playing time last season, including 13 who started more than half of the Crimson Hawks '2021 games in 2021.
It's nice to have that experience, but here's the bonus: of the 22 starting points IUP would have had if he had played the game today, half are sophomores, nine of whom are returning or part-time: security Jaheim Howard, Darius Bruce and Charles Ingram, corner defender Randy Washington, defensive Tyrone Fowler Jr., linebacker Drew DiNunzio-Bis, guard Richard Santiago, back-back Dejour Stewart and shawker Hilton Ridley.
Fowler, Bruce and Howard were selected at all conferences as freshmen last season. Fowler, who had seven bags, was named PSAC West's rookie of the year.
"It's a strange dynamic," said Tortarella, "because we've got a lot of starting points, but we're still pretty young."
GRASS RENEWAL: The two Crimson Hawks will miss the rest of the spring training due to knee injuries, but both are expected to return and are ready by the fall: guard John Robinson and lineback Darius Lloyd.
Robinson was injured on April 4, and Tortarella said the injury "could have been much worse". Lloyd was injured in the offseason, and last week was scheduled to clear his MCL.
Security Isaiah Touler and linebacker Montel Sims, who both missed last season due to injuries, have returned and are involved, but raider Luke Hardy failed and needed surgery on a leg he injured last year. Hardy will be out at least until August, Tortarella said.
One of the players whose future is uncertain is senior nose guard Dajur Fischer, who suffered a serious knee injury late last season in training. Fisher underwent surgery and is undergoing knee rehabilitation at home, but his status is questionable.
"It would be a bonus if he could play," Tortarella said, "but we can't count on it now."
ABSENT: Three key players are sitting in the spring to retain their final semester eligibility for the fall: wide receiver Kasha Carter, players Dylan Grabs and linebacker Von Wallace.
Four players have joined the transfer portal: kicker Tyler Luther, defender Javon Davis, corner defender Mehi Lang and linebacker Ayub Dail.
In addition, two eligible players have graduated and moved on: next line-up Josh Thornton and Daniel Osaghi, while defender Devin Castro, offensive lineman Coltan Lowman and line-up defender Gabe Walsh are no longer on the team.
The only addition to the spring is defender Mac Sexton, who moved from Pittsburgh (Can.), Who arrived in January.
NOTES: The IUP is scheduled to hold a spring fight on April 22, but Tortarella said it may not happen, depending on the list. Last week there were only seven offensive liners that were able to train at full speed. … The final practice is scheduled for Monday, April 25th. … Tortarella said he has two key positions to which he would like to add depth over the summer: the defensive line and the defender. There are three experienced starting lines and a lot of young people in the defensive line, so a veteran transfer would help, and there is no experienced backup behind Sexton, who will be the starting one in autumn.
https://www.indianagazette.com/sports/experienced-hawks-arent-making-any-excuses/article_0257d146-8c22-5b18-bd65-ac32db01fbcb.html