Uncategorized
"Great Country Show" welcomes new suppliers Life / Entertainment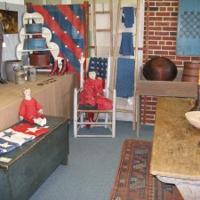 The 14th historic East Berlin, "The Great Country Show," will open on Thursday, May 19, with a preview of early shopping from 5:30 to 8:30 p.m. The location in the community center on North Avenue is a few blocks from the city's National Historic District on Route 234 and just twelve miles west of York's Exhibition Square.
Dealers from six states will offer early American including samples, folk and fine arts, textiles, early lighting and iron, German red tableware, 19th century rustic clothing, baskets, rustic furniture, Chinese export porcelain, published antique books. and more. This is a show where you can make great finds at different price levels.
This year the expanded exhibition will include an excellent lineup. This is the first exhibition for a long-time collector known as The Discerning Eye (Dover, Pennsylvania), which offers Chinese export porcelain and will share its extensive knowledge of oriental antiques. Betian Sweeney of America (Virginia) will showcase American furniture and accessories. Dealers from Pennsylvania Anderson-Breish Antiques, The Cat Lady Antiques, Richard Cole, Tex Johnson & Son, RSG Antiques and Van Why Antiques, as well as Carol and Chris Dozier from Maryland join longtime participants such as Lynn Dingus (Kentucky), Andrea Holenbo (Pennsylvania) and Carol Shulman (Ohio), among others. The event always includes several dealers who do not do other shows, offering the public the opportunity for new contacts.
All proceeds come from the East Berlin Society for the Preservation of History, which was founded in the 1970s and carried out its first restoration, an 18th-century stone mill on the outskirts of the city. Associated with the bicentennial of the city, and then the nation, the Society prospered and grew … and also performed its duties. The group currently owns three historic buildings and is fully responsible for the other two, in addition to maintaining a small museum, archiving local documents, providing research materials and running a practical education program for schoolchildren.
Admission for the preview for early shoppers costs $ 12, and it will take place on Thursday, May 19, from 5:30 to 8:30 p.m. Regular show hours: Friday, May 20, 1pm to 7pm; and Saturday, May 21, 9 a.m. to 3 p.m. Admission $ 6. Delicious homemade food with soup, sandwiches and pies with fresh berries at regular hours.