Uncategorized
HACC-Gettysburg celebrates women in the arts Life / Entertainment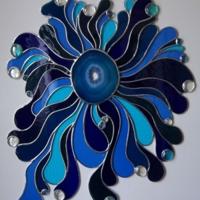 The HACC-Gettysburg campus recognizes Women's History Month with exhibits by three artists working in three different environments.
Large abstract paintings by Venezuelan artist Susanna Amundarain are on display in the gallery corridor; small copper enameled sculptures by former Adams County resident Prudy Smith are on display at the campus library; and abstract and representative images in stained glass by local artist / designer Gretchen Shatt McDavit hang on the rods of the gallery at Learning Commons and the fireplace lounge.
The exhibits are available for viewing until May 16, and the community is invited to meet with Amundaraine and McDavit at a reception from 6 to 7 p.m. on Wednesday, April 6, on campus, 731 Old Harrisburg Road. Smith may not be at the reception, but provided descriptions and photos of the processes she uses to create her work. The exhibits are free and open to visitors during school hours.
Amundarain has exhibited internationally in numerous solo and group exhibitions. It is represented in museums in South America and the United States, as well as in private and corporate collections in South America, Europe, China and the United States, including PepsiCo and Alcoa.
She holds a master's degree in fine arts with a focus on painting and performance from the University of Denver in Colorado. She was a Visiting Scholar in Performance at the Silent School of the Arts at New York University.
Amundarain's paintings develop as non-figurative expressions of the magical reality that underlies certain places and certain dynamics, first found in the rainforests and plateaus of the Amazon of her native country and later in the poetic space of text and theater. Her media includes acrylic and mixed media on canvas and paper, fine art installations and stage designs.
"My thoughts on the work I do have changed over the years, and they are constantly changing," Amundarain said. "However, one of the constants in my process of learning and becoming through art is that our work can only point to the experience of what is under the world of forms and appearance. This is what I want to find every time I am in the process of creating a new work. "
Smith, a sculptor / enamelist, lived in Adams County for 35 years and taught art, photography and ceramics at Littlestown High School for 20 years. She retired in 2007 to devote more time to her own sculpture, and in 2010 she and her husband moved to a small town near Raleigh, North Carolina, to be closer to their two children and their families.
Smith earned a bachelor's degree in art from St. Mary's College, Notre Dame, India, and studied at the College of West Maryland and the University of Wisconsin. She was a member of the jury of the National Scholastic Art Exhibition, a member of the jury and a member of the Pennsylvania Masters Guild, and president of the Gettysburg Masters Guild. Her work has been on display at individual exhibitions, exhibits and galleries in Gettysburg, Harrisburg and other central Pennsylvania locations, as well as in California, Maryland and Indiana.
"Teaching art was a great tool that helped me develop as an artist and help nurture the talents of others," Smith said. "While teaching, I honed my metal skills. I am pretty much self-taught. The first years of retirement were spent indulging in the freedom to devote as much time as I want to one-of-a-kind works. "
The main materials that Smith uses in his sculptures are copper, silver and glass enamel over time with the addition of clay or natural elements. Her manufacturing methods include blacksmithing and jewelry making. Once the metal has been cut, forged and welded, the enamel is applied in several layers to create value, texture and contrast. After each layer the piece is burned in the furnace. "The main purpose of my artwork is to create beautiful objects that arouse the audience's curiosity and a sense of wonder," said Smith.
McDevit is an artist and designer who specializes in stained glass. Having worked professionally for over 25 years, she has also taught in many locations including Gettysburg College and the University of Cutztown.
McDavit began taking private art lessons after taking first place at 5 years old at Chestnut Elementary School. She received state recognition by receiving the Pennsylvania Golden Key Award at the age of 13. With a clear vocation, she continued her studies in the liberal and fine arts, graduating from the University of Cutztown with a bachelor's degree in fine arts in 1987. She spent a semester in her final year of self-study and studied Tiffany's famous copper foil technique herself. After graduating, she studied for four years at the Wentz Stained Glass Studio in Gettysburg and honed her glassmaking skills and training.
In 1995, she moved to Santa Fe, New Mexico, where her glass went in a new direction. For two years she not only helped create a women's cooperative gallery, but also showed off her art glass on the coveted Canyon Road.
In 1998, she started a family, traveled abroad and moved to her hometown of Gettysburg, where she works professionally, showcasing art glass in various galleries and making commissions and inspired works.
"My style is deeply influenced by nature, especially the elements of wind, wave and earth," she said. "My work seeks to freeze glass in the flow and movement of nature in my abstract works, while in my representative works I choose to reflect elegance and grace."
HACC art exhibitions and receptions are free and open to the public. For more information, call campus at 337-3855 or go to
www.hacc.edu and click on Gettysburg Campus / Events / Arts and Culture.