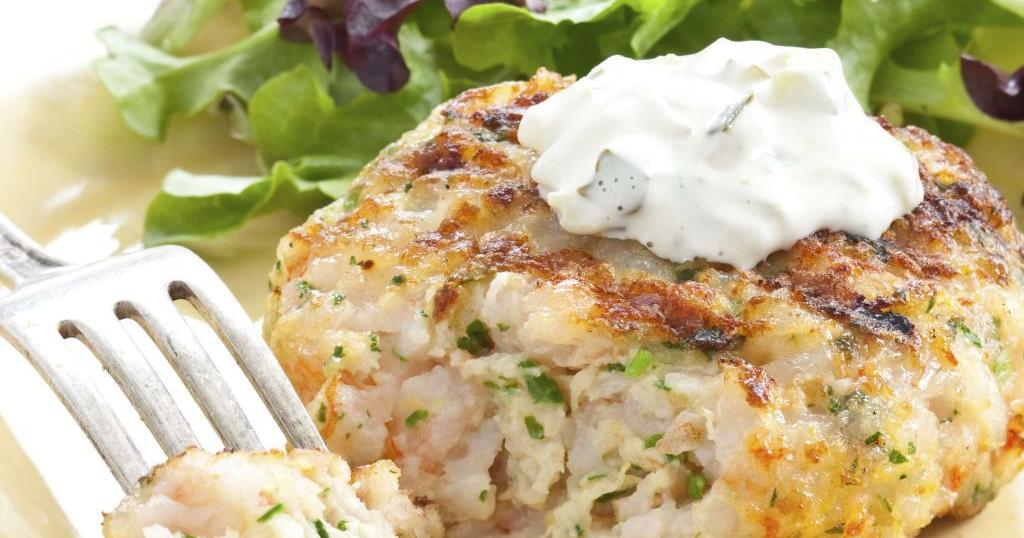 A good shrimp burger should be primarily about shrimp. Unfortunately, many shrimp burgers are more like fish-flavored rubber cutlets or seasoned bread balls than shrimp.
We decided to develop a recipe for our perfect shrimp burger: moist, chunky, but still cohesive and with condiments that complement the sweet flavor of the shrimp but don't beat it.
After early testing, we decided we needed a combination of finely chopped shrimp to tie the burgers as well as a few larger pieces. We achieved this texture with a food processor.
We wanted to use as few binders as possible to avoid the wet, mushy results we saw in other hamburger burgers that often used a combination of mayonnaise, eggs and breadcrumbs. We saved the mayonnaise so that it added much-needed moisture and fat, but released the egg and reduced the bread crumbs.
A few chopped onions and parsley, lemon zest and a slice of cayenne pepper completed the taste of our burgers.
BURGERS FROM SOUTHERN SHRIMPS ON THE GRILL
Servings Per Container: 4
From start to finish: 1 hour 15 minutes
Chef's note: be sure to use raw instead of cooked shrimp here. Before processing the shrimp, dry thoroughly, otherwise the burgers will become mushy. Carefully handle burgers when forming and grilling; if they are dragged during molding, the burgers will be dense and rubbery, and when handled roughly during cooking they will split.
1 slice of hearty white bread for sandwiches, torn into large chunks
¼ cups of mayonnaise
2 onions, chopped
2 tablespoons chopped fresh parsley
2 teaspoons grated lemon zest
¼ teaspoon of salt
1/8 teaspoon pepper
Chop the cayenne pepper
1½ pound of very large shrimp (21 to 25 per pound), peeled, peeled and dried
Vegetable oil
Pulse bread in a food processor to a coarse crumb, about 10 grains. Transfer to a small bowl. Do not clean the food processor. Mix mayonnaise, green onions, parsley, lemon zest, salt, pepper and hot cakes in a large bowl until smooth.
Pulse shrimp in an empty food processor until some pieces are finely chopped and others are coarsely chopped, about 7 pieces. Add the shrimp to the mayonnaise mixture and mix gently until combined. Sprinkle the mixture with breadcrumbs and mix gently until combined.
Spread the shrimp mixture on a small baking sheet, divide into 4 equal portions and loosely leave each in 1-inch-thick cutlets. Cover and place the cutlets in the refrigerator for at least 30 minutes or up to 3 hours.
• For charcoal grill: fully open the lower vent. A light large three-quarter chimney is filled with coal briquettes (4½ quarts). When the top coals are partially covered with ash, pour evenly on the grill. Replace the cooking grill, cover and fully open the vent. Preheat the grill to a hot state, about 5 minutes.
• For a gas grill: turn all the burners to a high level, cover and heat the grill to a hot state, about 15 minutes. Turn all the burners to medium.
Clean and oil the cooking grate. Grease the top of the burgers lightly with oil, place on the grill greased with oil down and lightly grease the other side with oil. Cook the burgers, without pressing on them, until lightly browned and ready, 10 to 14 minutes, turning them over in half frying. Transfer the burgers to a plate, cover with aluminum foil and let rest for 5 minutes before serving.
Nutrition information per serving: 300 calories; 171 calories from fat; 19 g of fat (3 g of saturated; 0 g of trans fat); 220 mg of cholesterol; 1236 mg of sodium; 7 g of carbohydrates; 1 g of fiber; 1 g of sugar; 24 g of protein.