Lifestyle
How to create a "garden" look in your home – with flora and fauna | Way of life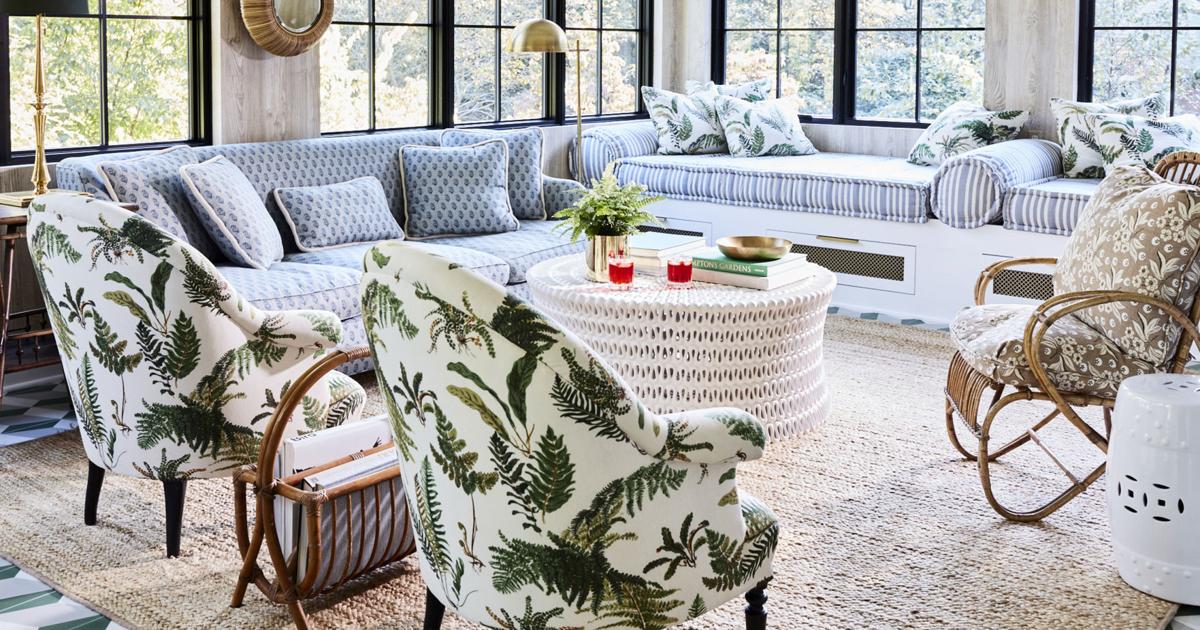 Designers often talk about wanting to "get outdoors" through design. Whether this is achieved by adding daylight and greenery to fill the room with energy, or choosing floral prints for walls or furniture upholstery, the aim is to blur the lines between indoors and outdoors. But these more obvious decorating options may be missing an important component: the feeling of being in the garden.
Leah O'Connell, a designer from the San Francisco Bay Area, recently tried to create that feeling in her cousin's family home in Richmond, Virginia. "Everything was done with the light and the garden in mind," says O'Connell.
And while her choice was client-specific, it's also indicative of broader new lifestyle trends: an ever-growing interest in sustainable materials, the return of houseplants and a renewed interest in naturalistic collections, including taxidermy.
Of course, most people don't have the space (or the budget) to take on this kind of project. But we spoke to O'Connell and other designers about how anyone can grow this garden in their home — no thumb required. Here are their suggestions.
Let Mother Nature shine. "Landscape is a constant part of the home experience: spring is all about bright pinks and whites, summer is green and lush, and then there are the colors of fall," says O'Connell. She chose white paint for most of the house so that the views from the many windows would be the star of the show. But she also wanted to use green in a modern way. She laid custom green-gray-and-white tiles in a bold cubist pattern on the sunroom floor, and chose a "fresh, grassy shade" from Fine Paints of Europe (#S 6020-G10Y) for the library, rather than a more predictable dark green. She went with a glossy finish in this room to add a lively touch. "It's quite strong and bright, but because they're a young family, we wanted freshness and polish," she says.
Create new horizons. Colorful murals, popular since around the late 17th century when China began exporting hand-painted paper to Europe, are another way of depicting landscape subjects. For the dining room, O'Connell chose de Gournay's Early Views of India, where its elephants, palm trees and distant mountains create a romantic, distant feel.
Explore patterns. Botanical prints, especially on fabrics, can visually connect the interior of the house with the environment. O'Connell went with a Schumacher fern print, Les Fougeres, on a pair of chairs in the sunroom; A classic Bowood Colefax and Fowler sitz in the breakfast nook; and Jasper's Malmaison-Fontaine with climbing passionflower vines in the library. The florals continue in the master bedroom, which O'Connell has draped in one of her own designs, Cora, named after the homeowners' daughter. She mixed stripes and solids to keep the rooms from becoming overgrown.
Add some fauna. Animal motifs, including taxidermy, gain a place in interior design. O'Connell brought them into the Richmond space with vintage bird prints, a snake-framed mirror and a vintage taxidermy pheasant from Creel and Gow.
Play with texture. Incorporating intriguing textures, including smooth surfaces and natural furniture materials, can give even a formal space a relaxed, outdoor feel, recreating the sensory, tactile feel of being in the garden. O'Connell filled the sunroom and living room with vintage rattan, vine and bamboo items, such as sourcing pieces at Chairish and the West End Antiques Mall in Richmond. For the living room, she brought in a handmade rattan console from Soane, woven to look like draped fabric. She also found Nobilis faux-grain wallpaper for the sunroom and gave the Berger chair in the guest bedroom a utilitarian look with burlap upholstery.
Special to The Washington Post
https://www.phillytrib.com/lifestyle/how-to-create-a-garden-look-in-your-home-with-both-flora-and-fauna/article_0572cba2-d805-5a05-ba1f-f4e332f93aa2.html