Uncategorized
Littlestown Band Celebrates 25 Years Life / Entertainment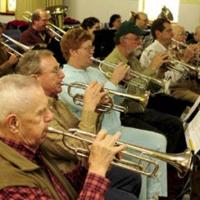 The Littlestown Area community band, founded in 1986, is celebrating its 25th anniversary of performances.
Ben Messinger, 45, a graduate of Littlestown High School, was the group's founder and serves as a conductor.
Messinger said the band was formed when "I participated in Littlestown Jaycees (in 1986) and we planned our annual" Good Old Days "parade, and (discovered) that a high school group was not available to attend".
"I said,' Wow, the band (at the parade) won't be, '" he said.
Instead of being unable to attend the school orchestra parade, Messinger set out to create his own.
"I played in many bands then," he said, so he started contacting members of different bands he met.
"I said,' Hey, do you want to go to this parade? We will not wear uniforms, "Messinger told promising members.
He said the proposal attracted "a lot of people" because most of them despised wearing heavy woolen uniforms, "because it was so hot."
"I told them to come as you are," he said. "We can march and agree."
Of those attending the parade, 18 formed the core of the new band, which was not originally called the Littlestown Area Municipal Band, which he later suggested.
"We named the band Band of Misfits," Messinger said. "That was the name first."
"For the first two or three years we did parades, then in 1988 we started giving concerts," he said.
The band finally took shape and changed the name.
"We started wearing black and white clothes (around 1990), then we changed the name (from Band of Misfits) to Littlestown Area Municipal Band in 1993," said the band's founder.
Now the band has about 75 members, although usually not all of them come to perform at once.
The average turnout, according to Messinger, is 45 to 50 members.
Members are not only from the Littlestown community, but also from such distant ones as Frederick and Baltimore.
To date, the youngest member who joined the band was 12 years old and played the horn, and the oldest (who recently passed away) was 97 years old and played the bass clarinet.
Today the band mainly performs concerts.
"We are no longer organizing parades. No one liked to march. Some simply could not march, "he said.
Regular concerts of the band include autumn and spring official concerts at St. Paul's Lutheran Church, 53 West King St., Littlestown, and a Christmas concert at the church.
The band also performs at summer church picnics and various festivals, as well as at a concert at Cruise Park in Littlestown.
The band members act as volunteers. "Everyone does it for free," said Messinger.
As for financing the needs of the group, "we accept donations, but do not take payment," he said. Any money purchased is invested in tools or whatever the group may need.
The next scheduled performance of the municipal band Littlestown Area will be a concert dedicated to the 25th anniversary of the band, which will take place on April 17 at April 17 at St. Paul's Lutheran Church.
A book about the band's history will also be available.
The 25th anniversary concert will feature the songs "Valley Forge", "Silver Jubilee Overture", "William Tell Overture", "Silverword", "Littlestown Area Municipal Band March", "The Golden Age of Broadway", " Gold and Silver Waltz "," Salute of Cinema "and" Stars and Stripes Forever ".
Messinger said: "It's been amazing how things have developed in the group since its inception."
For more information on the band, donations or upcoming concerts with Messinger, please call 359-4556.