Lifestyle
Meet the artists of the United Disabilities Services exhibition "The Artist Within" Life and culture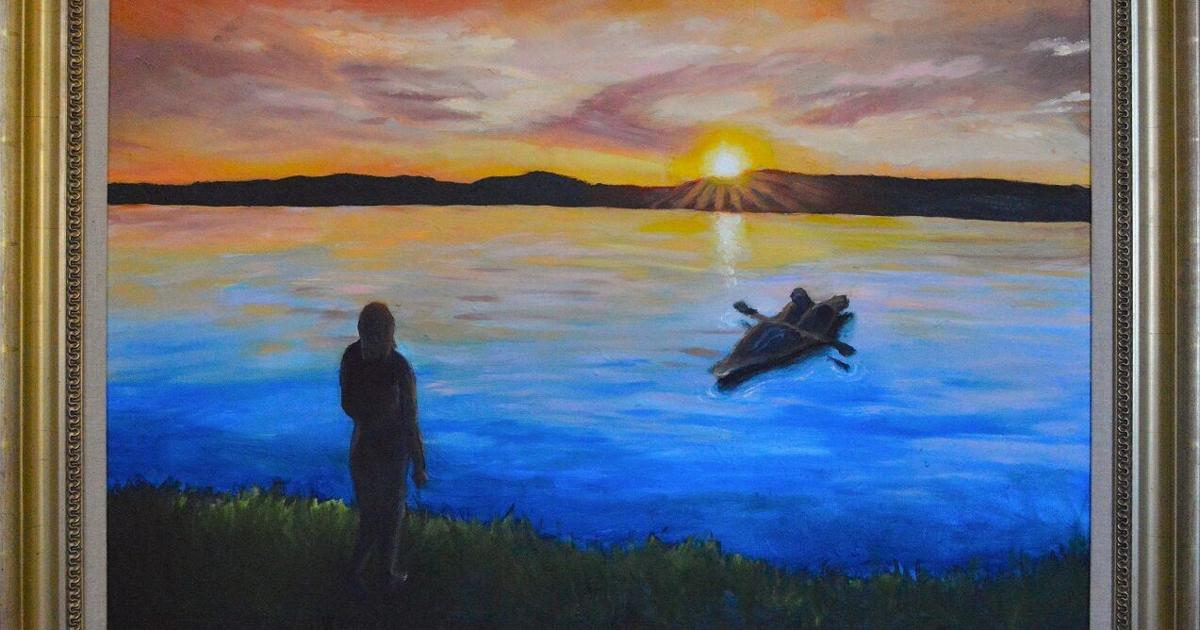 Kate Manners realized how much she loved doing art during the blockade phase of the COVID-19 pandemic. She began experimenting with a technique that involves pouring acrylic paint on canvases and tilting them to create colorful, twisting abstractions. Ironically, adopting a spontaneous approach to creativity gave her a much-needed sense of control.
"My favorite thing about being an artist is just controlling something in my life," says Manners, a 33-year-old East Hampfield woman with cerebral palsy, in a video created by United Disabilities Services for them. The Artist ». Within »exhibition. "For the first time, I feel that people see me best in my art. The art is really about abilities, not about disability. "
Manners is a longtime client of United Disabilities Services, a local organization that serves more than 10,000 people with disabilities in the community with programs that promote independence. She turned to Larry Aubrey, director of UDS development, and said she would like her work to be seen by more people. This led to the creation of the exhibition "The Artist Within", which features works by five local artists and UDS clients.
The exhibit is on display at UDS corporate offices in Lancaster until May 27 and is available by appointment. Contact Larry Aubrey at 717-682-5575 to schedule a show. One work from each of the artists will also be sold during a silent auction at the United Disabilities Services Foundation gala event to be held at Lancaster County Club in Lancaster on May 21st.
"UDS wants to promote the identity and independence of these artists who happen to have disabilities," Aubrey says.
KATE MANERS
Manners began her journey with art, painting birdhouses in the early days of the COVID-19 pandemic. She shared videos of her painting on social media, and soon a number of people expressed interest in purchasing her work. She decided to donate half of her profits to charity and eventually donated $ 4,500 to 40 different organizations. She has since experimented with acrylic pouring techniques.
"My art is completely spontaneous," Manners wrote in an email. "What happens is unpredictable, I have little control over it, but it always turns out beautifully! I choose the canvas. Then I tell my assistant, usually my mom, what colors I want to use and how to layer them into a cup. She then hands me a cup and I pour it on the canvas. I tilt the canvas so that the paint spreads in different directions. I also blow straws on the paint and also knock on the back of the canvas. When the paint drains, I never know what will happen, and that's the most fun thing for me! No two pictures are the same. "
Manners says that because of her cerebral palsy she often needs an assistant, usually her mom Beth, to help purchase materials, customize them and clean up afterwards.
"It brings me joy, and I enjoy being able to give back to many organizations, especially those that have helped me in my lifelong journey as UDS," Manners wrote in an email. "I like that others see that a person with disabilities can create and share their talents like anyone else."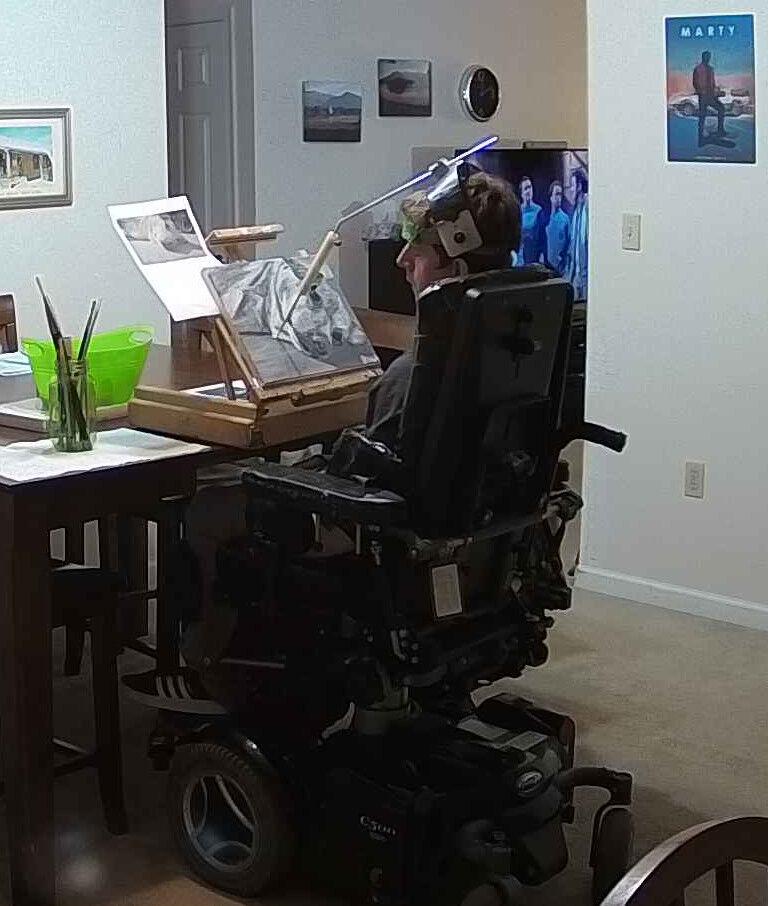 MIKE ALGER
Mike Olgayer, a 38-year-old artist and software engineer from Adamstown who lives with cerebral palsy, came up with an innovative solution to help him continue his passion for painting. Alghero, who also designs video games in his spare time, makes his monochrome portraits with a brush attached to his helmet.
"I always controlled my head better than my hands, so I used a headset / pointer from an early age. I use it to write and use a computer, "Algiers wrote in an email.
Algiers says his monochromatic style may have stemmed from his childish desire to work independently.
"I've loved art since childhood, but it's always been hard to ask someone to change my pen or marker to change color. I suspect that this may be part of the reason why I prefer to work in monochrome mode, "Algayer wrote in an email. "I live alone now, so it's easier for someone to lay out a piece of black paint, a ball of white and a cocktail than to try to guess what colors I might need that particular night."
With some well-placed smears and shading Algiers evokes the spirit of their subjects. His series of realistic portraits features people like Albert Einstein, David Bowie, Robin Williams and his favorite musician: Dave Grohl.
"His music has had a big impact on my life," Algiers wrote in an email about the Foo Fighters frontman. "I think his passion for what he does is really inspiring."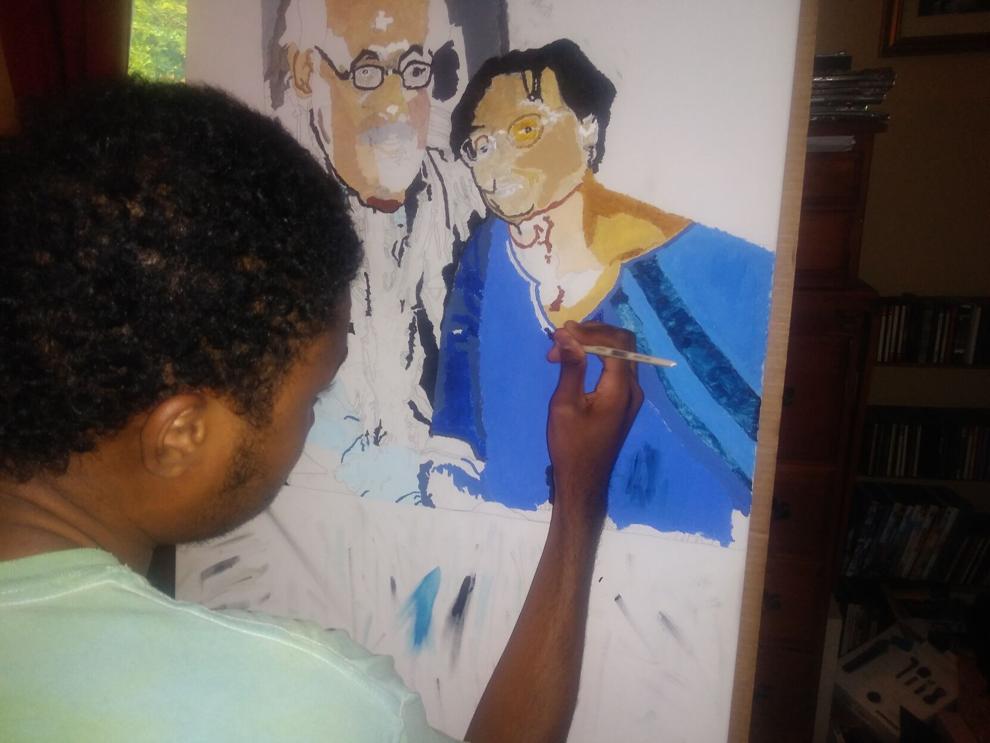 MALKALM KORLI
Corley is a 23-year-old artist living with autism. Carly's and Carly's sketches from East Hampfield were presented at the Kennedy Center exhibition in Washington, DC, at the Courage Kenny Rehabilitation Center in Minneapolis and at the 2019 and 2020 Art Abilities exhibitions at Brin Moor Rehabilitation Hospital. Corley's painting "Three Faces of Malcolm" was one of 104 paintings selected for the 2021 State Art Exhibition at the Harrisburg State Museum of Pennsylvania.
"My favorite drawings and pictures are flowers and trees, because I love nature. After that, I love to draw and draw people, then animals, "said Corley to his mother Maria, who wrote her answers in an email." Art is work, but I rejoice when the work is finished. I want people who see my art, also felt happy ".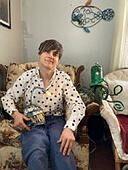 STEVEN GEORGE
Where other people can see garbage, Stephen George, a 33-year-old Mount Joy artist who lives with cerebral palsy, sees art.
Bent pieces of scrap metal, old brass parts of watches, discarded gears can become hummingbirds, owls or flamingos in the skillful hands of George.
"If you can imagine it, you can recreate it in scrap metal," says Georges in a video prepared by UDS for their exhibition "Artist Within".
Georges has collected in his workshop his recycled steel sculptures of birds, presented at the Artist Within exhibition, with the help of a specially designed welder, to which he can access from his wheelchair. He has been creating his sculptures from recycled scrap metal for about five years.
"It's a special feeling to be included in" The Artist Inside "(the exhibition)," Georges wrote in an email. "After being a UDS customer for so long, it means a lot to be involved, and I'm excited to be able to help by donating a piece to help support something that has supported me for years."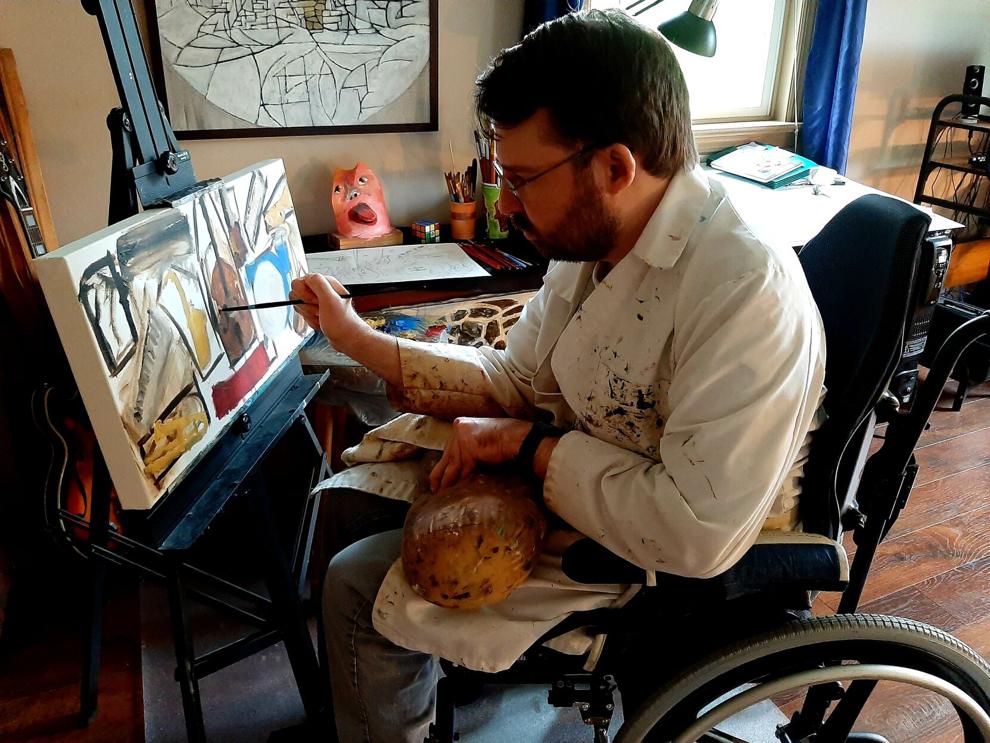 JONATHAN WHITLOCK
Jonathan Whitlock has been an artist since he painted dinosaurs in second grade. He moved on to oil painting in high school and majored in studio art at the University of Southern Virginia. When a car accident led to a brain injury more than 20 years ago, Whitlock had to re-learn to draw with his left hand, not his right.
After the accident, Whitlock's style changed from an abstract, cubist approach to an Impressionist but realistic style. The 2019 exhibition at Gallery One in Lancaster showcased works that Whitlock created before and after the accident – sometimes on the same canvas.
His self-portrait "US 222 South" was shown – and sold – during the Bryn Mawr Rehab exhibition "Art Ability" in 2021.
"I like to show other people how I see the world," Whitlock said in a promotional video for Artist Within.
Whitlock says he creates his oil paintings after first making preliminary sketches, although he rarely makes entirely improvised works, he admits some spontaneity in his work.
"Memory is the first part of my disability that I could easily have lost before the wheelchair," Whitlock wrote in an email. "Spontaneity is what makes art interesting. I draw a lot, looking for ideas. I play with different themes and just experiment with them. "
Whitlock's calm painting "In Search of Peace", in which the figure in the foreground looks at another figure in a kayak on the water when the sun sets, will be available during the UDS auction.
"I am very grateful to UDS for the tools that allow me to work with someone who helps me set up and motivates me to draw regularly," Whitlock wrote in an email.
https://lancasteronline.com/features/meet-the-artists-of-united-disabilities-services-the-artist-within-exhibit/article_6135b03a-d5e7-11ec-af5b-833a0def45dc.html