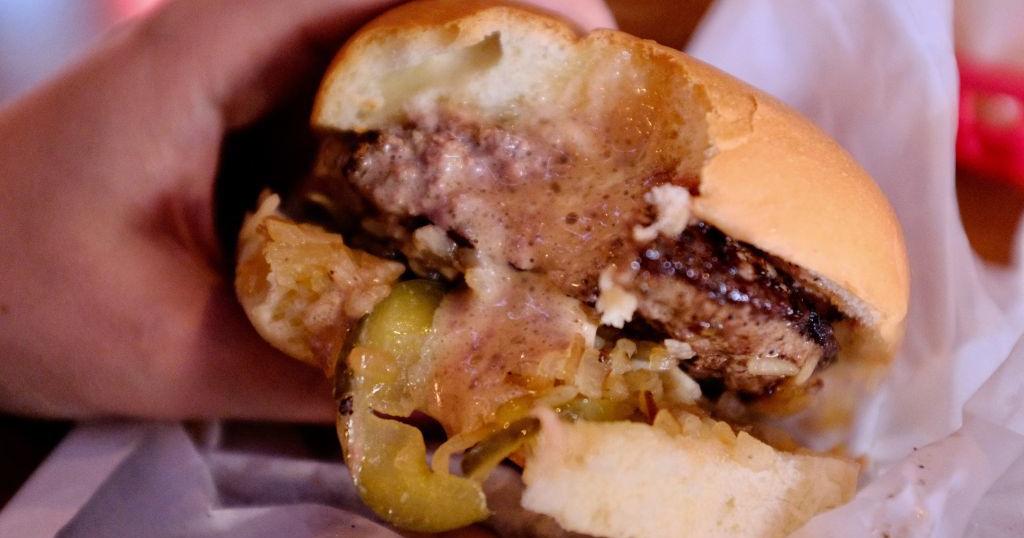 So said the rhyming-minded guy – probably waving a thick, strong Minnesota accent – who bit off the first cheese burger cutlet, which was later dubbed (and written) by Jucy Lucy.
However, such a folk legend.
The history of Minnesota's contribution to the annals of the history of American burgers can be extracted from the archives of the Star Tribune.
And yes, the spelling fluctuates between "Jucy" and "Juicy". The first is the correct phrase Matt's Bar, a corner party in southern Minneapolis where a hamburger is said to have been born (a spelling mistake was not intentional, someone forgot the "i" and the mistake remained); the latter is everywhere.
"Matt's Bar, a dark cave measuring 24 by 55 feet, which can hold 78 hungry visitors on a busy day, began in 1954 as a regular 3.2 beer shop with a 2-foot-wide grill as an appendage at one end of the bar," Wrote Dick Youngblad, a Chicago business writer, in the 1980s. "Today it's a 2-foot-wide grill with a 3.2 beer license as an app."
"There's no doubt about that," owner Matt Bristol Youngblood said. "If it weren't for Jucy Lucy, I wouldn't be working today."
Bristol's daughter Cheryl Bristol acquired the place in 1990 and managed it along with her father for eight years until selling it to current owners Scott and Katie Nelson.
Today, Jucy Lucy remains as delicious – and popular – as ever.
"Eighty percent of our sales are accounted for by food, and 85 percent of those sales are accounted for by Jucy Lucy," said Matt's Bar general manager Paul Reese. "A lot of tourists come to us because Jucy Lucy has become Philly's steak cheese in Minnesota or a Chicago dog. People from all over want to come and try it. "
It should also be said that Jucy / Juicy Lucy is a favorite product of a number of other bars, including Club 5-8. The Blue Door Pub called its look at the hamburger with "Blucy" cheese.
Regardless of the source – or spelling – here's a measure of how Jucy / Juicy Lucy got into the American hamburger: the day Matt Bristol died in 2014, President Barack Obama had lunch at Matt's.
He certainly ordered Jucy Lucy.
MAKE A MARCH LUCIS AT HOME
Makes 4 burgers.
Note: Adapted from the 2012 story of Meredith Dids. Instead of American cheese, replace 4 ounces of grated cheddar cheese, jack pepper or crumbled blue cheese.
1 pound of ground beef
4 slices of American (2%) cheese
1 teaspoon olive oil
½ teaspoon of salt
¼ teaspoon of freshly ground black pepper
4 hamburger buns cut in half
slices of pickled dill cucumber
Fried onions, optional
Seasonings like ketchup and mustard
Divide the ground beef into 8 pieces of equal size and form into balls. Press each ball into a thin cutlet. Cut or fold each piece of cheese into quarters. Fold and place the cheese in the center of the 4 cutlets. Place another cutlet on top and pinch along the edges until the beef is well sealed. Repeat with the remaining cutlets.
Preheat the broiler oven.
Heat the oil in a large skillet over medium heat. Put the cutlets in a pan and cook for 5 minutes on each side, lightly seasoning each side with salt and pepper. Do not press on the cutlets, otherwise the cheese will leak.
Meanwhile, place the bun halves sliced ​​up on a large baking sheet. Place at a distance of 6 inches from the broiler and cook until the buns are lightly browned, about 30 to 60 seconds. Remove from broiler.
Place the cooked cutlets on the bottom half of the buns. Top with pies with pickles (and, if desired, fried onions) and condiments of your choice, as well as the top half of the bun.