Philadelphia's famous culinary scene is thriving with new restaurants
Today, Philadelphia has something to capture: from favorite chefs and self-transforming restaurants to cutting-edge dinners. The city's dining scene continues to delight in 2022 with the national recognition of the three finalists of the James Byrd Prize for Best Chef: Jesse Ito of Royal IsaacChristina Martinez from Southern Branch of Barbacaaand Chutotype "Knock" Suntaranon with Thai cuisine Kalaya. And Ellen Yin from High Street Hospitality Group is a finalist for the James Byrd Award in the "Excellent Restaurateur" nomination this year. In addition, Little Nonna and Kuchin's winds appeared on the Thrillist list 34 best Italian restaurants in America.
Check out these new additions to the city's award-winning restaurant scene.
Head to the Old Town for a creative American southern menu from Felicia Wilson and chef Daryl Harman, formerly from Water Works and The Lure Group in New York. Think of fried catfish, puppies and cheesecakes. 104 Chestnut Street, Old Town.
Chef Dionisio Jimenez's first independent venture gives him the opportunity to showcase his refined Mexican cuisine at restaurants such as El Rey and Xochitl. It is the culmination of a long journey that Jimenez began in his native Mexico as a teenager as a restaurant dishwasher. 2800 D Street, Kensington.
From dinner to night snacks, this newcomer to the nightlife offers global dishes in a relaxing atmosphere. Chef Brian Wellmon, a native of Philadelphia, also offers a fun "return menu" with transformed favorite childhood dishes. Market Street 222, Old Town.
The latest app by chefs Marcy Terney and Valerie Safran to 13th Street specializes in thick-crust pies with high hydration and a long fermentation process. He has already received a special to shout for a wonderful gluten-free dough developed by chef George Sabatin. 105 South 13th Street, Downtown.
Stephen Starr City University on standby is turning into a "Korean" transformation from its longtime chef Peter Serpic. New additions include a raw bar that replaces the conveyor belt for sushi, a new design and a host of Korean products such as Bibimbap. 3636 Sansom Street, University City.
This Washington Square West BYOB restaurant by chef Iyad Sinavi's menu features southern food inspired by the French. Named after a village on the island of Cape Breton in Nova Scotia, it offers dinner and brunch on weekends. 1120 Pine Street, Downtown.
Culinary writer Alex Teufik has taken the former Noord space to open this 32-seat Mediterranean restaurant and bar. Chef Kyle McCormick's menu includes dishes such as fried Armenian cheese and grilled chicken with pomegranate varnish. 1046 Tasker Street, South Philadelphia.
If you want Caribbean standards such as stewed chicken or beef tail stew, head to this bustling new location in South Philly. Vegetarians also have options – such as vegetarian tortillas and Jamaican tofu curry. 1710 East Passyunk Avenue, South Philadelphia.
On this menu in this Mediterranean seafood restaurant in the Old Town there are several pasta items as well as large plates such as stewed rabbit and petrol. It is conveniently located in Chloe's former space opposite Betsy Ross 'house. Arch Street, 232, Old Town.
Pizza and pasta on firewood in an upscale setting – the latest from restaurateur Michael Shulson. The pizzeria has a marble bar and crispy American-style cakes. 112 South 13th Street, Downtown.
Traditional Southeast Atlantic cuisine is now served at the historic Royal Theater along South Street, which was once a central component of black culture in Philadelphia in the early 20th century. Specialties include shrimp and cereals, chicken and dumplings, beef and beans on a barbecue, as well as a wide cheese bar and favorites from the menu of the original REX 1516 concept. a café, a bottled shop and a raised stage featuring live music – a reference to the building's rich history. 1524 South Street, Hospital.
The popular food truck has a new permanent home in Washington Square West. Amina McDaniel and Angel King are proving to be favorites of hearty foods such as poppy and cheese, greens and wings. 1112 Locust Street, Downtown.
A chic, spacious new steakhouse has appeared on Broad Street, opposite the Kimmel Center. Expect a dress code and a minimum of $ 100 per person in the Philadelphia location of this national network. 260 South Broad Street, Downtown.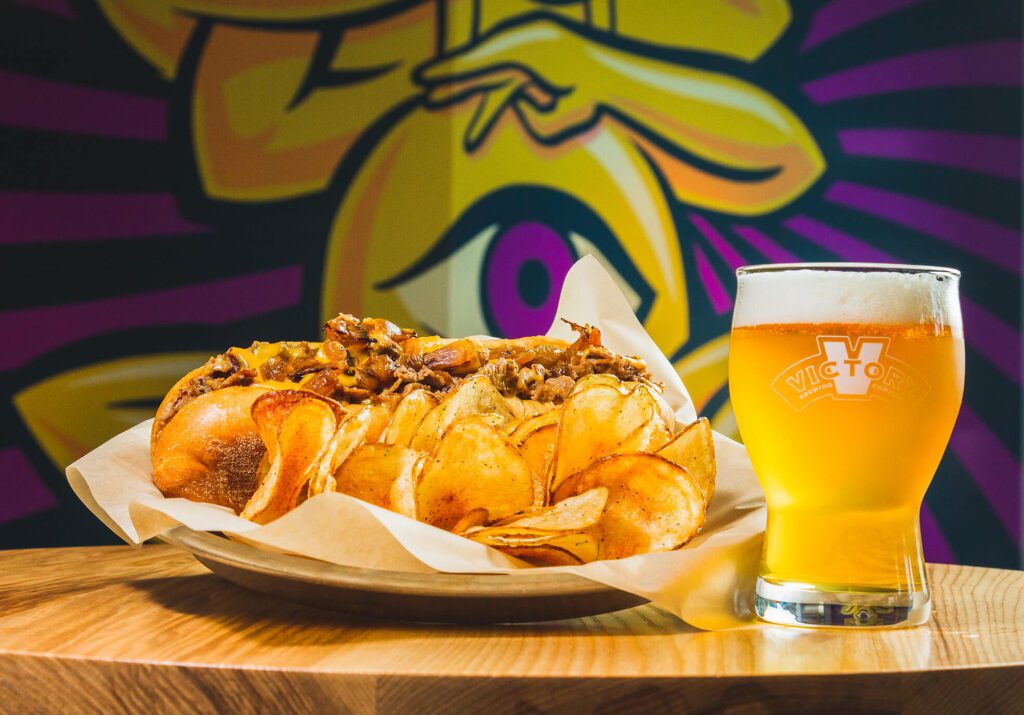 Base in the city center Brewing company "Victory". The new 14,000-square-foot room along Benjamin Franklin Park has two indoor bars, an outdoor bar, outdoor seating and a rooftop patio that offers stunning views of the Museum Mile. The toilet in Philadelphia also has a full kitchen that serves beer dishes with a classic pub and Philadelphia favorites, as well as an on-site beer brewing system that will produce a limited series of varieties for specific varieties. 1776 Benjamin Franklin Parkway, Parkway Museum District.
This ambitious new three-tiered place from chef-restaurateur Bret Naylor and his wife Nicole Barrick has two bars, an open kitchen for pizza, a bar for cheese and cheese, and a private dining room. Highlights of the chic design in the former ballroom include chandeliers and bar stools with a leopard print. 2009 Sansom Street, Rittenhouse.
Chefs Jonathan Rafa and Mike Gingras met while working at the former Will BYOB a few years ago. Now they make comfortable food with hospitality from the same South Philly kitchen. 1911 East Passyunk Avenue, South Philadelphia.
Cover photo: KPOD. Photo courtesy of Cohere.