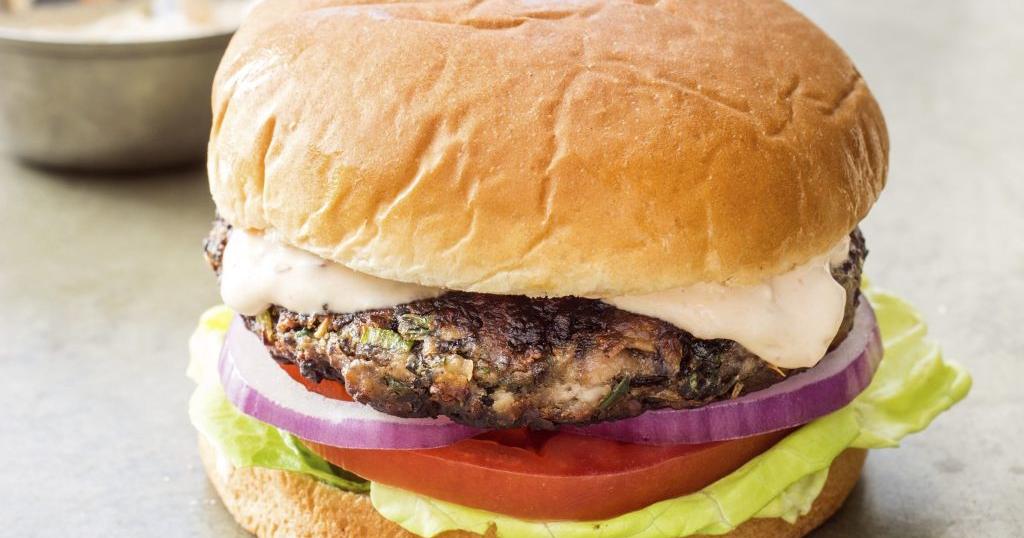 Starting with black beans (dried on paper towels to remove moisture) has given us a substantial base. To avoid crumbly burgers, we minimized starchy binders, found help in ground tortilla chips that worked as a binder (along with eggs and a little flour) and added toasted corn flavor.
The pulsation of our beans just rudely didn't allow the burgers to become sticky. To ensure they stick together, we cooled the mixture for at least an hour, allowing the starch to absorb the extra moisture. (Prepare the cutlets a day in advance to eat faster.)
To create a southwestern flavor, we added green onions, cilantro, garlic, cumin and coriander, as well as a spicy sauce for the clasp. When forming cutlets, it is important to pack them tightly to each other. Serve with Chipotle Mayonnaise (recipe below) and your favorite toppings.
BURGERS WITH BLACK BEANS
Servings Per Container: 6
From start to finish: 40 minutes (plus 1 to 24 hours of cooling)
2 (15 oz) jars of black beans, rinse
1 ounce tortilla chips, coarsely chopped (½ cup)
4 onion bulbs, cut into 1 inch pieces
½ cups of fresh cilantro leaves
2 cloves garlic, peeled and crushed
2 large eggs
2 tablespoons universal flour
1 teaspoon ground cumin
1 teaspoon hot sauce
½ teaspoon ground coriander
¼ teaspoon of salt
¼ teaspoon pepper
¼ cups of vegetable oil
6 buns for burgers
Cover the tin with a triple layer of paper towels and spread the black beans over the towels. Let stand 15 minutes.
Process the tortilla chips in the food processor until finely chopped, about 30 seconds. Add the green onions, cilantro and garlic and chop until finely chopped, about 15 grains, scraping off the sides of the bowl as needed. Add the beans and beat until the beans are roughly sorted, about 5 pulses.
Beat eggs, flour, cumin, hot sauce, coriander, salt and pepper together in a large bowl until well blended. Add the bean mixture and stir until combined. Cover and refrigerate for at least 1 hour or up to 24 hours.
Set the grill to the middle position and preheat the oven to 200 F. Set the grill on a baking sheet with a frame. Divide the bean mixture into 6 equal portions. Tightly pack each serving into a tight ball, then flatten the burgers 3½ inches wide.
Heat 1 tablespoon oil in a 12-inch non-stick skillet over medium heat until shiny. Carefully place 3 burgers in a pan and cook until the bottom is browned and crispy, about 5 minutes.
Turn the burgers over, add 1 tablespoon of butter and cook the other side until well browned and crispy, 3 to 5 minutes.
Transfer the burgers to a prepared rack and keep in the oven warm. Repeat with the remaining 3 cutlets and the remaining 2 tablespoons of butter. Transfer the burgers to buns and serve.
MAYONNAISE CHIPOTLE
It turns out about ½ a glass
You can change the spiciness of this sauce by adjusting the amount of chips.
Whisk in a small bowl 3 tablespoons mayonnaise, 3 tablespoons sour cream, 2 tablespoons crushed canned chili chili in adobo sauce, 1 crushed clove of garlic and 1/8 teaspoon salt. Cover and refrigerate for at least 1 hour. (The sauce can be refrigerated for up to 24 hours.)
Nutrition information per serving: 385 calories; 115 calories from fat; 13 g fat (2 g saturated; 0 g trans fat); 72 mg of cholesterol; 751 mg of sodium; 51 g of carbohydrates; 11 g of fiber; 5 g of sugar; 15 g of protein.