Pennsylvania
Rallies "Trial Mothers" for Peace in Society Local news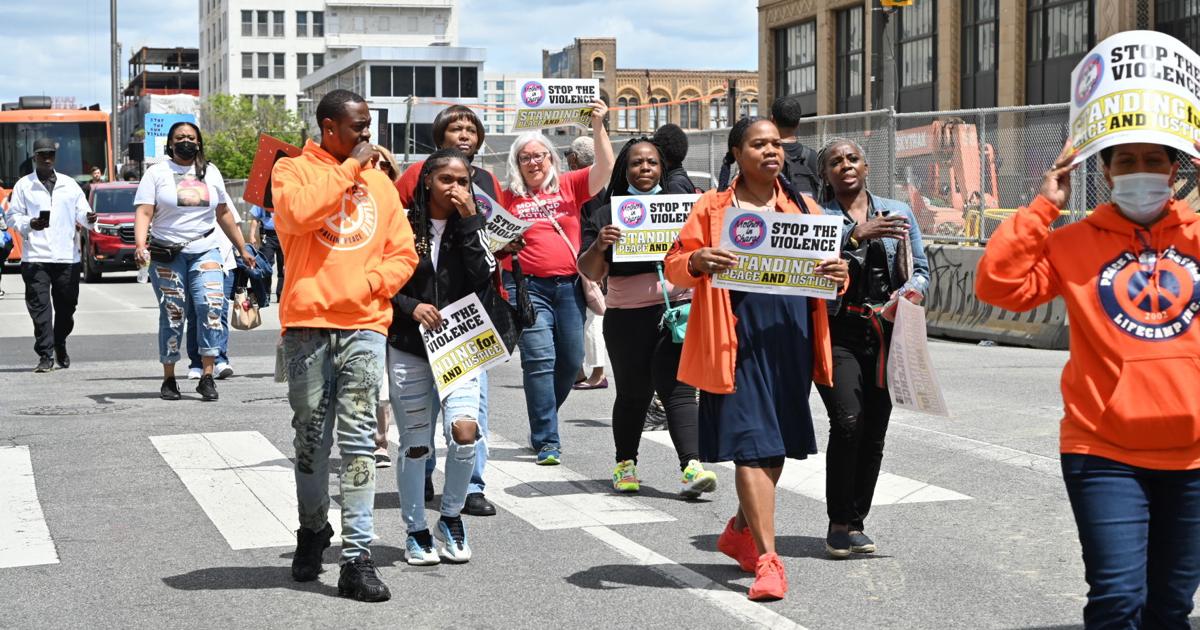 Michelle Kerry-Spry joined other local mothers in calling for peace on the streets after the loss of her son in the 2005 violence.
"Let me just paint a picture for you," she said during a rally on Thursday afternoon by responsible mothers.
"Too many mothers can't even say goodbye to their children and kiss their foreheads in a box because the damage is so severe that they can't have the boxes open."
Kerry Spry recalled the horrific experience of being in the hospital when her 18-year-old son Blaine Spray was shot dead.
"At the hospital, when my son was shot, all I knew was that he had been shot four times. I didn't have the means to ask where, and I kept stroking his chin, and the doctor just distracted my hand, "she said. "I didn't know my son was shot in the neck, and the neck was almost gone."
Kerry Spry said he also received shots to the heart, kidneys, lungs and stomach.
"My son has no vital organs left," she said. "Too many of us don't even have the opportunity to hug our babies – to say goodbye to babies. They're lying on some dirty street – in a place they don't know, and no one who doesn't love them is dying, "said Ker-Spry, program director of Responsible Mothers (MIC).
"This is the reality of armed violence. They die alone. They don't die when we hug them. They are brought into the world from our womb, from our body, with love, and they die alone, "she said.
The rally was joined by other mothers who lost their children in gun violence, elected officials, youth and leaders of non-profit organizations urging people to lay down their arms.
Some of the mothers present are celebrating Mother's Day for the first time without their children who have been victims of gun violence.
Ker-Spry said she was tired of spending Mother's Day lying on her son's grave, shouting, "Why aren't you there and why hasn't your killer been caught?
"While many of you are planning dinners and breakfasts with your mother, many of us lack the strength to meet this day? This is our reality, "she continued. "We ask you for peace. We tell you we want it now. "
During the event, Mothers In Charge founder Dorothy Johnson-Speight said what led her to create the organization.
"I was lying on the couch in a fetal position in May 2003 and thinking what to do because I was in so much pain because my son was shot through the parking lot," she said. "It occurred to me what I could do, and I had a vision of a mother with a megaphone asking for her sons – the sons were laying down their arms – and so the subject came up."
Johnson-Speight discussed the importance of uniting everyone to fight the use of weapons.
"Moms, dads, we all need to join," she said. "We have to be the change you want to see. We cannot constantly depend on the police or elected officials. We also have to do what we have to do. These are our children. No one will come and save us. We have to be the ones to do it. "
The event featured statements by representatives of non-governmental organizations working on the problem of violence, such as the Black Men's Community Council in Philadelphia, Man Up PHL, the Charles Foundation, Every Murder Real and the No Mo Foundation.
During the rally, Kenyan City Council member Johnson handed the MIC a quote from the city. He stressed the importance of activating community members so that mothers who lost children as a result of gun violence could receive justice.
"We talk a lot about police reform, criminal justice reform, but these mothers who lost loved ones as a result of senseless gun violence – for those who have cold affairs – they deserve justice," said Johnson, who chairs the special city ​​council committee on issues. Prevention of violence with weapons.
"So when you see something, say something, because the best thing you can do for some of these mothers who have lost loved ones as a result of gun violence is to help them shut up.
"So we also need to make sure that we approach the plate as a community and work with law enforcement and cooperate with the district prosecutor's office," he said. "We know who is creating chaos in our community.
"We know who the shooters are and if you sit aside and let these young people sow chaos in our community without approaching the plate and not trying to get them on the right track when the murder happens and you don't approach the plate and work with DA , work with the Commissioner of Police and Homicide to restore justice to the family, then you will become part of the problem in society.
"Because when this young man commits this murder, they think they can do it again and again and again," he continued.
https://www.phillytrib.com/news/local_news/mothers-in-charge-rallies-for-peace-in-the-community/article_4cb8bb96-3433-5d57-8b4a-e6aeffbb68ba.html