Cafe Mediterra
430 Beaver St., Sewickley. mediterracafe.com
Last week, this popular café announced that a bar in their location in Suickley is now open. Bring a date and see for yourself.
Adda tea and coffee shop
926 West Ave., North Side. addacoffeehouse.com
Announced through Instagram, Adda will now host High Tea at its location in the north. The details were scanty (the IG message just read "I'll be back next month"), but the excitement is still there. Check out their Instagram in the coming weeks to get more details as they arrive.
Crazy Mex
Several places. madmex.com
Gublerita early returns to Mad Mex, so celebrate Thanksgiving early at any of the network's locations. If you need something to drink, apple margaritas are also back from April 19th.
click to enlarge
Federal galley
200 Children's Way, North Side. federalgalley.org
The courtyard season at Federal Galley is almost approaching. To christen the season, they also have a new barbecue menu at Provision, which is being prepared on Friday, April 22nd.
House of Christ
E. Sherman, 10, Millvale. gristhouse.com
Grist House will release a gruesome new beer named after a famous crypt. Craft beer lovers will soon be able to try El Chupa-lager, which is described as a light, crunchy and "very drunk" Mexican amber-type camp "with a German touch". Banks of the Mexican camp, on sale since Friday, April 22, are decorated with paintings of the legendary creature, in whose honor the beer is named. Grist will also release Hazedelic IPA on Wednesday, April 20th.
Balvener
1600 Smolman, Stryp county. stripdistrictterminal.com
NEXTPitsburg reported that Streep will welcome Balvenera, an Argentine restaurant, originally from New York. The venue will open this fall at 1600 Smallman, a newly renovated office and retail building opposite the terminal.
Reed & Co.
4113 Butler St., Lawrenceville. reedandcopgh.com
This vegan place in Lawrenceville has announced that it will close its doors on Friday, April 22, which is Earth Day. Closing occurs afterwards B52, another local vegan establishmentwas the last day of service last week.
click to enlarge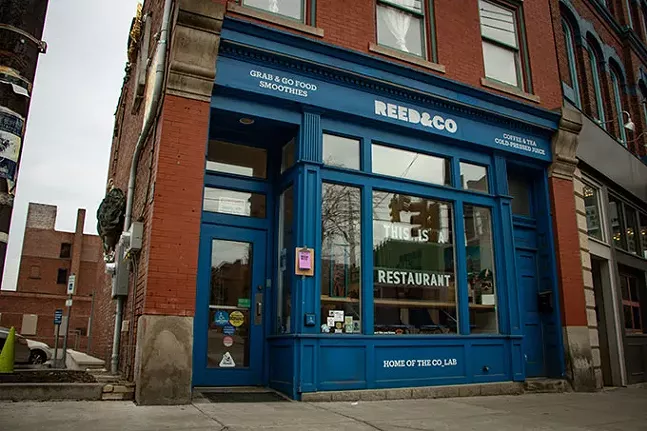 Old Thunder Brewing
340 Freeport Road, Blawnox. oldthunderbrewing.com
On Thursday, May 5 from 3 to 10 p.m., Old Thunder Brewing will host Pilsburgh: An Evening of Pennsylvania Pilsners. Participating breweries include Cinderlands, Brew Gentlement, Allegheny City, East End and others, and food is provided by Blowfish BBQ and Farmer x Baker. Follow them Instagram for more information.
Harvey x East End Brewing
street Julia, 147, Larimer. eastendbrewing.com
Harvey, a grocery service that receives from local producers, will hold a May market on May 29 with East End Brewing Co.
Pizza and beer Jambari
200 Children's Way., North Side. federalgalley.org
Federal Galley welcomes Two Frays Brewery and Driven Pizza on Monday, April 25 at Pizza and Beer Jamboree, an extravaganza that you can eat all you can eat, featuring special pies with ingredients such as Putin and Pork , stewed in citrus beer ", a snack like wings (there is cauliflower for vegetarians) and a table with cookies. Find the link to the ticket at federalgalley.org/events.
Sweet Alchemy Bakery
932 5th Ave. Suite D, New Kensington. instagram.com/sweetalchemybakeshop
Good news for your 4/20 celebration: Sweet Alchemy Bakery will open on April 20 with their popular Death by Chocolate Cupcakes with edible chocolate leaf. Pre-order through the bakery's contact page on Instagram.
Cantina round corner
3720 Butler St., Lawrenceville. roundcornercantina.com
Any vegan or curious vegan visitors who visit this Texas-Mexican place should try tacos with root vegetables or enchiladas made from corn and black beans, two new dishes cooked without meat and animal products.
Regular coffee
Several places. commonplacecoffee.com
Vegans and coffee lovers with dairy intolerance, rejoice! On Thursday, April 21 from 9.00 to 12.00 in the Commonplace Coffee cafes will be a happy hour of Oatly, during which you can get free any drink based on oat milk.