Uncategorized
Salad Secrets: Freshness, Crunchiness, Balance and Surprise Food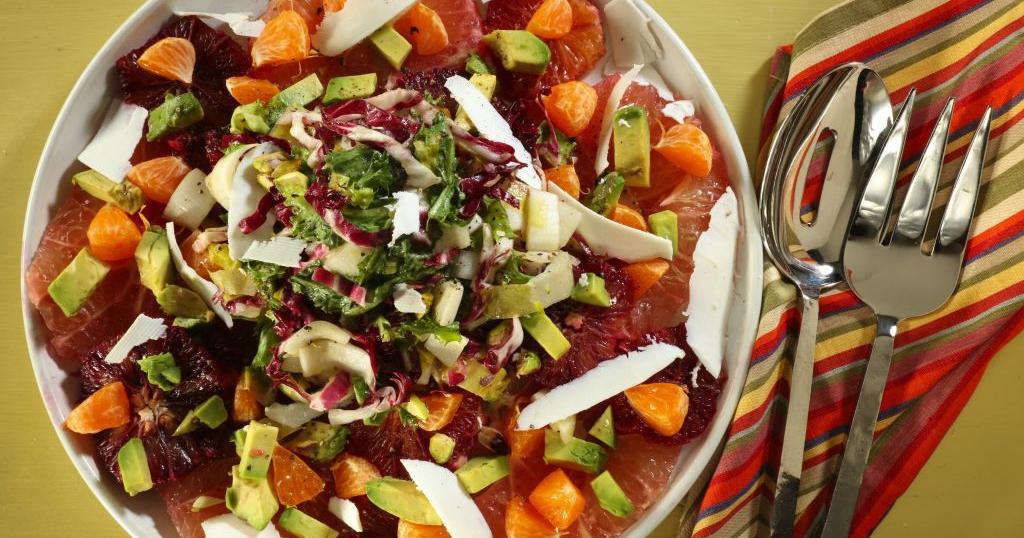 I love salad. What makes a wonderful salad? Fresh, crunchy foods. What makes a salad unusual? Balance and surprise.
Like in a stunning salad made from four citrus, hearty endive and colorful chicory on The Progress menu in San Francisco. There, owners chefs Stuart Brioz and Nicole Krasinski shave the ricotta salad with thin curls over the salad to move it far beyond any predictable bowl of greens.
Of course, salads turn out best when they are made up of seasonal foods. The neat and tidy piles of red and green radicchio, endive and chicory, which we spied on while visiting the San Francisco Farmer's Market in the Ferry Building, help demystify the chefs 'creativity. Equally inspiring is the variety of fresh seasonal citrus fruits at nearby stalls.
Back home, I am happy to find a wide selection of citrus in major supermarkets. This means that I can add slices of satsuma tangerines, slices of Oro Blanco grapefruit and blood orange to the salad, and Meyer lemon to the dressing.
As for greens, I turn to Deborah Madison for help in understanding endive. In his Vegetable Literacy, Madison writes about the confusing nomenclature of chicory and endive. She gives them the Latin names Chichorium intybus and Chichorium endivia. What is important to me is that it is a green with strong leaves and a slightly bitter taste. Delicious in combination with citrus.
Most of us can come across plump heads of Belgian endive and purple-red radish Chioggia. More unusual to find Treviso – these elongated heads that taste softer than Chioggio radicchio. Curly endives and escarol are usually readily available, but require only the right dressing to withstand their bitter strength. I use deep-flavored vinegar, strong cheese and rich fillings such as toasted nuts, smoked ham, hard-boiled eggs.
Another favorite salad from cold weather combines fried chicken with pickles. Yes, chicken salad can be relevant in the cold months. The trick is to drop the combination without cooling it down like we do in the summer. Plus, a little smoky chips in the dressing warms everything up.
The key to a good chicken salad is, of course, the use of first-class chicken. As a last resort, I will use grilled chicken from the grocery store and tear the meat off the skin and bones. However, most chickens tend to have a mushy structure and dry meat.
Better home-baked chicken – no time to cook, just time in the oven. So when I fry chicken for dinner on Sunday, I do extra for cooking on weekday evenings. One small chicken gives about 4 cups of minced meat.
For super-moist chicken, I cook boneless pieces without skin in chicken broth. Cooking chicken this way takes less than 15 minutes, and the texture is worth the time. Bonus: a delicious liquid for poaching, which can be used in soups or stews later or seasoned with salt and a pinch of curry powder for a liquid, low-calorie snack.
CLASSIC VENEGRET for universal purposes
Preparation: 5 minutes
Makes: a generous cup
Change the types of oil, vinegar and mustard to change the flavor. Use agave syrup for sweets.
¼ glasses of olive oil
2 tablespoons oil with a mild taste, such as safflower oil, or oil with a rich taste, such as walnut oil, hazelnut oil
3 tablespoons delicious vinegar, such as Banyuls wine vinegar, red wine vinegar or white wine vinegar
1 teaspoon Dijon mustard
½ teaspoon of salt
½ teaspoon of agave syrup or ¼ teaspoon of sugar, optional
¼ teaspoon grated lemon zest, optional
¼ teaspoon freshly ground black pepper
In a jar with a tight lid put butter, vinegar, mustard and salt. Shake well. Add pepper and stir again. Refrigerate for up to 2 weeks. Use at room temperature.
Nutrition information per tablespoon: 91 calories, 10 g fat, 1 g saturated fat, 0 mg cholesterol, 0 g carbohydrates, 0 g sugar, 0 g protein, 161 mg sodium, 0 g fiber
CITRUS SALAD WITH ENDWY AND RICOTTE SALAD
Preparation: 20 minutes
Ingredients: 4 servings
I like to use Mayer's lemon, walnut oil and Banyuls vinegar in the dressing for this special salad.
3 to 4 tablespoons of classic universal vinaigrette (above) made from walnut oil and Mayer lemon zest
1 grapefruit or pomelo Oro blanco
2 bloody oranges
1 Satsuma tangerine or 2 clementines, peeled, sliced, each cut into thirds
1 large ripe avocado, cut in half, pitted, diced
1 large head or 2 small heads of Belgian endive, ends trimmed
½ small head of red radicchio, finely chopped
2 cups plucked small leaves of escarola or curly endive
1 piece (about 2 ounces) ricotta salad (or pecorino romano)
¼ cups of roasted and salted pistachio nuts
Freshly ground black pepper
Make vinaigrette.
Peel a grapefruit with a knife as follows: cut off the ends. Place the grapefruit on a cutting board cut down. With a large knife, cut off the whole skin and the white core, bending the knife with a bend in the fruit. Then, with a knife, cut the grapefruit horizontally into slices ¼ inches thick. Do the same with the oranges.
Lay slices of grapefruit and blood orange in different colors in a ring on a large plate. Sprinkle with slices of tangerine and then diced avocado.
Cut the endive in half lengthwise, then cut across slices ½ inches wide. Put the radicchio and escarol in a large bowl.
Add 2 to 3 tablespoons of vinaigrette and stir. Pour citrus 1 or 2 tablespoons of vinaigrette.
Place the seasoned salads in the center of the citrus. Use a vegetable peeler to peel the ricotta all over the plate. Sprinkle with nuts and peppers. Serve immediately.
Nutrition information per serving: 329 calories, 23 g fat, 5 g saturated fat, 15 mg cholesterol, 27 g carbohydrates, 10 g sugar, 9 g protein, 367 mg sodium, 8 g fiber
ROASTED CHICKEN AND SALAD ROMAN WITH CREAM BASIL CHIPOTLE
Preparation: 30 minutes
Made: 6 servings, 4 as a main course
If I don't have enough time, I replace ½ a glass of ranch dressing mixed with 1 tablespoon of sherry vinegar and 1 teaspoon of puree with celandine in adobo, homemade dressing.
1 recipe for cream dressing with basil chippolle, recipe below
From ¼ to 1/3 cup pecan halves
1 medium apple with honey, cut into quarters, without core, cut into pieces ½ inches (1½ cup)
1 small kohlrabi bulb (about 5 ounces), peeled, sliced ​​0.5 inches (or a cup of radish)
5 green onions, chopped, finely chopped (2/3 cup)
2/3 cup pickles, pickled green beans or pickled okra (from a jar)
½ cups cut in half or chopped green olives or castelvetrano
4 cups diced or coarsely chopped fried or fried chicken (boneless and skinless)
1 small head (7 ounces) of romaine, cut lengthwise into quarters, then cut crosswise into 1 inch pieces (about 4 cups loosely packed)
2 to 3 tablespoons chopped fresh or dehydrated parsley, green onions or a combination thereof
2 to 4 tablespoons of cottage cheese Kotia or Roman
Make a dressing.
Put the pecans in a small dry pan. Put on medium heat. Cook and stir until browned and fragrant, 1 to 2 minutes. Do not move away, otherwise they may burn. Transfer to a cutting board. When cool, cut into small pieces.
Put apple, kohlrabi, green onions, pickles and olives in a large bowl; stir. Add chicken and dressing. Stir again. Let stand, 10 minutes.
Add the belts and greens. Stir. Arrange on serving plates. Sprinkle with pecans on top and sprinkle with cheese. Serve.
Nutrition information per serving: 419 calories, 32 g fat, 9 g saturated fat, 95 mg cholesterol, 11 g carbohydrates, 6 g sugar, 24 g protein, 911 mg sodium, 3 g fiber
CREAM FILLING WITH BASIL
When the blender is running, dip 1 peeled shallots and 1 peeled clove of garlic into the machine to grind it. Turn off the blender and add 1/3 cup of olive oil and ¼ cup of fresh fries or mascarpone. Add 2 tablespoons of aged sherry vinegar (or white balsamic vinegar) and 1 teaspoon of grated celandine in adobo; the mixture is smooth.
Add 1 tablespoon of dried basil and a teaspoon of salt and sugar. Stir the process. Transfer to a container with a lid; in the fridge for a few days. Use at room temperature.
___