Pennsylvania
The Episcopal Bishop is planning local pastoral visits Local news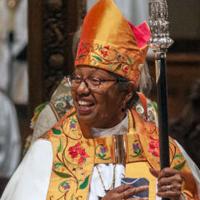 As she approaches the year since her inauguration as Bishop of Pittsburgh, Father Ketlen A. Solak is planning three pastoral visits to a church in west central Pennsylvania.
On Sunday, she will visit St. Peter's Cathedral in Blairsville, a parish the diocese calls "very small but extremely bright."
Two weeks later, on May 22, she will visit St. Thomas in Northern Cumbria.
Then, on June 12, she is scheduled to visit the Episcopal Church of Christ in central Indiana.
Solak was elected bishop of the clergy and secular leaders of the Episcopal Diocese of Pittsburgh on June 26, 2021. She was ordained and ordained a bishop on November 13, 2021 and officially ordained the ninth bishop of Pittsburgh at the next day service at Trinity Cathedral in downtown Pittsburgh.
Solak is originally from Port-au-Prince, Haiti, where she was raised in a Roman Catholic family.
As a teenager, she came to the United States and felt called to the Episcopal Church, where in 2014 she was ordained a priest.
Solak has four degrees: Bachelor and Master of Music from the Catholic University of Washington, DC; and a Master of Theology and Doctor of Service from Virginia Theological Seminary in Alexandria.
https://www.indianagazette.com/news/local/episcopal-bishop-plans-local-pastoral-visits/article_f3a0fc62-c268-56ae-9b54-03ae54579d2b.html