Sports
The Highlanders take two from the Marion Center Sports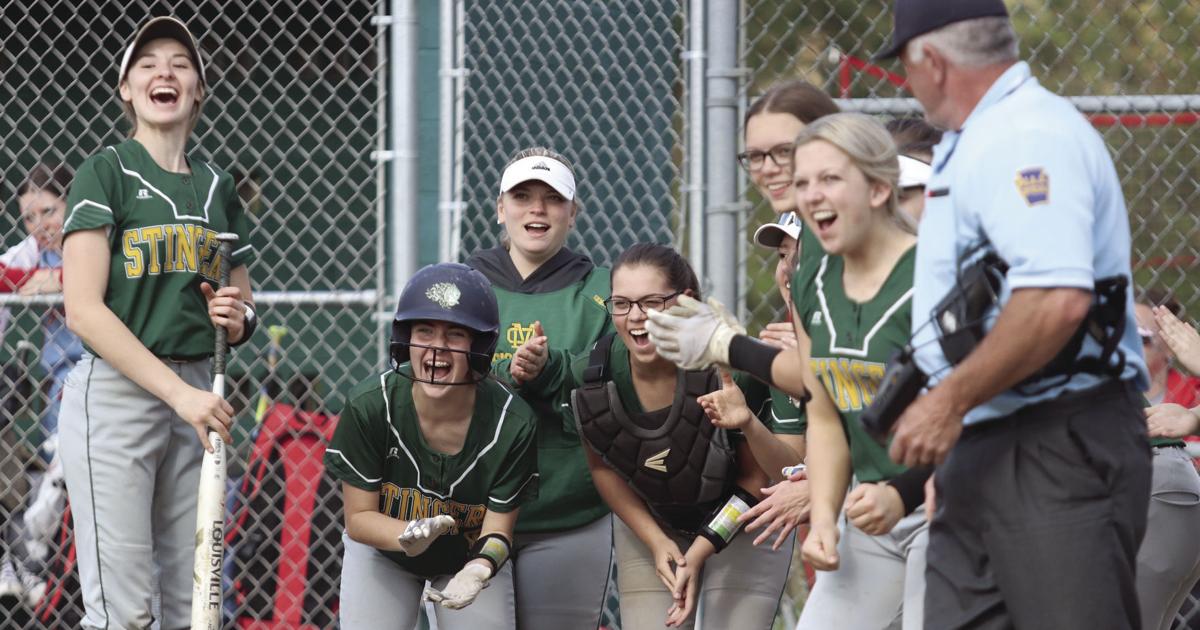 The Marion Center's winning streak is over, and Cambria Heights corrected the ship after its first defeat of the season in a two-head mountaineering showdown 4-3 and 6-2 in the Heritage Conference softball games on Monday.
Lydia Miller of the Marion Center tied Game 1 with 3, scoring Homer in the sixth inning, but Cambria Heights 'Martina White defeated the Stingers with a home run victory in the seventh.
"This first game was a very good game between two very good teams," Marion Center coach Ed Peterson said. "We just didn't get the blow we needed. We had runners in second and third place but didn't get a clutch. It's hard. We regained the momentum, and then it was gone. I liked the way we played, we just didn't get hit. "
Jenna Serafin nominated four in the win, and Cheyenne Sylvis – five in the defeat.
White brought out another home run in the second game, and the Highlanders took the lead 6-0 after three innings. The Marion Center has exhibited two launches in the fifth, including solo Homer Alexis Rush.
The teams kept each other without points until the end of the game.
"We had opportunities," Peterson said. "We had runners in second and third place. We had twice loaded databases. We just couldn't use capital letters. We did not receive these blows, and with such an opponent you should take advantage of these opportunities. "
Sidney Nichart won Game 2. Rush was defeated.
Abigail Smulik of the Marion Center had six hits a day, including a home run with two runs in the first game and a double in the second. In the second game Rausch scored a goal, and in the first he stroked two singles.
Carly Storm of Cambria Heights arranged the day with five strokes, including a home run with two runs in the second game. Ken Rogal scored two shots in Game 2.
On Wednesday, the Stingers (10-4) will host the Homer Center. The Highlanders (10-1), who remain undefeated at Heritage after losing to DuBuois 11-1 on Friday, welcome the Purchase Line on Wednesday.
VALLEY OF THINGS 16, PENS MANOR 1: Hannah Faust threw the third of the season, not scoring, and her teammates supported her with great support in the victory over Penns Manor in the game Heritage Conference.
Fust struck out 15 and went through two in a game that lasted six innings.
She also approached the plate, making two home runs and six runs. The Panthers led 9-1 before scoring seven wounds in the sixth inning to ensure compliance with the 10-Mercy Rule rule.
Madison Stutzman topped the River Valley charts with a double and two singles and a run in two races. Bryn Gardner, Isabel Pinos and Brooklyn Furman made two strikes each, Ana DeSimon doubled and went in three races.
"Hannah Faust is the dominant player," said River Valley assistant coach Brock Harsh. "She's an amazing player, and by and large, it's been a full team effort and we're excited to see that everyone is contributing."
River Valley (9-3) plays Leechburg on Wednesday. Penns Manor (2-8) plays for Philipsburg-Osceola today.
WESTERN SHAMOKIN 7, HUMER CENTER 1: An explosion of seven races in the seventh inning pushed West Shamokin past the Homer Center in the Heritage Conference game.
The Wildcats and Wolves kept each other off the scoreboard until the Homer Center scored an unearned run at the bottom of the sixth.
Hailey Newell of West Shamokin shot down two WRCs in three hits, including a double. Malena Stewart and Lily Jordan also stroked a double, and Lexi Young – a triple. All three had an IRB.
The Homer Center was held in doubles by Alain Fabin and Julia King.
Maddie McConnell swung six to win.
Both teams will play on Wednesday. West Shamokin (7-3) welcomes United, and the Homer Center (3-7) visits the Marion Center.
NORTHERN CUMBRIA 14-16 BUILDING LINE 1-6: Northern Cumbria broke the skid in two games by swinging the Purchase Line at the Heritage Conference doubleheader.
In the first game, the Colts jumped early on the Red Dragons, making eight rounds in the first inning and adding three in every fourth and fifth.
Purchase Line scored the only session on Cadence Nedrow's double in the first.
14 runs of Northern Cumbria brought 14 hits. Lesie Lancendorfer stroked four single strikes in four bits, drove in two races and scored three times. Jessica Circle had three hits, including a double, and Skye Berneki posted two RBIs on two hits.
In the second game, the Colts took advantage of nine mistakes and struck eight blows for another victory under the rules of mercy.
Lancendorfer added two more RBIs on the double, Berneki inflicted a triple and earned two RBIs, and Olivia Janer went 2-on-2 with three RBIs.
The Red Dragons inflicted nine blows. The subsoil collected three RBI on two singles, and Kara Harbridge had a double, two hits and an RBI.
The circle scored five to win the first game, and Lancendorfer captured game 2.
Both teams will play on Wednesday. Northern Cambria (9-2) welcomes Penns Manor, and Purchase Line (1-9) visits Cambria Heights.
KISKI AREA 4, INDIANA 0: Indiana has released its fourth game in a row with a loss to Kiski Area in WPIAL Class 5A Section 1.
Kiski Area scored one run in the first and three in the fifth inning and scored eight shots. Indiana was held to two strokes. The Indians received singles from Zoe Brandon and Hailey Hamilton.
Addie Stossel struck out seven in the loss. Hannah Simpson won.
"Stossel played a really good game and we put together a good game in defense," said Indiana coach Harold Wilson. "Their pitcher just worked well without giving us off the board."
Indiana (2-10) hosts Armstrong on Wednesday in a sectional game.
LIGONIER VALLEY 2, SERRA CATHOLIC 0: Maddie Griffin continued her dominance by setting a number without strikers to lift the Ligonier Valley over Serra Catholic in a pitcher duel between the two WPIAL Section 2-AA teams.
Griffin knocked out 13 and walked away one, and rival pitcher Madysin Zigarovich swung 11 without walking.
The only game in the game took place on Peyton LaVale's single with two RBIs in the third, which was scored by Griffin and Cheyenne Piper.
In LaVale, there were two of Reims 'five strikes. Natalie Bizup, Neve Dowden and Piper each nominated.
Ligonie Valley (11-3) visits Janet on Wednesday for another sectional game.
https://www.indianagazette.com/sports/highlanders-take-two-from-marion-center/article_ae74f266-3d63-5193-aec9-678bc69a9953.html