Uncategorized
The jazz band is planning a concert celebrating Ellington's birthday Life / Entertainment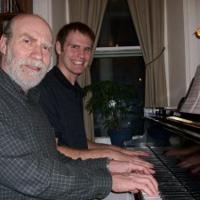 On Friday, April 29, Duke Ellington turns 112. What is better to celebrate than a jazz concert? Sanderman Conservatory of Music invites audience to visit "Up Jumped Spring!" featuring the jazz ensemble Gettysburg College.
At 8 p.m., the Majestic Theater will open its doors for an evening of jazz big band led by music professor Dr. John "Buzz" Jones. The concert will be attended by special guests The Dave Posmontier Quartet from Philadelphia, a piano duet with Dave and his son of High School senior Alex, and a duet of violin and alto saxophone twin brothers Brad and Kurt Gotschalk '14.
Dave Posmontier recently released his latest CD "Posterity" under the Dreambox Media label. Gettysburg College welcomes this famous musician on stage to perform two songs with his son and fellow pianist Alex Posmontier. According to the youngest Posmontier, the play "Father and Son" will consist of two very different works. Maurice Ravel's Impressionist composition "The Magic Garden" will be combined with the traditional New Orleans tune "I Found a New Baby" by Jack Palmer and Spencer Williams.
Alex noted that the interpretation of the second play is quite original: "My father and I came up with an arrangement of melodies for two pianos, which presents different styles, including classical, stride, swing and modern." Two pianos will take the stage for the duo. "I'm excited to play a duet with my dad," said Alex. "We have performed together before, but never on such a wonderful piano and in front of a large audience. I couldn't have asked for a better final concert as a senior. "
The Gotschalk brothers are also looking forward to their last performance this year. Brad, a classical violinist, and his brother Kurt, a jazz alto saxophonist, will perform as soloists on "Lenox Avenue at Midnight" from Buzz Jones 'jazz suite" Axiom Asunder ".
The jazz ensemble will also perform compositions to be presented on their July tour of major music festivals in Switzerland and France, such as Duke Ellington's "I'm Beginning To See The Light" and Chico Correa's classic "Spain".