Pennsylvania
The restorer of religious art came to Jesus through chalk and teeth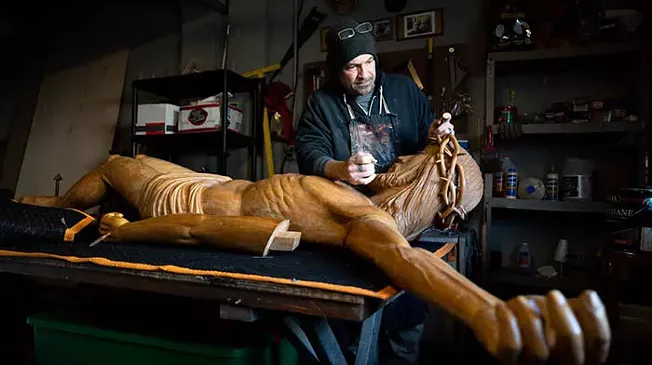 It was dentures that led Tom Paneus to Jesus.
With Christmas just around the corner, the Butler-based artist is juggling the demands of religious statue restoration deadlines for local churches, institutions and private owners.
One small baby Jesus faces the light on Panaeus' desk while he explains Pittsburgh City Paper how he came to this profession.
Panei, 44, was an artist long before he turned to celestial creations.
His signature works are chalk pastels on wood. In Paneya's hometown, you can't go into more than a dozen and a half shops without seeing at least one. As a rule, these are large, bright abstracts with an aesthetic similar to stained glass.
Panay says a local artist, photographer Dennis Case, happened to work as a dentist and needed to make high-quality dentures for clients. Keys asked Panea to give it a try.
"Making dentures is kind of like sculpting," Panay says, adding that it requires a second degree and certification as a denture technician.
Case says Panea's integrity, generosity and talent made the transition from canvas to dentistry a seamless one. "You have to have an idea of ​​what a smile should look like. You have to set it up so that the person looks nice and natural," says Keyes. "Tom has an eye for such things."
Keys retired in 2016, and Panay now works mornings at Cranberry Dental Studios. With 18 years under his belt, he says he often meets people who smile widely and call him their dental artist.
About ten years ago, a dental client asked Paney if he could repair a sculpture they had broken. He said again, "Why not?" The same tools are used to make dentures and restore statues.
After the first repair, a line of necessary sculptures came out through the doors of Paneya's workshop.
"There is a need, and there aren't many people doing it," he says.
Panei mended small chips, broken hands and missing fingers. And he reconstructed more than one box full of more than 20 pieces and one Jesus who was hit by a car.
"Repairing statues is kind of fun. Each one is a learning experience because each one is so different, he says. "Same thing with the teeth."
Getting the statue's repairs to the perfect colors is the hardest part, he says. He tries to be faithful to the original, and sometimes that means repeating a 100-year-old paint job.
click to enlarge
"I've been using pastels all my life, but I use oil on statues," he says. "I've gotten better over the years."
Today Panei works hand in hand with AT Merhaut, Inc. Church Restoration & Supply, which regularly deals with sculpture owners.
Panei has worked on statues throughout the region and in several states. They ranged from tiny nativity relics to crucifixes so large he had to work in his home church.
He repaired practically new manufactured goods, as well as old handmade goods bound with horsehair or straw.
He repairs not only Jesus. Mary, Stations of the Cross, St. Anthony, and even an unnamed lady with a goose now occupy spaces around his workshop.
It is not uncommon for owners to bring him statuettes or figurines unrelated to religion. But he feels a heavy responsibility when working on religious subjects.
"Some are 100 years old and will be displayed in churches for another 100 years," he says. "You want to make them as good as possible and preserve their original appearance. It's difficult because you want it to fit so well that no one knows it's been repaired."
Panei, who calls himself a "spiritual person", admits that he "gets attached" to the pieces.
For example, there is a church in Michigan that Panay visits from time to time to see the 30-foot Last Supper he has restored.
"It's like part of the family. It was an emotional work," he says. "And not only because of the topic. Even if you're not religious, it's an iconic piece."
The holidays, especially Christmas and Easter, bring a flurry of projects. But, says Panei, the need to restore statues occurs all year round. He is also a musician. He has teeth. And makes art to order.
But recently he started another side thing – to refresh the paint on the tombstones. He tried this summer, found solace in the quiet of the cemetery, and planned to return when the season was favorable.
"Dentures and art, and now tombstones," he says. "I like getting out of my comfort zone."
https://www.pghcitypaper.com/pittsburgh/religious-art-restorer-came-to-jesus-through-chalk-and-teeth/Content?oid=22988268