Uncategorized
This pair of Lancasters helps people tell their stories Entertainment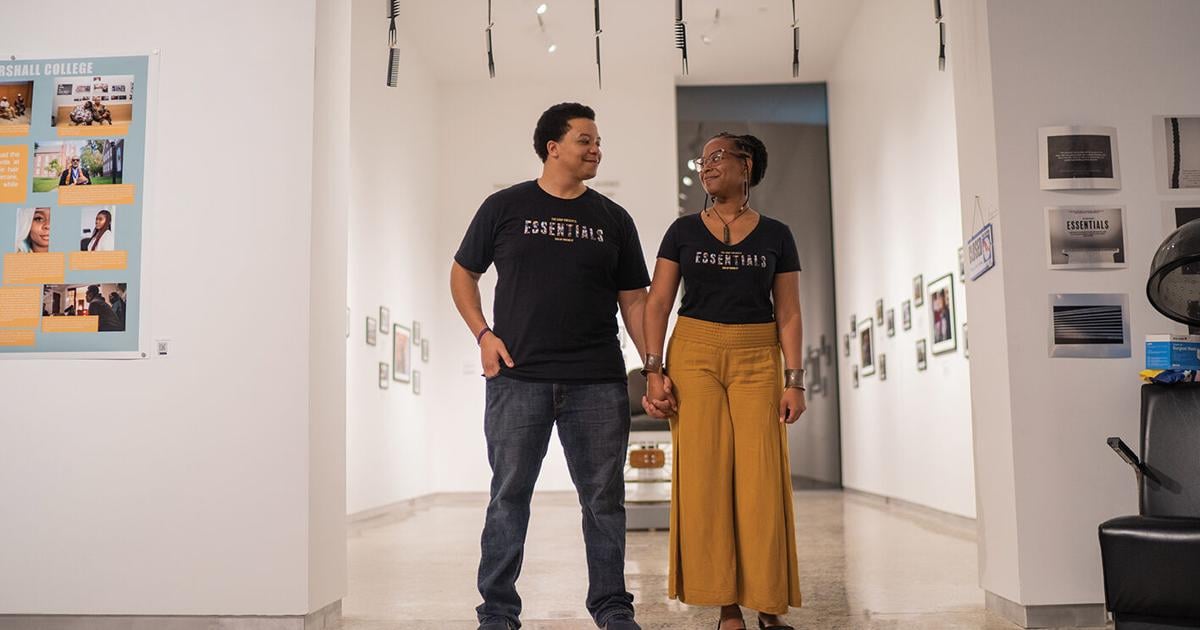 Jordan and Shelby Wormley from childhood told stories through photography and video, and adults encouraged them to accept their hobbies.
In 2020, after years of talking about their mutual interests and goals, the Lancaster city couple decided to create a local business through which they could tell the stories of families and communities, as well as nonprofits and small businesses they believe in.
"WE & Company is a storytelling company," said 31-year-old Shelby. "We help people create and tell their stories in different ways. Primarily it was through photography and video, as well as writing. Much of the work we've been doing lately has focused on greater social justice, preserving history, enlightening people in society, and simply helping organizations and businesses tell their stories … "
"In today's world, there are so many ways to tell and share a story, as many different types of people," said the 30-year-old Jordan. "We help them create their own story and share it in a way that is accessible to a wide variety of people."
Together as teenagers when they were introduced by a mutual friend, Wormley married in 2016. They both moved a lot – mostly growing up in York County – a few years ago they adopted Lancaster as their new home.
"When we got married, we just saw a niche that wasn't serviced in our community that we could fill," Jordan said. "We really started talking about how we can take our passions that we already have and get married this time … so we gave birth to WE & Company."
The company name is a combination of "W" from Wormley and "E" from Elaine, the second name of both Shelby and her grandmother.
"And the company is all we have the honor to work with and work with," Jordan added.
The couple got to know their host city through research they conducted before some of their work on storytelling.
The couple created a video with famous women in the community at the annual brunch of the Lancaster Women's Color Committee.
It was the sense of empowerment they gained while creating the video for brunch 2019 that prompted them to create their own company. They bought "starter gear" and took entrepreneurship courses through SCORE and ASSETS Lancaster.
These days they work in a common room at the PhotoOlé Photography studio on East Chestnut Street.
Wormley's projects included profiling Vona, a company that sells batik fabrics to European and American markets to support artisans in Mozambique.
WE & Company also profiled members of the Lancaster community, named YWCA Women of Achievement, and talked about the first plans of the Evita Colon and Solise White A Concrete Rose wineries and facilities for events soon to open on South Duke Street. .
Photography
Shelby Wormley has been photographing since childhood.
"My mom gave me her first Polaroid when I was 12," Shelby said. "And I was obsessed with the (TV) show 'Rocket Power,' and there was this little brown girl who had a camcorder and a skateboard, and I wanted to do both of those things." She soon received a video camera and "just recorded everything aimlessly" – including the unity marches that her mother organized in York.
After studying communications and photography at York College, Shelby became a production assistant and then a photo and video journalist with news from each of the major television stations serving Lancaster.
For the past two years, Shelby's photographs have been selected to participate in the jury of the Art of the State exhibition at the Pennsylvania State Museum in Harrisburg.
And, as an inaugural artist on social practice and public relations at the residence at the Franklin and Marshall College Center for Sustainable Interaction with Lancaster, she created a photo exhibition showing the effect of disabling COVID-19 in black-haired hairdressers and salons in Lancaster. It was titled "Gift Shop: Basics" held in March at the Susan and Benjamin Winter Visual Arts Center at F&M.
Working at ABC WHTM in 2020, she and her reporting partner visited Mr. Wieck's family style in Lancaster to "talk about the impact of the shutdown on his business," Shelby said. "When you grew up in barbershops and salons in African American communities, it's very hard to explain this acquaintance other than it's just a feeling. … I felt I had found refuge. Even for a moment.
"We are in the midst of a pandemic. It's the height of the protests, a lot has happened in the world, and there weren't many places I could go to feel safe, "she said.
"It's really just stuck with me."
For the final project of her residence, she photographed owners and clients in black-owned barbershops and salons, linking images along with written quotes from both groups, frustrated by the cessation of these so-called "insignificant businesses" – which are important as communities.
Video recording
Jordan Wormley first picked up a video camera at age 11 when he began working at his church in York County.
"I just kept working on it, eventually I became a production manager and then started working with other churches," he said. "It led me to enroll at Temple University, where I studied media and communication."
Jordan went to work in production at the studio of the West Chester retail chain QVC.
While Shelby works full time at WE & Company, Jordan also works at DAS, a distribution company in Palmyra.
One of the WE & Company video projects he is most proud of is the profiling of Genesis Meadows, a local high school senior who has benefited from Advantage Lancaster's sports, academic and cultural programs.
"It was a great project," Jordan said. "They take these students from these local schools, which don't always have the opportunity to go to college and play tennis or learn about history, go to a museum and go to Broadway shows.
"It was something that resonated with me," he said, "because as a child (in Baltimore) I was told about the importance of doing these things. I have to do some of these things and I know how it affected me. I know how it changed my outlook on life. "
They are also working on a project that tells the story of Jordan's grandparents in Baltimore.
The two are committed to growing their business and continue to explore their host city. "Something special about this city," Jordan said. "Lancaster is one of the first places that felt like I wanted it to be my home, and that's thanks to the people."
"Very often people go to the community and try to tell a story that they think needs to be told without knowing the people and the society," Shelby said.
"I remember realizing that I could not tell the story of this place and do it fairly without knowing it," she added. "You should be invited into these spaces. That's what we learned as storytellers, and what we need to remember, because it was such a learning experience. "
WE & Company can be contacted by calling 717-342-6712 or emailing info@weshareyourstories.com.