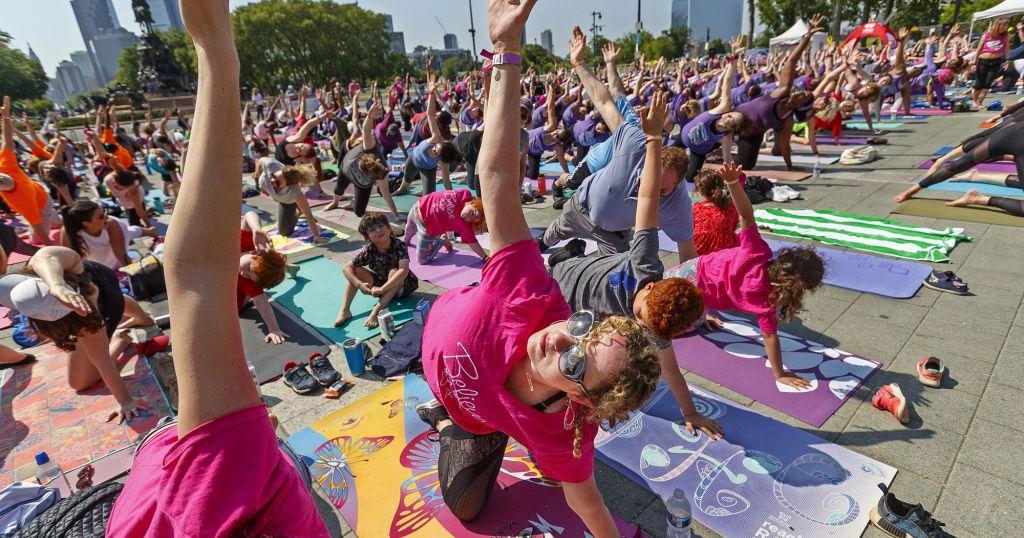 The 39-year-old doctor from Winwood arrived at the Philadelphia Art Museum early Sunday and unfolded her yoga mat on the steps along with nearly 2,000 other people who have survived breast cancer, as well as their friends and family.
The goal was to raise $ 400,000 for the non-profit organization Living Beyond Cancer Breast Cancer, based in Bala Sinuida, which focuses on providing information and resources to women battling the disease.
The money went to a good cause, and Marysa was happy to help. She and her family raised thousands themselves.
But that was not the main reason why she went out on the steps on Sunday morning in a flamingo-pink shirt with the words: "I believe."
Five years ago last month, Marisa plunged into the pillows of her couch while working, when she pulled on her shirt and found an unmistakable lump. "Either I'm crazy," she thought as she sat, "or I have breast cancer."
Madness seemed possible when she inspected her living room, finding no context for the mass in her left chest. Marisa was 34 years old, she is too young to even get tested for breast cancer. She had four children under the age of 4, including 10-month-old twins who slept in cribs next door in the next room.
But by the end of the next day, Marisa was diagnosed with stage 3 cancer, a 10-centimeter tumor that had invaded her chest wall. She started chemotherapy on her daughter Violeta's third birthday. "Mom's boo-boo on her chest," she and her husband John tried to explain.
Down on the Shore over Remembrance Day in Marisa, hair began to fall out. She sat with her sisters on the back steps of their beach house in Margate while her husband shaved him. They said all the positive things they could think of: "It's expanding!" and "You look beautiful!" – but her younger sister, Ashley Nechemia, remembers that all they really thought was, "It sucks."
And so it happened. After six months of chemotherapy there was a double mastectomy, radiation therapy, injections, blockers and finally removal of Marisa's ovaries.
They all tried to keep her in the mood. Marisa's kids chose wigs, blond bob, even purple. Leona Lubinetskaya's grandmother Kleiner called her every day to make sure she was eating.
Marisa forced herself to find one thing that was reassuring, one silver every day. Sometimes it was, "I didn't quit."
Then in January 2015, after the worst year of her life, doctors told her she was over. "You can be normal," they said.
But Marysya did not feel normal. She had no hair, did not recognize her own body. "I felt the world didn't understand," she says. One day the sisters bought her a bracelet with the inscription: "I believe".
And she tried.
A few weeks later Marisa saw a flyer for Yoga on the steps. In the past, she practiced yoga – "It gave me medical school," she says, – so she went to a kick-off event at Ardmore Toyota with her sister Carly Cohen. Surrounded by other survivors, Marisa thought, "These are my people."
That year so many friends turned to Marisa to ask how they could support her. Now she knew what to say. She pasted a sign in her examination room. She created a fundraising team: the Believe Team. Her team raised nearly $ 10,000.
"There's something different about this event because when you do most of the fundraising, you're first together, but then everyone runs or walks," said Gene Sachs, CEO of Living Beyond Cancer Breast Cancer. "It simply came to our notice then. You are connected to everyone. "
Crowds of mostly women moving up and down the steps on Sunday were in shirts labeled "Treasure Chests," "Newmunis," and "Fear Like a Girl." They were taking selfies with Rocky and shouting, hugging friends they hadn't seen since last year's event. They looked in the frames of photos of those who passed away.
Now Marisa lifted her hips into the air, got out of the baby pose and sank into the dog. Behind her, her son Caleb, who is now 5 years old, grinned, hitting his stomach like a bong drum, and his face was depicted as a shark.
Nearby 8-year-old Violetta imitated her mother's movements. Marisa pulled 5-year-old Estelle into her arms and raised their arms to the sky.
A few months ago, at the age of 92, Marisa's grandmother passed away. At age 11, she survived the Warsaw Ghetto during the Holocaust, came to the United States to start a family. She always said, "You're my life." She just wanted to live to see her next birthday, wedding or bar mitzvah.
Marisa renamed the team "Believers Babi". She said she now has something to believe in. There was no way to feel lonely.
And so Marissa put her hand on Carly's sister's shoulder, and with her other hand she hugged her 9-year-old son Sam, and they repeated after the instructor:
"I'm brave!"
"I'm stunningly beautiful!"
"I'm open to living my dreams!"
Turning to the horizon of Philadelphia, they moved to a rack on one leg, called the tree pose. The move emphasizes balance, and some in the crowd stumbled; but no one fell, for they all leaned against each other.
https://www.indianagazette.com/health/cancer-survivors-find-peace-through-yoga/article_5bebc3d0-7f00-11e9-ad8c-d7afcf1100d6.html