Uncategorized
Tony Messana draws on the experience for the rack project Life / Entertainment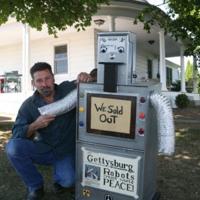 Editor's note: every Thursday in September Arts & Leisure will describe one of five artists involved in setting up the Gettysburg Times newsstands for Rack-a-Rama. Rack-a-Rama is a joint effort of the Gettysburg Times and the Adams County Arts Council, during which five newsstands, specially designed by local artists, are located in communities throughout Adams County. During September, part of the proceeds from the newspapers purchased in the shelves will go to the Art Council, which will keep the shelves after work.
Experience is a theme that Biglerville artist Tony Messana would like to convey in his project for a newsstand created for the Adams County Arts Council.
With more than 30 years of experience, the artist has spent about two-thirds of his life creating fine arts, rustic furniture, birdhouses and music of all styles.
Messana spent his early adult life in the New York area studying jazz and attending classes at the School of Visual Arts. When he was not studying, he performed with a number of jazz fusion, rock and reggae bands in the metropolitan area.
After moving to Adams County in 1993, Messana quickly became involved in the local art scene, partly motivated by his interest in the Civil War. He taught art and music at the district Christian school from kindergartens to 12th grade and recently co-authored a play about the Civil War.
Messana has also participated in societies dedicated to the development of art in the region. For three years, he led camps for Imagination Station, an educational component of the Adams County Arts Council, and taught a number of classes at the Washington County Museum of Fine Arts in Hagerstown, Maryland. at a comics lesson he offers this fall at the Imagination station.
Incessantly talented, Messana has released two modern CDs and is working on a third, "Heritage Gift".
"It's great," Messana says of the disc.
If he does not create or teach art, he conducts Sunday services at 10:30 a.m. at the Gettysburg Battlefield Resorts camp.