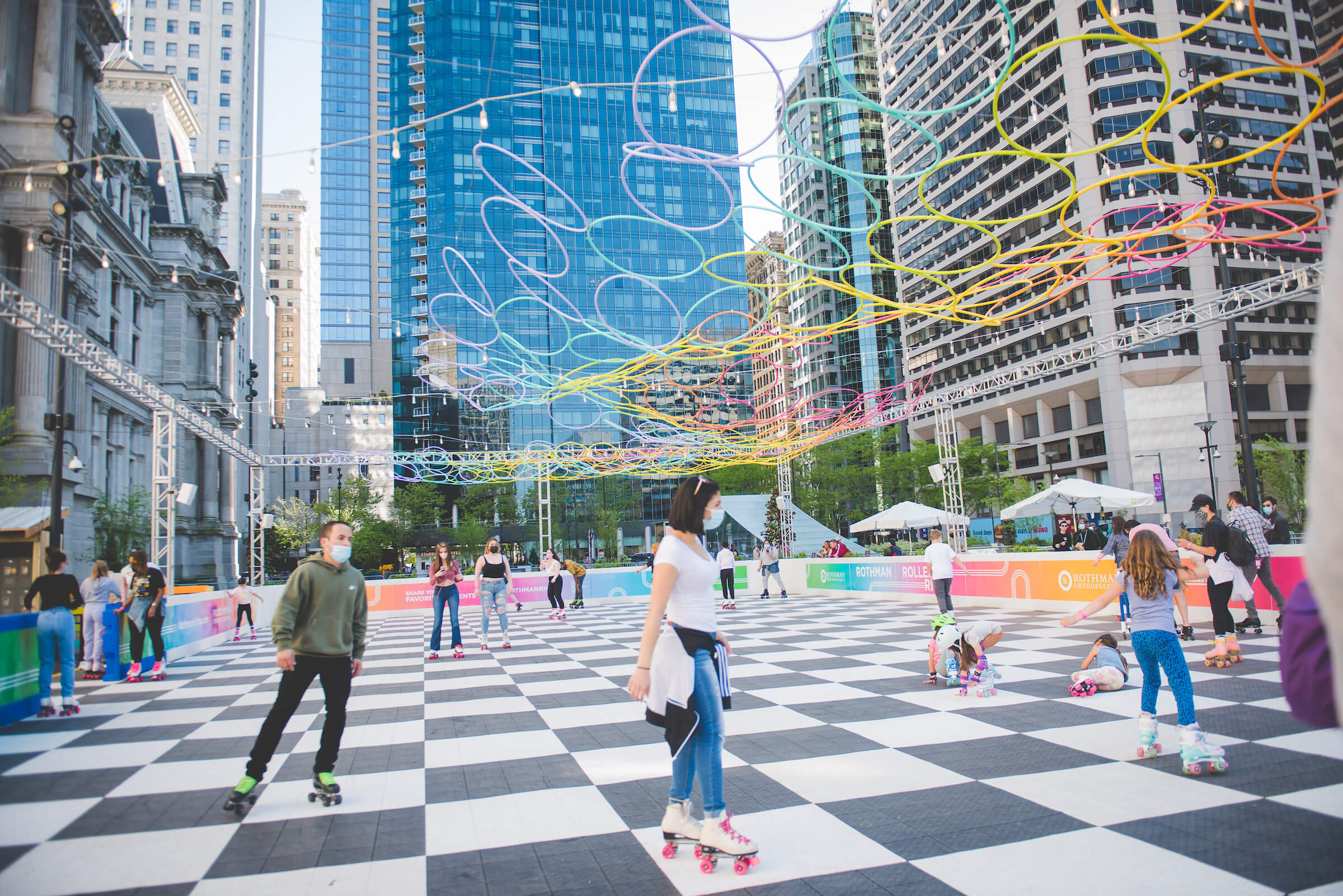 Spring is making its presence felt around the Philadelphia region, with trees and flowers in full bloom and warmer weather on the horizon. Here are a few ways you can make the most of the season in Philadelphia, including new exhibits, events, and plenty of outdoor activities.
Admire spring blooms throughout the city
Cherry blossoms are expected to reach peak bloom during the first two weeks of April, joining beautiful magnolia blooms and other spring flowers throughout the city. Some of the best locations to admire the beauty of these seasonal blossoms include the Fairmount Park Horticulture Center and neighboring Shofuso Japanese House and Garden, in addition to the Delaware River Waterfront and cozy side streets spread throughout Fitler Square and Washington Square West. A map — hand-painted by Japanese artist Hiro Sakaguchi — is available from the Japan America Society of Greater Philadelphia and marks where to find cherry blossoms in Fairmount Park and Center City. For a full list of locations to find spring blooms in Philadelphia, click here.
Get some fresh air at Philadelphia's many parks and green spaces
Embrace the warmer weather and traverse Philadelphia's expansive park system and other outdoor areas. Run, bike, or walk the trails in the 2,000+ acre Fairmount Park and admire the historic homes and other landmarks along the way. Navigate Forbidden Drive in the 1,800+ acre Wissahickon Valley Park, tucked in the northwestern corner of the city. Enjoy waterfront recreation on the Schuylkill River Trail, one of the nation's best riverwalks, winding its way through Philadelphia's downtown, Fairmount Park and out to Valley Forge, where even more outdoor experiences await. For more outdoor experiences in Philadelphia, click here. For more tips on biking, click here, and for a guide to running in Philadelphia, click here.
Head to the Countryside for flowers and fountains at Longwood Gardens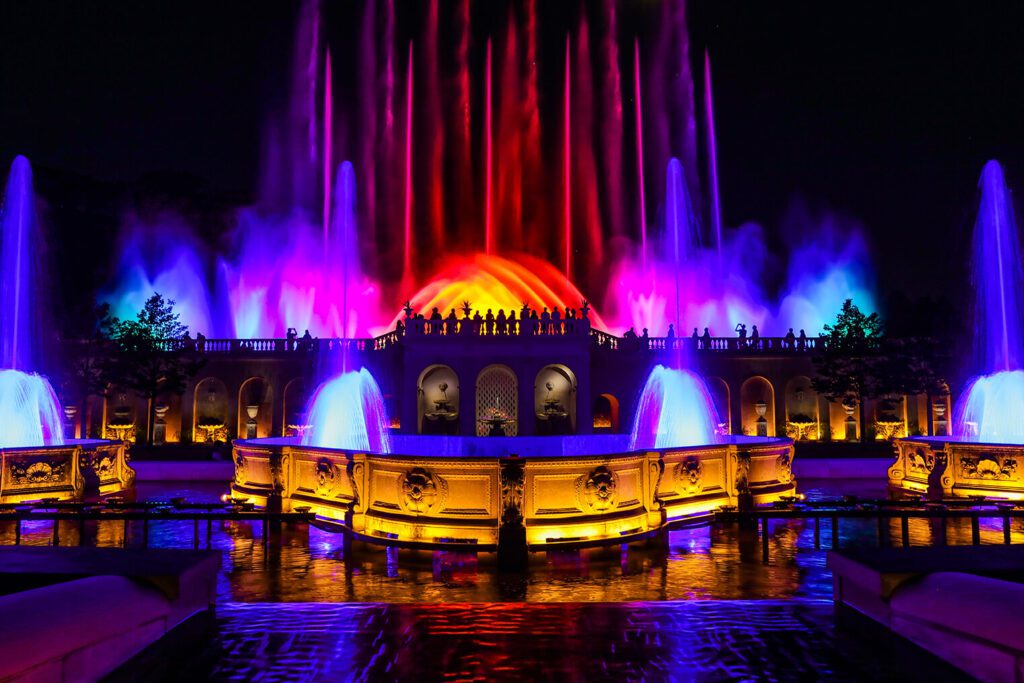 Considered America's Garden Capital, it's to no surprise that spring blooms and outdoor experiences extend beyond Philadelphia's city limits and into the neighboring counties and gardens of the Countryside. In Kennett Square, find ample spring hues covering the grounds of Longwood Gardens, welcoming the season with its garden-wide Spring Blooms displays starting April 2, 2022, featuring flowering trees, blooming bulbs, and other charming scenes throughout the over 1,000-acre property. Beginning May 5, 2022, hundreds of fountains come alive for Longwood's Festival of Fountains with daily performances and illuminated displays each Thursday, Friday and Saturday evening. To plan your visit, click here.
Travel to Bucks County and explore the grounds of a historic riverfront estate
On April 2, 2022, Andalusia Historic House, Gardens and Arboretum in nearby Bucks County will reopen to the public for the spring season with the first of six Open Saturday events throughout the year – rare weekend accessibility to the picturesque destination. Visitors will be able to explore the beautiful grounds of the 65-acre estate, which rests along the Delaware River and features 18th-century gardens, over 800 trees, and the 19th-century Greek Revival home of the Biddle family, known as the "Big House." In addition to Open Saturdays, the public can visit Monday-Wednesday starting April 4, 2022 through November 2, 2022 for self-guided tours. To learn more and plan your visit, click here.
Learn more about Philadelphia's murals with new tours from Mural Arts
This spring, Mural Arts Philadelphia's popular tour program is offering seven different neighborhood walking tours, including brand new routes and old favorites that further establish Philadelphia as the Mural Capital of the World. The tours, led by knowledgeable guides, reveal interesting details about the mural-making process and the people and communities that inspired these incredible works of art. In addition to the ever-popular Mural Mile Walking Tour weaving through Center City, three new walking tours include Historic Germantown, Center City West, and South Philadelphia's Endless Mural Pastabilities. Spring walking tours will be offered twice a day – 11:00 a.m. and 2:00 p.m. – on Saturdays and Sundays. Then on the first Friday of every month beginning on April 1, 2022, a Masterpieces trolley tour will be offered at 11:00 a.m. A new mobile app is also available from Mural Arts Philadelphia. Using the app, visitors have access to 40 Center City murals right at their fingertips. Text MURAL to 215-608-1866 to receive a link to the Mobile Smartphone Tour. From there, click on the Self-Guided Tour. Then, using your phone's location, a map of Center City will appear showing you the closest murals to you. To learn more about Mural Arts' tour program, their new mobile app, or to schedule a tour, click here.
Shop, dine, and spend time outdoors in Philadelphia's Garden District
Located in the northwestern section of Philadelphia, Chestnut Hill is a perfect destination for spring outing not far from downtown. Shop spring fashion at one of many boutiques that line Germantown Avenue, such as Quelque Chose, and then grab a bite to eat at a local restaurant, with options including Chestnut Hill Brewing Company or Mimi's Market & Café, both of which offer outdoor seating. Learn more about Philadelphia art and artists at the Woodmere Art Museum, or venture to nearby Morris Arboretum, where you can spend time outdoors on the lush grounds of the 92-acre property, admiring over 8,000 tulips and some of the largest trees in the region.
TIP: Don't miss Chestnut Hill's Second Saturdays that bring art exhibits, live music, family-friendly activities, restaurant specials and more to Germantown Avenue on the second Saturday of each month from April through November.
Relax along the Delaware River waterfront
Enjoy the refreshing breeze from the Delaware River on a warm spring day by visiting one of Philadelphia's popular waterfront destinations. Head to Race Street Pier to relax on benches or on the lower lawn as the Benjamin Franklin Bridge soars overhead (and don't forget to bring your camera), then make your way to neighboring Cherry Street Pier where more impressive views and equally amazing art from local artists await. Cherry Street Pier also regularly hosts pop-up markets, food fairs and art exhibitions, so be sure to check their event calendar before visiting. The Independence Seaport Museum invites visitors to learn more about the Delaware River watershed and Philadelphia's maritime history in its museum or aboard the historic Cruiser Olympia docked nearby. For food and drink, get ready for Liberty Point – Philadelphia's largest restaurant in modern history – coming to the waterfront April 2022. The 28,000 square foot restaurant (25,000 square feet of space outside and 3,000 square feet of space inside) will be next to and wrapped around the waterfront side of the Independence Seaport Museum. The giant indoor-outdoor space will be able to host up to 1,400 people at a time. The design includes three main levels for food, drinks, and live entertainment, along with smaller sub-levels, a stage for live music, five bars and breathtaking views of the water. You can also make a reservation at nearby seasonal waterfront bar and restaurant, Morgan's Pier.
Seek out seasonal fun at pop-up parks and beer gardens
A variety of pop-up parks and beer gardens bring green spaces, lots, and streets in Philadelphia to life in the spring, summer and fall seasons. Blue Cross RiverRink Summerfest reopens May 2022. Skate riverside in the massive, 12,000-square-foot roller rink, putt your way through a mini-golf course, play arcade games, and feast on local concessions around the park. Save the date for the Delaware River Waterfront Promenade, happening June 8, 2022 during Blue Cross RiverRink Summerfest. The Promenade will be a night of great food, drink and entertainment benefitting Arts Programming on the waterfront. The nearby Spruce Street Harbor Park, complete with hammocks for lounging beneath a canopy of multi-colored lights and a floating barge oasis, also reopens for the season in May. Terrace on Tap at The Liberty View at Independence Visitor Center serves as a family-friendly, seasonal dining and drinking destination in America's most historic square mile. Pennsylvania Horticultural Society's two Pop-Up Gardens — one along South Street and another in Manayunk — transform previously vacant lots into lush landscapes outfitted with plenty of outdoor seating where you can enjoy specialty cocktails, craft beer and seasonal menus from local restaurants.
Soak up the sun, shop, and sample some of the best foods during outdoor festivals and block parties
Neighborhoods throughout the city will be showing off all of the wonderful things they have to offer during their annual spring festivals and block parties. Choose from over 50 food trucks and vendors at The Manayunk StrEAT Food Festival on April 24, 2022. Eat and shop at local businesses, while enjoying live music performances along Manayunk's historic Main Street. Check out South Street Headhouse District's Spring Festival on May 7, 2022. Enjoy live music, food, and drink while shopping from vendors spanning South Street from 2nd to 8th Streets. Perhaps the most unique spring festival is the Kensington Derby & Arts Festival on May 14, 2022, which features homemade human-powered vehicles that parade around Kensington before plummeting into a pit of mud. Also on May 14, 2022 is the 12th Annual Hawthornes Beer, Booze and Bubbly Block Party in South Philadelphia. Presented by Hawthornes Restaurant Group, the event will shut down the entire block outside of Hawthornes Beer Café at 738 South 11th Street with over 75 total selections of beer, champagne, rosé, cocktails and margaritas. Sip from the best line-ups of IPAs from Hawthornes, cocktails from Sonny's Cocktail Joint, wine and bubbles from Wine Dive, margaritas from Tio Flores. The Rittenhouse Row Spring Festival on May 21, 2022 will highlight fashion, arts, eats and shopping at businesses and restaurants in Rittenhouse Square. Stroll through one of the nation's oldest outdoor markets while enjoying delicious Italian favorites like cannoli, pasta, and pizza during the annual South 9th Street Italian Market Festival, returning May 21-22, 2022. If you're looking for a fun night out, head to the Northern Liberties Night Market from 5:00 – 10:00 p.m. on May 26, 2022. Presented by 2nd Street Festival, this outdoor food festival will feature dozens of food trucks, food vendors and sidewalk cafes, as well as music, games, and street performers. Another option for a night out on May 26, 2022 is the Old City Eats Block Party presented by Old City District as it showcases the neighborhood's thriving food scene. Dozens of restaurants and bars will be participating in the Old City Eats Block Party which will take over 2nd Street, between Market and Chestnut Streets, from 4:00 – 9:00 p.m. to highlight some of the best food and drinks.

Skate around a retro-inspired roller rink next to City Hall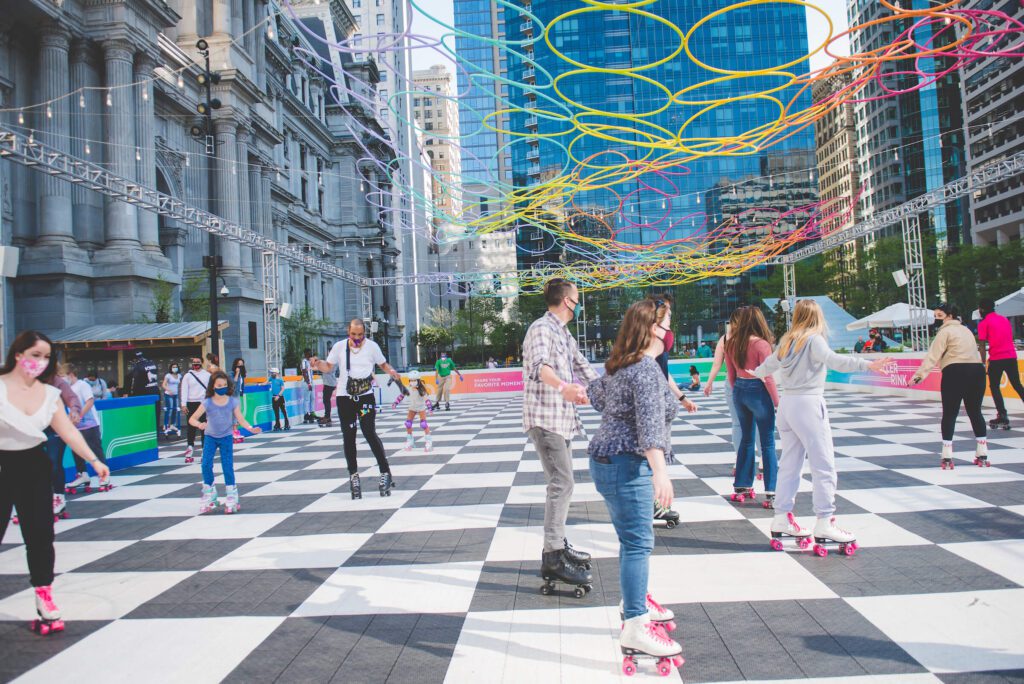 Head to Dilworth Park for some spring fun in Center City with a retro-inspired roller rink featuring a vibrant checkerboard floor, market lights, and a multi-colored beach ball installation (designed and created by Philadelphia's Lucky Dog Studio) hanging overhead. The Rothman Orthopaedics Roller Rink allows visitors to lace up their skates daily beginning April 22 through July 17, 2022. When not skating, visitors can enjoy a menu of snacks, sandwiches, beer, cocktails, and more at Air Grille's pop-up beer garden – reopening on April 1, 2022. To help manage capacity, guests are encouraged to book their hour-long skating session online in advance. To learn more and plan your skating session, click here.
View impressive floral designs outdoors at the Philadelphia Flower Show
For the second year in a row, the Philadelphia Flower Show heads outdoors to transform 15 acres of the spacious, 348-acre FDR Park in South Philadelphia from June 11-19, 2022. Last year was the first time the annual show was held outdoors in its nearly 200-year-history. This year's theme is In Full Bloom, exploring the restorative and healing properties of nature and plants. This year, families will get to explore a brand-new area called the "Kids' Cocoon & Play Space," an interactive outdoor experience including a playground area. Guests will be greeted with a vibrant, blooming path in the show's Entry Garden. Food, shade, and live music performances will be available at the show's Food Bazaar. Visitors will also be invited to Learning Gardens which will offer horticultural expertise and gardening inspiration. To learn more about the 2022 Philadelphia Flower Show, click here. To purchase tickets (advanced date and time registration is required), click here.
Return to local museums for new spring exhibits
Many of Philadelphia's museums are open with enhanced health and safety guidelines in place, and with new exhibits on view. With its World Premiere underway, Harry Potter: The Exhibition is now open at The Franklin Institute, encouraging Harry Potter fans of all ages to explore 10 distinct areas throughout the groundbreaking exhibition, including Hogwarts Castle and Hagrid's Hut. At the Barnes Foundation, learn more about Pueblo and Diné (Navajo) peoples in the mountains, valleys, and mesas of present-day New Mexico and Arizona through pottery, textiles, and jewelry on display in Water, Wind, Breath: Southwest Native Art in Community. Philadelphia Museum of Art has multiple exhibits on view through the spring, including, Sean Scully: The Shape of Ideas showcasing the works of one of the leading abstract artists of our time, opening April 11, 2022 and on view through July 31, 2022. Get a rare look at some of the Mutter Museum's collection – which is typically locked away in storage – at Unseen. Be sure not to miss the final days of exhibitions closing in spring, including Invisible World of Water at The Academy of Natural Sciences and Don't Feed the Art: Woodmere's Animal Menagerie at Woodmere Art Museum. For more can't miss exhibits in Philadelphia, click here.
Navigate new spaces at the Philadelphia Museum of Art
The Philadelphia Museum of Art has unveiled 90,000 square feet of new and reimagined public spaces as part of its Frank Gehry-led Core Project, including 20,000 square feet of new gallery spaces. The new Robert L. McNeil Galleries, dedicated to American art from 1650-1850, highlight often overlooked contributions of Black, Latinx, Indigenous, and women artists of the time, while also shining a light on Philadelphia's key contributions to American art. The new American galleries mark the first major reinstallation of American art since 1976.
TIP: The Philadelphia Museum of Art offers pay-what-you-wish admission on the first Sunday of every month and each Friday evening from 5-8:45 p.m.
Welcome a brand-new museum to Philadelphia
Museum of Illusions Philadelphia is now open in the heart of Old City, just steps away from some of the city's most historic attractions, including Independence Hall and the Liberty Bell. The city's newest museum invites visitors to step into a world of illusions and explore more than 60 mind-bending installations. The visual and sensory experience combines education and entertainment. Guests are encouraged to let their imaginations run wild while learning about the mechanics behind each illusion. Designated photo spots are also placed throughout the museum to help guests snap puzzling pictures. Visitors can reserve tickets in advance online.
Explore Eastern State Penitentiary… at night
Eastern State Penitentiary will re-introduce its popular Night Tours series this spring, inviting visitors to explore the crumbling cellblocks of America's most historic prison at night. Launching May 6, 2022 and running through September 4, 2022, the "Summer Twilight" evening tours will allow guests to experience the once-abandoned prison as moonlight shines through the skylights above, all while navigating the grounds while listening to the signature audio tour. In addition to Night Tours, guests will also be able to visit The Fair Chance Beer Garden, Eastern State's first-ever pop-up beer garden, which will serve craft beer from Triple Bottom Brewing outside on the historic prison's baseball diamond, including a Purpose Pale Ale brewed in collaboration between Eastern State and Triple Bottom. Click here to plan your visit.
Cheer on local sports teams
It's no secret Philadelphia is known for its passion for its sports teams. Join in the fun and cheer on the Phillies at Citizens Bank Park and the Flyers and Sixers at the Wells Fargo Center, or the Philadelphia Union at Subaru Park in nearby Chester.

Can't make it to a game? Reserve a table (indoors or outside) at one of these local sports bars.
Enjoy performances in-person and online
Philadelphia's spring calendar is packed with new productions from top performing arts organizations. The Mann Center's 2022 season is jam-packed with in-person performances throughout the spring. Shows at the spacious outdoor venue include, Deep Blue Sea, Voices of Hope: A Celebration of Black Excellence, and BalletX Spring Series. Opera Philadelphia returns to the Academy of Music stage in spring 2022 for the first time since September 2019 with four performances of Verdi's unforgettable tragedy Rigoletto (April 29, May 1, 6 & 8, 2022), which has not been performed by Opera Philadelphia in 15 years. The Kimmel Center Cultural Campus' Broadway season continues into the spring with light-hearted shows Waitress (March 29-April 3, 2022) and Hairspray (May 17-22, 2022).
Several other performing arts organizations continue to present new work and performances online, including The Philadelphia Orchestra, with several concerts set to air in the spring on their Digital Stage, including Lisa Batiashvili Returns (March 30 – April 6, 2022), Yannick and Trifonov (April 27 – May 4, 2022), and Ax Plays Beethoven (May 25 – June 1, 2022). Look for other virtual performances from local organizations, such as student recitals from the Curtis Institute of Music, throughout the season. For other virtual experiences, consult our Philadelphia From Home guide.
For more spring inspiration, be sure to follow the Philadelphia Convention & Visitors Bureau on Instagram, Facebook, Twitter, and TikTok.
Cover photo Dilworth Park Roller Rink. Photo by BeauMonde Originals.