Uncategorized
Women's Pocket Books will open in Lancaster on Independent Bookstore Day; that's how it all turned out [Q&A] | Entertainment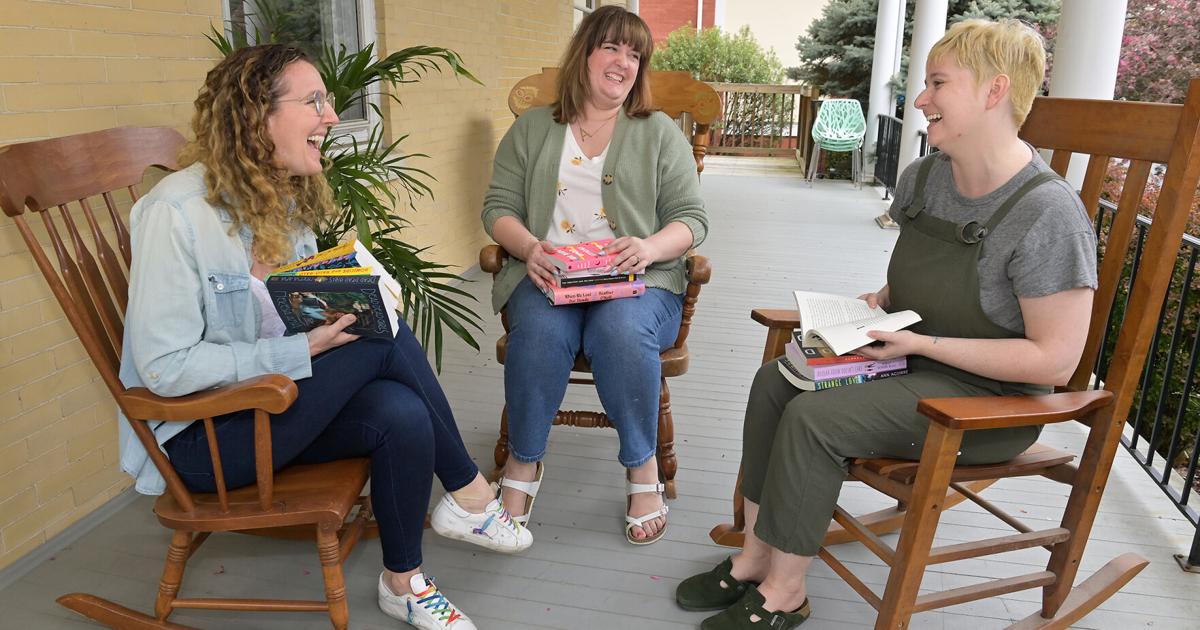 Austin Carter, Jessica Callahan and Julie Ross often hung out at independent bookstores in Columbus, Ohio, where three friends from different parts of the country moved in search of work.
They all met at school while studying for a master's degree. Each has worked in their fields, one in academia, one in research and one in the corporate world. But they wanted change.
What these three really wanted was to have a bookstore.
Carter, a native of Lititz, thought Lancaster would be a good place for a promising independent bookstore selling a select collection of new books. This idea eventually became Pocket Books, which will open at Wheatland Ave, 903 April 30, just before Independent Bookstore Day.
Before the opening of LNP | LancasterOnline met with two owners, Carter and Callahan, and talked about independent bookstores, about how things turned out for their store and the books they now read.
This article has been edited for length and clarity.
What inspired you all to come together to create an independent bookstore in Lancaster?
Austin: We all moved together to Columbus, Ohio. … We all sat there, no one else in town we didn't know, so we spent a lot of time hanging out as well as visiting the many wonderful independent bookstores that exist in Columbus. This is a fabulous city for bookstores. And we all thought it was something we wanted to do, but we can't because we have all these jobs, all these responsibilities, all these pets, all these other things.
After finishing my second year of studying at Zoom, sitting in Zoom meetings all day, just never interacting with anyone but ourselves, we thought: why can't we? Why can't we just blow up our lives, risk ourselves and do this crazy thing that we think will be very good? And so we did. We scheduled a visit to Lancaster to sort it out.
I come from here; I'm from Lititsa. So I thought Lancaster for a variety of reasons seemed like a cool place to live. Close to family, but also it's just a fun city, great people, and it's a city that needs a really cool, big independent bookstore. We have a lot of great stores, a lot of great used book stores, and I thought it was going to be a very cool place for us, the kind of store we're opening. We arrived in October and made an offer for a spot that weekend. We just went for it. Got the keys to our building on February 1st, and we've been at super speed ever since.
Jessica: A lot of things fell into place at the right time, and we just kept saying that when everything was possible.
AustinA: We really hope Lancaster loves books just as much as we think. And that it pays off (she laughs).
What do you think will separate your store from existing businesses?
Jessica: So Lancaster has a lot of really great used bookstores and a really great children's bookstore. But we hope to fill a gap in the overall new books, but we are also thrilled with the genre fiction. We will have a huge section of novels, a huge section of science fiction and fantasy, horror, mystery.
All of this we're really focusing on is what most stores don't do. … We're a little more tartanists in some of our genres. We really want to delve deeply into the backlog of some of the authors we love. We really like the idea of ​​having a horror section where you can take a book and not worry about seeing a traumatic rape scene on the page. We are worried about feminist horror, we are worried about horror that includes strange experiences. We really want to have a diverse and inclusive group of books that represent our lives and the people we know.
Austin: Definitely, we are really intentional in our supervision. It's hard when you're trying to stock up on as many books as we're trying to stockpile, but we really try to stand behind everything we put on the shelf.
Book sales have increased in the country since 2019. Why do you think people turn to books now more than in years past?
Austin: Well, I hope the answer is something that people are interested in. I hope they want to know more about the world around them. In general, book sales should always grow and often grow. We often see stories that say no one reads anymore, but this is never confirmed by facts. In fact people read because it is human nature. Or worlds that are similar to your own, or worlds that are completely different but also journalistic. So far, we only sell a lot of journalism in our online store, and most of it is obvious that people are trying to go beyond themselves and learn more about other experiences, other areas of life, just trying to learn about the world.
JessicaA: I think we've also seen a little more attention to social movements in the last couple of years. We have seen more attention to issues of racism, sexism, access to abortion, all things like that. It seems that publishers are also paying attention to this and are finally publishing more stories from a wider range of authors, from people who have never seen themselves on a page before. Hopefully, that's why people buy books and read them.
Austin: Stories have always been here and are always written. I am, in my other world, a literary critic, I am getting a PhD in English. There have always been people from all walks of life who have recorded their experiences, both artistic and journalistic, and people have always wanted to read them, but the publishing industry is finally freeing up a bit of space. They need to make much, much more space. Things like BookTok, Bookstagram, and Book Twitter, whatever they call Book Twitter, all do democratization of information. Have access to these books in such a way that if all you can do is go to Barnes and Noble and see a list of bestsellers, you won't necessarily have the same understanding of what's out there.
Why is it important to support and celebrate independent bookstores?
JessicaA: Well, we really strive to be part of the community. The money you spend in our store, we will use to buy more books to help children learn more things. We want to be a public institution, we want to hold events, we want people to be able to come and be, whether it's a closed teenager who can't really study the books that can represent them, or a tourist who came from outside the city who wants to learn about the local Amish culture; we want to be a place where people can come. Jeff Bezos, who owns Amazon, is just about to become a billionaire. So you can either support the billionaire, or you can support the public institution.
Austin: Yes, we will not become billionaires. I promise you all that the three of us won't even become millionaires from this bookstore. Instead, we take that money and try to return it to the community as much as we can. It's more than just books on the shelves, that's what we strive for.
Jessica: We also secretly hope that someone will want to escape to our store. We want to organize small weddings, and we also want to organize children's holidays, children's birthdays and the like. You can't get married on Amazon, either (she laughs).
What would you consider your favorite book? I know it's like choosing a favorite child.
JessicaA: I don't know I'll make it my favorite book, but one book I really, really love is Tamsin Muir's "The Ninth Sheep". It's science fiction, it's like lesbians in space, but also necromancers. They can raise the dead and bones.
AustinA: This is inexplicable.
Jessica: Yes. This is incredible. This is the second in the series. I actually named my kitten Harrow after the book's main character, and a third will be out soon. It's not like any other book I've read before.
Austin: I love it; that's such a good answer. I believe what a better book, not my favorite. To which I always answer when I am asked which is the best novel or which is my favorite novel, it always comes back to Tony Morrison's "Beloved". I could talk about it for 10 years. I think this is, with the exception, The Great American Novel. He's so smart, so interesting, he tells you everything you'll ever need to know about America, with style, chic and flair. This is incomparable.
What are you reading now?
Jessica: I actually just finished John Scalza's new book, The Kaiju Conservation Society, which is a science fiction novel set during a pandemic, which is a little weird. This guy just works, mostly on UberEats, and he's offered to work with some big animal society. It turns out that they are taking him to an alternate Earth, and the animals he has to protect are mostly these giant Godzilla. So it was pretty nuts, but it was good. It was fun.
Austin: The one I read all the time is Holly Black's Book of the Night, which comes out on May 3rd. Holly Black is well known for her fantasies. She's a favorite for these dark YA fantasy series, and this is her first foray into adult fantasy. And it's a highly anticipated novel, and I got my hands on a copy early, so I'm reading it. I haven't even come to this to give a good description, but there is shadow magic and bounty hunters, thefts and scammers, one of these cool heroines. But I need to read many hundreds of pages before I get to the end.